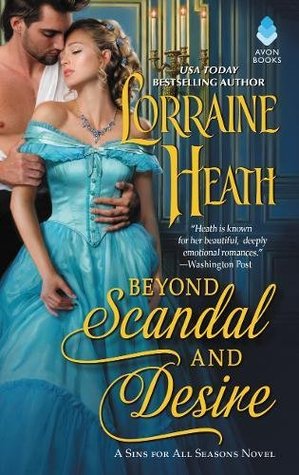 Title
: Beyond Scandal and Desire
Series
: Sins for All Seasons #1
Author
: Lorraine Heath
Format
: Paperback & eBook, 384 pgs
Published
: Jan. 30, 2018 by Avon
ASIN
: B0727TN8R9
Links
:
Goodreads
|
Amazon
|
B&N
Source
: Edelweiss
Reviewer
: Kimberly
Rating
: 3.5 out of 5 Wine Glasses
At birth, Mick Trewlove, the illegitimate son of a duke, was handed over to a commoner. Despite his lowly upbringing, Mick has become a successful businessman, but all his wealth hasn't satisfied his need for revenge against the man who still won't acknowledge him. What else can Mick do but destroy the duke's legitimate son—and woo the heir's betrothed into his own unloving arms . . .

Orphaned and sheltered, Lady Aslyn Hastings longs for a bit of adventure. With her intended often preoccupied, Aslyn finds herself drawn to a darkly handsome entrepreneur who seems to understand her so well. Surely a lady of her station should avoid Mick Trewlove. If only he weren't so irresistible . . .

As secrets are about to be exposed, Mick must decide if his plan for vengeance is worth risking what his heart truly desires.
Kimberly's Thoughts:
Mick grew up knowing he was illegitimate and experienced all the society pitfalls because of it. All he has ever wanted is for his father to publicly acknowledge him but when his father refuses, he decides to ruin his half-brother heir.
Aslyn has been the Duke of Hedley's ward for most of her life after her parents died. With it understood that she would eventually marry Hedley's son and their very protective nature, Aslyn has been sheltered. Starting to feel stifled, she begins to push for more freedom. After meeting Mick, she senses a freedom she has never thought to experience.
Mick wants revenge but how far will he be willing to get it?
"I intend to take from him everything he holds dear---including the lady at his side."
The first in a new series, Beyond Scandal and Desire focuses on the eldest child of Widow Trewlove, a woman who took in unwanted babies. While we are introduced to Mick as a very successful business man, he alludes and mentions how tough it was growing up poor and with the taint of being a bastard. The revenge he seeks is a bit different; he simply wants his father to acknowledge him and hopes this will open higher society doors to him. It's a little heartbreaking that Mick obviously just wants to feel acknowledged by his father, making him feel meaningful since he was given away. Mick was the hero where circumstances force him to have a tough outer shell but is angry and hurt over feeling abandoned. He was somewhat romance hero trope (a bit more sensitive) but how he fell for heroine made him very enjoyable to read.
Why did this man have such an effect on her?
Why did everyone else seem so small in comparison?
Our heroine Aslyn starts off very sheltered and buttoned up but with some inner thoughts that hint at a will striving to break free. I, personally, thought Aslyn stole the show a bit with her living in quiet desperation. Her journey and growth from accepting her gilded cage, to starting to question, finding herself, and finally expressing and owning what she wanted was so satisfying. Usually it is the hero who stands tall during the declarations of love but, here, oh the heroine brings it and I was cheering her on. Aslyn could have taken the easy road but she spoke her truth and I delighted in following along on her journey.
Never before had he ever been so weak-willed.
He was a man of strength, and yet he thought for her he'd go to his knees.
With a mysterious painful beginning, I was sucked into the story right away. I took pleasure in the slow buildup and burn Heath provided, we get to know Mick and Aslyn (does start to feel a smidgen too slow as the anticipation for reveals starts to settle in). There are some scenes with Mick interacting with his family that helped fill out his character (and introduce future series heroes/heroines) and I wished there had been more for Aslyn. The Duke and Duchess of Hedley don't get as flushed out as I would have liked and their son definitely gets too much of a thinly veiled villain w/ maybe future redemption arc. While I enjoyed the slower buildup, the story had too much of a top heavy feel, the ending felt rushed. I would be lying if I didn't say I started watching the page count after I got around 60% waiting for a reveal that would have repercussions in Mick and Aslyn's relationship. The reveal was extremely needed too, but with how late it finally happened, I was left feeling a bit bereft and missing some crucial emotional angst and growth between the two; my favorite romance components. At minimum, this story needed to be 100 pages longer (my old romance reading heart would have delighted in a full sequel book finishing Aslyn and Mick's story with working things out after full reveal).
The buildup and getting to know characters first half will have you engrossed into the story but the very late reveals give the ending a rushed feel. Some secondary characters felt too thin but Aslyn's growth and journey along with her instant connection and simmering romance with Mick will have you appreciating and taking pleasure in the story.
All his life he'd been searching for acceptance, and here it was in the form of a woman with a tilted-up nose and crooked smile.