From #1 NYT Bestselling author Lauren Blakely, comes the hot, new sports romance, MOST LIKELY TO SCORE! A sexy, standalone forbidden romance about a sports star and the woman who's off limits, MOST LIKELY TO SCORE is now available on all retailers! Get your copy delivered now!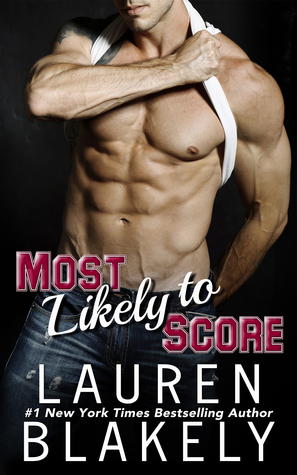 Most Likely To Score
by Lauren Blakely
ebook, 300 pages
Published January 8th 2018 by Lauren Blakely Books
A sexy new forbidden romance from #1 NYT Bestselling Author Lauren Blakely
It seemed like a good idea at the time…
As the team's publicist, I need a football player to be the face of our charity calendar, and Jones Beckett needs a savvy PR woman to manage his new sponsorship deal.
A simple give and take, and I'm sure I'll have no problem following my iron-clad rule — don't date a player. And never ever fall for one. No matter how charming, big-hearted and devilishly clever the man is.
But you know what they say about best laid plans…
Once I start spending my off-season days and nights with Jones, I'm following a brand new playbook, one that has me falling hard for the incorrigible flirt — heart, body and mind.
That's against the rules, and now what seemed like a bright idea has turned into a dangerously forbidden one.
***
It was supposed to be an I-scratch-her-back-she-scratched-mine kind of arrangement. And man, did Jillian ever drag her nails down my back on one hell of a hot night. Okay fine, it was several hot nights on the road.
Now we're back in town and it's time to set the play clock back to when we were simply player and publicist. Given the way the last few years have gone, I can't risk this deal. Trouble is, I want more than than just another night with her.
What's a guy to do when he's always been most likely to score, but the woman he's falling for is way off limits?
EXCERPT:

~Jillian~
He runs his hand through his hair, flashing a lopsided grin then a wink. "Sorry. I meant are you my personal PR person now?"
That word zips through me like an electric charge. A light gust of wind blows my hair across my cheeks, and I tuck the strands behind my ear, grateful for the temporary distraction courtesy of San Francisco's windy morning. I shiver lightly from the chill. "Yes, that seems to be the case, and I'm happy to do it."
He cocks his head to the side. "Are you like my babysitter?"
My jaw drops. "What? No. No. No. That's ridiculous. I'm not a babysitter."
He arches a brow. "A nanny?"
I smirk. "Jones, I would hope you've outgrown the need for a nanny."
"That's up for debate, it seems. But maybe you're my governess?"
I roll my eyes and gesture to the car at the curb. "I'm not your nanny, I'm not your babysitter, and I'm definitely not your governess. I'm here to help you create the best image possible. I can market, publicize, and help you manage putting the best foot forward," I say, my tone earnest, my meaning important. "I believe in what I do. I know you're a great guy, and I want the world to see what I've seen in the last couple days."
"That's why I said yes when Ford asked for my help. I'm not interested in being anyone's au pair. I am very interested, though, in showing this city what good things our team does on and off the field. Including you." I take a breath and try to read him. To understand what's beneath the teasing. I think I know what it is. He wants a choice. "But if you don't want me to help out, I'll step back and we can stick to just the calendar. I told Ford I'd do this for your new deal, because I want to be the one to help you if you need it, and it's the kind of help I can give. Since you signed the contract yesterday, and the folks at Paleo Pet are local, they want to stop by the shoot later today. Take some pictures, chat, and so on. I'm happy to be there by your side the whole time, making sure you're comfortable with everything, and you're represented in the best way possible. But if those aren't your wishes, and if it isn't what you need, then I'll be hands-off. I hold up my palms as if I'm backing away.
In a heartbeat, he grabs my wrists. Possessively. A thrill rushes through me, like a drumbeat pulsing in my veins. I look away from him briefly. I can't make eye contact when he does this, when he touches me. If I do, he'll know. He'll realize I'm just like all the other women who fling panties at him, who chase him down in bars, who line up at the players' entrance to become his football floozy for the night. I won't ever be someone's football floozy, and I can't let him see for a second that I want some of the same things those other women want from him. Him.

"Don't be hands-off," he says, his voice soft.

Don't miss the first sizzling standalone sports romance from Lauren Blakely, MOST VALUABLE PLAYBOY, now on sale for the first time! Get your copy for $2.99 for a limited time only!
About the Author:
A #1 New York Times Bestselling author, Lauren Blakely is known for her contemporary romance style that's hot, sweet and sexy. She lives in California with her family and has plotted entire novels while walking her dogs. With fourteen New York Times bestsellers, her titles have appeared on the New York Times, USA Today, and Wall Street Journal Bestseller Lists more than 85 times, and she's sold more than 2 million books. In March she'll release WANDERLUST, a breathtaking new romance that will sweep you away. To receive an email when Lauren releases a new book, sign up for her newsletter! laurenblakely.com/newsletter
Lauren's MOST LIKELY TO SCORE Girls Day Out Package! This bundle is valued at $398.00 and includes a Cherry Red Kate Spade Purse ($298 value) and a $100 Gift Card to Your Favorite Store to go Shopping!