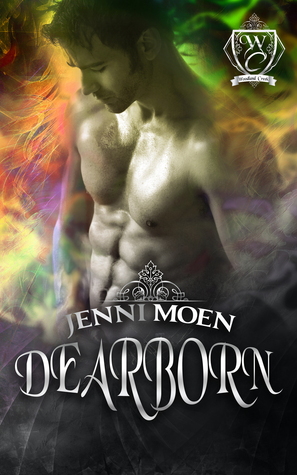 Dearborn
(Woodland Creek)
by Jenni Moen
Kindle Edition, 304 pages
Published November 15th 2015 by Jenni Moen
ISBN 0990851931
I feel his emotions in living color. As if they are my own.

If he's angry, I rage with him. If he's grieving, I do too. When he thinks about the past, I'm right there, walking beside him. I am the window to his soul, and yet, in spite of that, he's a riddle with no solution.

A puzzle with too many missing pieces.

We always want what we can't have. All I wanted was some peace and quiet. To fall in love with someone untouched by the magic of Woodland Creek. I craved normalcy.

But not as much as I craved him.

When he returns to town a broken hero, there's no choice to be made. I will reach him when no one else can. Together, we will face a future he doesn't want.

Why? Because our love is pure magic.
He chuckled, low and throaty. "Yeah."
When I forced my eyes back to his face, I found him carefully watching me as if he was trying to gauge what I was thinking. A small smile pulled at the corners of his mouth.
"Let me help." My voice was breathless. I needed to get a grip. He was just a man.
A very wet, very handsome, very sexy man. But still just a man. It wasn't as if I'd never been around a man before.
I blotted at his face with the dry towel, taking care to get the water out of the fuzzies of his beard. The towel slipped from my fingers, but they remained on his face, brushing lightly against the coarse bristly hair. The feel of them against my fingertips was as if someone defibrillated my already racing heart.
I stared at the lips he'd denied me the night before.
They twitched as desire coiled around us, begging one of us to make the first move.
It would have to be him. After last night, I wouldn't make the first move.
Kiss me, Quinn. Kiss me so I'll know. Don't turn away again.
He sat still as a tree, and I held my breath, waiting for him to bend. My hand slipped from his beard and trailed down his neck. Apparently, it hadn't gotten the memo that we were waiting for Quinn to make the first move.
It was only my name, but it held every question I didn't want him to ask, every doubt I didn't want him to acknowledge.
About the Author
Jenni Moen lives in her hometown in Oklahoma with her husband and three crazy, exuberant kids that have the potential to burn the house down at any moment.

When she's not chauffeuring kids around town, performing her mom duties as a short order cook, or vacuuming for her fastidious husband, she hammers away at her keyboard at her big girl job as a patent attorney. While vodka and exercise have provided some relief from the daily grind, it is reading … and now writing … that are her true escapes. www.jennimoen.com