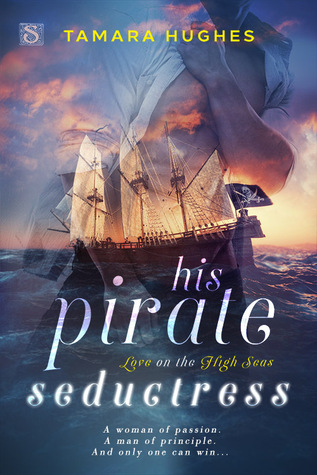 Title
: HIS PIRATE SEDUCTRESS
Series
: Love on the High Seas #3
Author
: Tamara Hughes
Format
: Kindle
Published
: Published November 9th 2015 by Entangled Publishing, LLC (Scandalous)
ISBN
: ASIN: B015CLB7CG
Links
:
Goodreads
|
Amazon
|
B&N
Reviewer
: Linda
Source
: NetGalley
Rating
: 2 1/2 Wine Glasses
With her son's life in the balance, Catherine Fry is forced to locate and steal the priceless Ruby Cross of the Knights Templar. She knows who has it—it's just a matter of coercing Thomas Glanville, the handsome and incredibly stubborn captain of the ship she's captured, into telling her the exact location. Fortunately, Catherine knows that there are many ways to get a man to talk...

Captain Thomas Glanville has the cross and he'll be damned if he's going to hand it over now that he finally has the means to buy a ship of his own. He's at the mercy of a fiery woman who will stop at nothing to achieve her goal. But Catherine has no idea who she's dealing with—and Thomas has his own means of charming a woman into his mercy and his bed...
Linda's Thoughts:
"Be quiet, or I'll run you through with my sword."
"I'd much rather run you through with mine," he suggested, his voice a sexy rumble that made her shiver."
HIS PIRATE SEDUCTRESS by Tamara Hughes was a rambunctious adventure which took place on both land and sea. I'm a sucker for a good pirate story. When I saw pirate in the title and the pirate ship flying the Jolly Roger flag on the cover, I knew I wanted to read this book! This is the first book I've ever read by this author and I enjoyed her writing style. It was well-edited with plenty of action. I wanted to love it! Instead, I had trouble connecting to both the hero and the heroine, there was just an inkling of a romance and it just never grabbed my attention. DURN!
Catherine Fry, our heroine, would stop at nothing to free her son and mother. Their captor has set the Knights Templar's Ruby Cross as the price of their freedom. Unfortunately, that priceless artifact is in the hands of Captain Thomas Glanville, who plans on selling it for a pretty penny. Catherine is determined that the Cross will soon be in her possession as the lives of her family come first even if she has to become a pirate to steal it away from the pompous Glanville.
Captain Thomas Glanville, our hero, can't believe that he and his men have been bested by a band of brigands lead by a female. Now he's a prisoner in his own former cabin - naked as a jaybird - enjoying a strange kind of torture.
Following please find a few memorable quotes from this read:
"Catherine bristled at the amusement in his voice. He could laugh all he wanted when he stood tied to a wall utterly naked. A little humiliation might do him good."
---
"She would do whatever she had to, even make this man's life a living hell if it were required, and judging by the arrogance of Thomas Glanville, that possibility was quite likely."
Unfortunately, the scenes where Catherine was supposed to be torturing Glanville, didn't pan out; I felt that there had to be more. It fizzled in the romance department too. I did finish the book, so it wasn't a DNF; I held on to hope that it would improve. It had so much potential! If you are a fan of this author or if you enjoy historical fiction with very little romance, you may want to check this book out. Sadly, HIS PIRATE SEDUCTRESS was a miss for me.
Suggested Reading Order:
TEMPTING THE PIRATE (Book #1)
BEAUTY'S CURSE (Book #2)
HIS PIRATE SEDUCTRESS (Book #3)