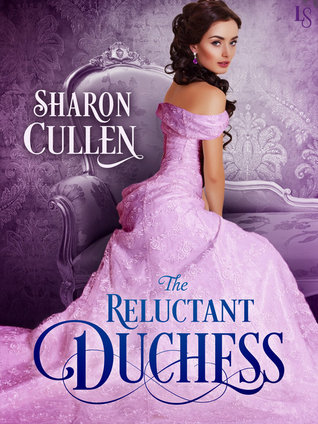 Title
: The Reluctant Duchess
Author
: Sharon Cullen
Format
: eBook, 274 pgs
Published
: Nov. 10, 2015 by Loveswept
ASIN
: B00TNDP168
Links
:
Goodreads
|
Amazon
|
B&N
Source
: Netgalley
Reviewer
: Kimberly
Rating
: 3.5 out of 5 Wine Glasses
Perfect for fans of Mary Balogh and Eloisa James, Sharon Cullen's seductive new historical romance ignites as a shy country girl and a hotheaded duke surrender to dangerous temptations.

Lady Sara Emerson was jolted out of her dull provincial life by her cousin's murder. Now that the killer seems to be targeting her, Sara seeks help from the man who was once her cousin's fiancé, Gabriel Ferguson, Duke of Rossmoyne. With his towering frame and fiery personality, Ross cuts an intimidating figure. Living under his protection, however, has its own hazards—like the sudden urge Sara feels to take their relationship in new, exquisitely inappropriate directions.

Dazzled by the social graces of his betrothed, Ross never noticed her shy, blushing cousin. Looking at Sara now, though, he's drawn to her lovely eyes and calm disposition. Funny how a year away from the hustle and bustle of the tonchanges a man. But Ross has no intention of allowing a woman to interfere with his plan to return overseas. He will simply capture the murderer and set sail once again. The problem is, with her beguiling lips and heavenly touch, Sara makes him never want to leave home—or his bed—again.
Kimberly's Thoughts:
Gabriel has just returned from India where he escaped to mourn in peace his murdered fiancée. They were the "it" couple and though he was cleared of any wrong doing, he is sick of being under the microscope. When he returns, he finds his fiancée's cousin has called on him for the last five days in a row. Sara is the exact opposite of her cousin, preferring the corners of a ballroom to the center of it. Sara always felt extremely intimidated by Gabriel but for the most part he ignored her as he jet-set around with her cousin Meredith. When Sara starts receiving creepy letters alluding to Meredith's death, she remembers Gabriel telling her family if they ever needed anything to come to him. Sara has social anxiety but she desperately needs the Duke's help and when he reads the letters, he agrees. Gabriel and Sara are thrown together as they search the clues for who is threatening Sara and the possible connection it has to Meredith's death. The more time they spend together, the more they learn about one another and it starts to become clear that a Duke and a wallflower may be the best match of all.
The Reluctant Duchess is a standalone but there was an appearance from the couple who starred in "His Saving Grace", if you didn't read that book you won't be lost here and if you did, you will probably enjoy revisiting the characters. This was my second book by this author and I feel like I can see improvement in her writing as the structure of this story was much tighter; this had a very calm, smooth waters flow. Characters and situations are delved into enough to give the reader a sense of things but not quite deeply enough to really grab a hold of you. The murder mystery is what brings our two leads together but even though the letters sound threatening, I never felt a sense of danger. In fact, until the latter part of the book, it is almost pushed to the side as the story focuses more on our leads budding romance. I was ok with this as the murder mystery didn't have the stoutest of legs to stand on and our couple was pleasant to read together.
"You don't know your own worth, Sara."
Gabriel bursts into the scene as a grumpy, dark, and autocratic duke and even though he retains some of his bossiness throughout most of the story, I found he mellowed fairly quickly. His time in India is said to have changed him from the party boy he was but the reader only gets told this through vague references to the atrocities happening over there. Sara was the more flushed out character as we get more of her back story and inner dialogue. She was an orphan raised by her uncle and aunt, who started off as a naturally quiet and shy child and was only pushed to the sidelines more by her naturally vibrant and beautiful cousin. Gabriel's bossiness brings out her more assertive side and we see their connection through his ability to strengthen her and her ability to calm him. They aren't a flashy sexy couple (there are no full bedroom scenes) but they do have their sweet moments and will be amiable to any reader.
As I mentioned, the murder mystery and subsequent villain fell a bit short as it was pushed to the sidelines and then rushed a bit at the end with some flimsiness to the villain and motive. The investigator, Sir Montgomery, was the best part of this story thread and the strongest of the secondary characters; I hope we will eventually get his story. Gabriel's mother, Sara's aunt and uncle, the bodyguard James, and any other secondary characters were fairly thinly sketched out or felt forced in ways to provide angst for our couple.
This is set in regency times but stayed away from most of the sub-genres overused scenes; ballrooms, spies, etc. If looking for something set in the time period but a smidge different, an afternoon read, and a gentle couple, The Reluctant Duchess is a pleasant read you wouldn't go wrong with.