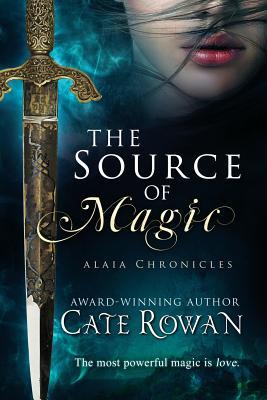 Title
: THE SOURCE OF MAGIC
Series
: Alaia Chronicles #2
Author
: Cate Rowan
Format
: Kindle (228 pages
Published
: Enchanting Ink (April 17, 2011)
ISBN
: ASIN:B004X235I0
Links
:
Goodreads
|
Amazon
|
B&N
Reviewer
: Linda
Source
: Amazon (purchased)
Rating
: 3 out of 5 Wine Glasses
When a gorgeous man clasps Jilian Stewart to his chest and yanks her from Scotland into a magical battle, she thinks it must be another of her bizarre dreams. Plagued by unnerving visions of this man, she's sure they're brought on by the stress of her mother's deadly paralysis. Instead, she finds herself ensnared in a fantasy otherworld, trapped by treachery and family secrets and opposing the one man who can make everything right.

Prince Alvarr, her sexy abductor, offers a cure for her dying mother, but won't send Jilian home with it until she helps him destroy the evil mage threatening his people--with mystical powers she never knew she had.
Linda's Thoughts

"It is said that years ago a skilled mage, perhaps the most gifted our world has known, chose the dark arts. His outlook became twisted, and the things and people touching his life became twisted as well. He knew that a mage and Source, linked by partnership, could wield much greater power than he could by himself. He also knew that if he linked with a Source, he might not be able to fully control that partnership. He thought it best, therefore, to eliminate any possible competition - by annihilating the Sources."

THE SOURCE OF MAGIC by Cate Rowan was a romantic fantasy that I enjoyed, but was not wowed by. It was an interesting read, but I wanted to love it! If you follow my reviews, you know romantic fantasies are one of my favorite genres.

I confess to not having read the first book before diving into this one. The blurb for this book states that it's a stand-alone novel. However, perhaps if I'd read the series in order, I would have enjoyed this tale more.

This story featured a modern day woman, Jilian Stewart, who was abducted from earth without warning by Prince Alvarr, a smokin' hot prince from another planet in a huge case of mistaken identity as the prince thought he was seizing Sara, Jilian's mother. Sara was a known magical source which the Prince needed to counteract a villain who was draining his kingdom of magic. By the time the Prince discovered that he'd snatched the wrong woman, he didn't have the magic left to return Jilian and take Sara. It wouldn't have mattered if he had, though, as Sara was deathly ill.

Prince Alvarr was a bit of a jerk, but he redeemed himself as the story progressed. To his credit, his subjects adored him. I liked the heroine and could fully understand why she'd be so upset at having been captured when her dying mother needed her. Jilian had no connection to the Prince's world and his arrogance and demanding ways were not conducive to convincing her to help his planet.

There was an interesting cast of supporting characters. One of my favorites was Kalen, a talking jencel bird. I hope we see more of Kalen in future books as he was an intriguing character.

Following please find a few of my favorite quotes from this read:




"He'd make a great Chippendales dancer—if he weren't already a prince. And a wizard, to boot." ---


"What was she about to do? Trek across a freakish world in search of a rare and possibly extinct herb, with an arrogant mage prince who could turn her into a mutant rat with one word, and who likely suspected she was lying her kidnapped Earthling butt right off." ---


As she removed the key, he stood close enough that she felt his breath on her ear. "Do you have something of value in there, or are you making certain I know you have a lock?" ---


"Come now, please continue. I'd like to kiss you before my feet disintegrate." ---


Evil sorcerers always looked evil - at least in the Disney versions.

This was not Disney.

This story has numerous twists including a jaw-dropping one near the end that took me completely by surprise. I did savor this tale and never considered not finishing it. However, in my opinion, it lacked that special oomph that would have made it great. It definitely had the potential to be truly exceptional. Perhaps I'm being too harsh, as I've read and reviewed some awesome science fiction/fantasy romances lately. If you enjoy imaginative, fast-paced science fiction/fantasy romances, you should put THE SOURCE OF MAGIC on your to-read list.

Suggested Reading Order: KISMET'S KISS (Book #1) THE SOURCE OF MAGIC (Book #2)