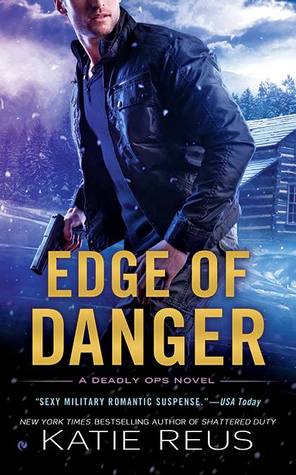 Title
: Edge of Danger
Series: Deadly Ops #4
Author: Katie Reus
Format: Paperback & eBook, 335 pages
Published: November 3, 2015 by Signet
ASIN: B00S75RXLY
When an assassin tries to kill undercover DEA agent Tucker Pankov the same week his boss is taken out, Tucker has good reason to be paranoid. And when other members of his elite team are not only targeted, but stripped of top-secret security clearance, Tucker has one shot at discovering who wants them dead—and why. So he kidnaps the only woman he thinks can save them.




Brilliant NSA analyst Karen Stafford doesn't like being forced into anything, especially by someone she doesn't trust. Yet after a hijacked US-owned drone starts attacking government installations resulting in mass casualties, Karen has to take Tucker's side. Now, two unlikely allies must unite to prevent an escalating and unthinkable terrorist conspiracy. But as Tucker and Karen grow intimate, they realize the conspiracy runs deep, and their enemies are closer than anyone realized.
Linda's Thoughts:
"Everything is falling into place perfectly. We have four dirty DEA agents working with a terrorist group and killing Americans on American soil. The headlines are going to write themselves and we're going to get our candidate into the White House. When that happens, we'll get the war we want. The war we can win."
EDGE OF DANGER by Katie Reus is a fantastic, action-packed, high stakes romantic thriller laden with some seriously crooked political shenanigans. Four DEA ages are wrongfully accused and their boss is murdered. They need help and their options are few. So... they kidnap someone who should be able to get them in touch with their deceased boss' good friend who happens to be in charge of a super-secret government agency. What could go wrong? This is the story of DEA agent Tucker Pankov and NSA analyst Karen Stafford.
Even though this is the fourth book in the series, it can be fully enjoyed as a standalone. In fact, all the books in Katie's Deadly Ops series can be enjoyed as standalones, if that is your preference. There are recurring characters throughout each, so the books are linked, but not to where the storylines converge. So, feel free to read them in any order you wish.
I loved both the hero and the heroine. She's brilliant; he's strong, capable and pretty smart himself; he had to be to outsmart the villains and keep both he and Karen alive. Katie's characters are always realistic, genuine, and relatable; Tucker and Karen are not exceptions. This book features an almost instant attraction, which totally worked with this story. It brought to mind Levi's and Selene's HEA, a very similar instant attraction told in SHATTERED DUTY (Book #3).
Following please find a few of my favorite quotes from this read:
"If you try to sleep on the floor I'll just get down there with you. Which will make you feel guilty and then you'll end up in the bed anyway. So just give in now and save yourself -- and me -- a headache."
---
"He didn't want to take advantage of her? Fine, she'd take advantage of him."
I highly recommend both this series and Katie's Red Stone Security series to anyone who enjoys romantic suspense . EDGE OF DANGER is a fast-paced, high stakes, sexy thriller that will keep its readers on the edge of their seats through-out. Be forewarned that you will not want to put it down once you start it. There's an easy fix; Just plan to read it in one sitting.
Suggested Reading Order:
TARGETED (Book #1)
BOUND TO DANGER (Book #2)
CHASING DANGER (Book #2.5)
SHATTERED DUTY (Book #3)
EDGE OF DANGER (Book #4)
A COVERT AFFAIR (Book #5)