Have you heard that Kristen Ashley has a new release out?! Read an excerpt below and then grab your copy today!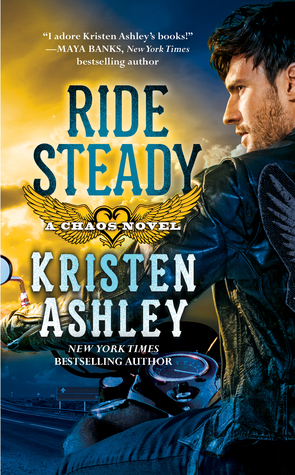 Ride Steady
(Chaos #3)
by Kristen Ashley
Paperback, 640 pages
Published June 30th 2015 by Forever
original titleRide Steady
ISBN 145553322X
The ride of her life . . .





Once upon a time, Carissa Teodoro believed in happy endings. Money, marriage, motherhood: everything came easy---until she woke up to the ugly truth about her Prince Charming. Now a struggling, single mom and stranded by a flat tire, Carissa's pondering her mistakes when a vaguely familiar knight rides to her rescue on a ton of horsepower.





Climb on and hold tight . . .




In high school, Carson Steele was a bad boy loner who put Carissa on a pedestal where she stayed far beyond his reach. Today, he's the hard-bodied biker known only as Joker, and from the way Carissa's acting, it's clear she's falling fast. While catching her is irresistible, knowing what to do with her is a different story. A good girl like Carissa is the least likely fit with the Chaos Motorcycle Club. Too bad holding back is so damned hard. Now, as Joker's secrets are revealed and an outside threat endangers the club, Joker must decide whether to ride steady with Carissa---or ride away forever . . .
"Yo!" I heard Snapper call and I looked to him to see he was looking beyond me. I turned around and saw Tabby was heading toward me and Snapper. "I'm takin' Carissa out on my bike. You wanna look after her purse or put it in Shy's room or somethin'?"
At his request, Tabby's gaze immediately cut to the pool tables. When she took them in, for some reason, her face got hard before she softened it and looked back toward us.
"Not a problem," she said, stopping at us. "Go. Ride."
"Never been on a bike," I told her and her face split in a big smile.
"Then go. Ride." She leaned in to me. "Beware, wind in your hair, moon on your skin, you'll fall in love."
I wasn't sure that was a good thing. I'd fallen in love with something I couldn't have, and if I fell in love with the wind in my hair and the moon on my skin, without someone to give that to me, I couldn't have that either.
Maybe this would be the only bike ride I'd I'd have in my life.
And maybe the kiss Joker gave me was the only fabulous kiss I'd ever get.
And maybe my dream of having a family or the other dream of getting behind the steel guarding Joker's eyes was lost to me.
But I was still breathing.
So I'd take what I could get.
Tabby put her hand on my purse, which was lying on the bar. "Got this. Have fun."
I looked to Snapper. "Let's go."
"Meet you at the end of the bar, babe."
"Right!" I chirped, jumped off my stool, threw Tabby a smile, nabbed my jacket that I was sitting on and bounced to the end of the bar.
When I got there, Snapper had pulled on his leather jacket. He grabbed my hand and guided me out the door and to his bike. Then he got on his bike before instructing me on how to do the same.
The bike roared, he backed out on an angle, and we glided over the tarmac of Ride.
He pulled out onto Broadway and I got it.
The leather of his jacket in my nostrils.
The solidness of him under my hands at his waist.
We got close to the onramp of I‑25 and he shouted, "Hold on!"
"Hold on!" he yelled, taking one hand off the grip and using it to pull my hand from his waist and around to his stomach.
He put his hand back on the grip and we turned up the ramp, going faster, faster, faster, the wind whipping my hair and biting into my skin. I curved my other arm around him, put my chin to his shoulder, drew in air and leather, and I got it.
That it being why this was the life for a biker.
No encumbrances. You wanted to smoke pot, you smoked it. You wanted to wear a tube top, you wore it. You wanted to drink shots, you drank them. You wanted to make out hot and heavy on a couch in a room filled with people, you did it.
You wanted to live, you lived.
You wanted to be free, you got on your bike and rode in the moonlight.
You did not drink martinis you didn't like. You did not take a job your mother‑in‑law thought you should have. You did not take guff from your ex, not ever.
In all that was happening to me, all that I was feeling, all the disappointment of that night and the bizarre devastation I felt that the first time this happened, me on the back of a bike, I would have preferred it be with Joker . . . right then, for that moment, I let it all go.
I let it go, held on to Snapper and I let myself feel it.
Feel something rare and beautiful and overwhelming.
Feel something I knew for certain I hadn't felt in my whole life.
About the author:
Kristen Ashley grew up in Brownsburg, Indiana, and has lived in Denver, Colorado, and the West Country of England. Thus she has been blessed to have friends and family around the globe. Her posse is loopy (to say the least) but loopy is good when you want to write. Kristen was raised in a house with a large and multigenerational family. They lived on a very small farm in a small town in the heartland, and Kristen grew up listening to the strains of Glenn Miller, The Everly Brothers, REO Speedwagon, and Whitesnake. Needless to say, growing up in a house full of music and love was a good way to grow up. And as she keeps growing up, it keeps getting better. http://www.kristenashley.net/
a Rafflecopter giveaway