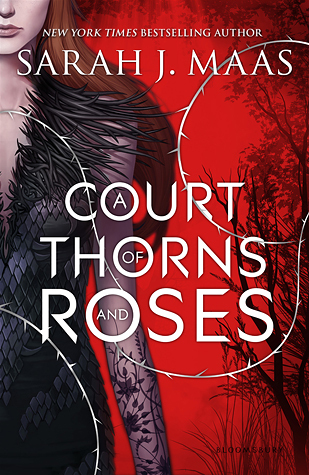 Title: A Court of Thorns and Roses
Series: A Court of Thorns and Roses #1
Author: Sarah J. Maas
Format: Hardcover, 416 pages
Published: May 5th 2015 by Bloomsbury Children's
ISBN: 1619634449
Links: Goodreads | Amazon | B&N
Reviewer: Linda
Source: Library
Rating: 5 out of 5 Wine Glasses
A thrilling, seductive new series from New York Times bestselling author Sarah J. Maas, blending Beauty and the Beast with faerie lore.





When nineteen-year-old huntress Feyre kills a wolf in the woods, a beast-like creature arrives to demand retribution for it. Dragged to a treacherous magical land she only knows about from legends, Feyre discovers that her captor is not an animal, but Tamlin—one of the lethal, immortal faeries who once ruled their world.





As she dwells on his estate, her feelings for Tamlin transform from icy hostility into a fiery passion that burns through every lie and warning she's been told about the beautiful, dangerous world of the Fae. But an ancient, wicked shadow grows over the faerie lands, and Feyre must find a way to stop it . . . or doom Tamlin—and his world—forever.
Linda's Thoughts:
"A life for a life--but what if the life offered as payment meant losing three others?"
A COURT OF THORNS AND ROSES by Sarah J. Maas was a most incredible read! I absolutely loved it! I almost don't have words for it. For starters, there's a kick-ass heroine and a bad boy hero. Stir in epic battles, amazing magical feats, a steamy love fest and fabulous twists that will keep the reader guessing until the very end and mix them all together for a fairy tale destined to be a classic. This is the story of huntress Feyre and High Fae Lord Tamlin.
I have heard such wonderful things about Sarah's Throne of Glass series, but it seems daunting to jump into it with so many books. When I heard about this release, I couldn't wait to get it. OMG! I was not disappointed! I really am going to have to check out her Throne of Glass series soon.
As the story opens, we meet Feyre, the youngest and only responsible member of her family. She had sworn to her mother on her deathbed that she would do everything in her power to support her remaining family and Feyre stands behind her word. Her family consists of her crippled father and two sisters. They used to be well off until her father's ships were lost at sea and they lost everything. This winter had been very difficult and there was no food remaining for their table. So... Feyre goes hunting into the dangerous forest desperate to find game they could eat. Lo and behold, she finds a deer that would feed them for weeks but a large wolf is also stalking the deer. Should she let him have it? Or should she kill the wolf also? There was no room for error or she would end up in the wolf's belly too.
Cold and hungry, she elects to kill the wolf and take down the deer, a decision that will set her on a collision course with the fae as the wolf was one of them. There is no love lost between the fae and humans. A beastly fae named Tamlin kidnaps her and makes her a permanent guest at his castle to pay penance for the fae's life she ended leaving her family to fend for themselves.
I loved both Feyre and Tamlin and was utterly captivated as their romance transformed from icy indifference to fiery passion. Don't think for moment that the author left out heart-racing action! There's plenty of it and it's wicked. There's mythological creatures too, dark secrets, intriguing celebrations, vile villains and characters that could be good or bad... depending on which day it is. The scenes are painted in a vivid, colorful palette that will transport you into this fantasy to where, when you look up from the pages, you will have to blink to re-orient yourself to this mundane world. Supporting characters were great too... especially Lucian and Rhysand, two fae who will most assuredly figure in the next installment.
Following please find a few of my favorite non-spoiler quotes:
"Do you ever stop being so serious and dull?"
"Do you ever stop being such a prick?" I snapped back.
Dead—really, truly, I should have been dead for that.
But Lucien grinned at me. "Much better."
---
I threw myself into that fire, threw myself into it, into him, and let myself burn."
---
"We moved together, unending and wild and burning, and when I went over the edge the next time, he roared and went with me."
---
"It's a rare day indeed when someone thanks you for bringing them to their death."
This tale is hotter than a YA.; I would classify it as a NA as Feyre is nineteen and their romance is blistering... much more than kissing... but nothing graphic to make it full-fledged adult. You will need to turn on a fan!
This is the most awesome fractured twist of the actual classic BEAUTY AND THE BEAST that there could be. Maas has created an original world besieged by a colossal dooming conflict. This book kept me up way past my bedtime and I'm not complaining. I alternatively laughed, cried, sighed, screamed, melted into a puddle and held my breath. I'm dying to find out where Maas takes us next. I highly recommend A COURT OF THORNS AND ROSES to anyone who loves taking mind-blowing, phenomenal journeys courtesy of fabulous fantasies with creative, complex plots and gorgeous imagery. If you crave an imaginative escape, you can't get any better than this!