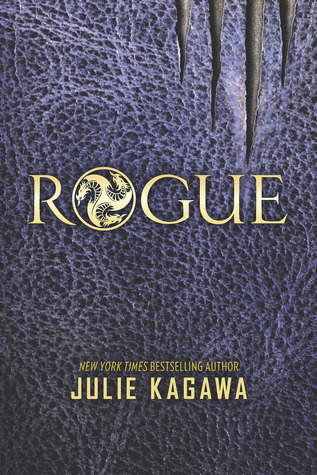 Title: Rogue
Series: Talon #2
Author: Julie Kagawa
Narrated by: Caitlin Davies, MacLeod Andrews, Chris Patton, Tristan Morris
Length: 12 hrs and 29 mins
Format: Unabridged Audiobook
Release Date:04-28-15
Publisher: Blackstone Audio
Reviewer: Linda
Source: Audiobook Jukebox
Rating: 5 out of 5 Wine Glasses
Ember Hill left the dragon organization Talon to take her chances with rebel dragon Cobalt and his crew of rogues. But Ember can't forget the sacrifice made for her by the human boy who could have killed her—Garret Xavier Sebastian, a soldier of the dragonslaying Order of St. George, the boy who saved her from a Talon assassin, knowing that by doing so, he'd signed his own death warrant.





Determined to save Garret from execution, Ember must convince Cobalt to help her break into the Order's headquarters. With assassins after them and Ember's own brother helping Talon with the hunt, the rogues find an unexpected ally in Garret and a new perspective on the underground battle between Talon and St. George.





A reckoning is brewing and the secrets hidden by both sides are shocking and deadly. Soon Ember must decide: Should she retreat to fight another day…or start an all-out war?
Linda's Thoughts:
"A flame that burns twice as bright lasts half as long."
"You remind me of that flame Firebrand," Riley murmured. "You burn so hot, and so bright, you set everything around you on fire. Just be careful that the people around you don't get singed," he said in a low voice. "Or that you don't burn too hot, too quickly. The brightest flames are usually the ones that are extinguished first."
ROGUE by Julie Kagawa is the second installment in Julie's Talon Saga series. I am thrilled to share that, if you liked TALON, you are going to LOVE ROGUE! It's packed with even more action and it kept me on pins and needles throughout. I experienced a myriad of emotions while listening to it; I cried, gasped, swooned. I actually forgot to breathe multiple times as the danger and suspense made time stand still.
I don't believe this book would work well as a standalone as knowledge of the characterizations and background from the first book are critical for full enjoyment. That's not a bad thing as TALON was a fantastic listen on its own, so there's no excuse not to enjoy the series in order. If you are a dragon lover like me, there's no such thing as too many dragons!
A little background of the series:
Long ago, dragons were hunted to near extinction by the Order of St. George, a society of dragon slayers. However, the dragons of Talon have since grown their numbers, hiding in human form, and they're positioning to take over the world. Both the Order of St. George and Talon are controlling, hush-hush organizations whose followers must fall in line... or else.
Ember and Dante Hill are the only sister and brother known to dragonkind. The twins were placed at a safe house on the beach in sunny, California for a summer to practice assimilation with humans. While Dante is totally caught up in Talon, Ember is not. With the help of Cobalt, a rogue dragon, Ember uncovers devastating secrets about Talon that make her choose a life on the run with Cobalt and leave the only family she has ever known.
Soldier Garret Xavier Sebastian had a mission to seek and destroy all dragons. St. George had intelligence of where the new Talon recruits had been placed and Garret was assigned to find them and take them out. But he cannot kill unless he is certain he has found his prey. Torn between his mission and his growing attraction to Ember, Garret balks, and actually prevents his partner from taking out Ember
As ROGUE opens, Garret is in the custody of St. George waiting for his death sentence to be carried out and Ember is determined to rescue him with Cobalt's help or not.
This series features some really cool characters - many of them just happen to be dragons. A former dragon killer and a geeky human complete the band of resistance fighters. Together our band of misfits can kickass!
Ember perfectly fits the mold of a fierce, stubborn and determined heroine. She refuses to blindly follow rules, is determined to decipher what's true and fights for what she believes in even when it puts her in danger. She's also a typical teenager with yearnings that she doesn't understand.
There's a love triangle and I'm torn between Team Cobalt, the favorite of her dragon-side, and Team Garret, the pick of her human-side. This is a YA book so, in the romance department, there's some kissing, but no hanky panky.
I have conflicting emotions about Ember's brother; I keep hoping that he will move toward the light one way.... or another. Regardless, both Talon and the Order of St. George are despicable and have shown that they will stop at nothing to install their ideas of a new world order.
One of the most memorable moments for me was when former Order of St. George assassin Garret confessed that he loved Ember despite her being a dragon.
"I am in love with a dragon.
Let the Order condemn me, I mused, perhaps my first truly rebellious thought in a lifetime. Let them call me a traitor and hunt me down. For thirteen years, I had followed commands, livid by the rigid code of St. George, become their perfect soldier, only to discover the Order I'd dedicated my life to was wrong. Everything I thought I'd knew was a lie. The only real thing was the girl in my arms."
Following please find a few more of my favorite quotes:
"Holy shit, Riley." The human lowered his glass with a look of disbelief and horror. "The Order chapterhouse itself? So, what you're telling me is you've gone insane?"
"Very likely," I muttered.
"One of your hatchlings?"
"No." I scrubbed a hand through my hair. "One of them."
He stared at me, then used both hands to point at himself. "Okay, see this face? This is my what-the-hell face. Seriously, Riley. What. The. Hell. You snuck into enemy territory, dropped a figurative wasp down their pants and then brought that mess here, so I have to deal with it? Are you out of your freaking mind? Why would you do such a thing?
"It's...complicated."
---
"There was no way I was going to let him die. He was my other half; without him, I felt incomplete. I wasn't sure if this was my dragon talking or me, but I couldn't imagine a world without Riley."
---
"Because if I don't, Ember will go without me and get herself killed! Riley snapped, and finally looked in my direction. Those piercing gold eyes met mine across the room, the shadow of Riley's true form staring at me. I shivered as he held my gaze. Because she doesn't know St. George like I do, he went on. She hasn't seen what they're capable of. She doesn't know what they do to our kind if we're discovered. I do. And I'm not going to let that happen."
---
"Oh, is that all?" Riley frowned, gesturing to the broken window. "And how are we supposed to find where this shooter is without taking a hole to the head? I don't feel like playing whack-a-mole with a trained sniper right now."
The audio is totally AWESOME! This book was narrated by Caitlin Davies as Ember, MacLeod Andrews as Garret, Chris Patton as Riley, and a new addition this round, Tristan Morris as Dante. Because readers are privy to the secrets in each of the primary characters' heads - since the story is told in alternating POVs- we understand what drives each and why they make the decisions they do and why. Each of the narrators did a terrific job of capturing the essence of the characters and bringing them to life. Their voices were all clear and distinct and I was able to easily differentiate between the characters from their performances. The production was well-paced. This talented cast of narrators most definitely positively enhanced the production and enriched the story for me. After listening to their narrations, I cannot imagine reading the novel.
This series is dragonlicious! Julie's storytelling is flawless. I loved her Iron Fey series and now I'm utterly addicted to her dragons! With nonstop action, thrilling suspense, a plethora of dangerous situations, and well-drawn, fully-developed characters, this story is beyond amazing! I've read that Hollywood has optioned this series for film and I sure hope they follow through; It would be so awesome to see this epic saga played out on the big screen! I'm already dying to listen to the next book, THE SOLDIER, slated to be published in Spring of 2016. I can't wait!
Go resistance fighters!