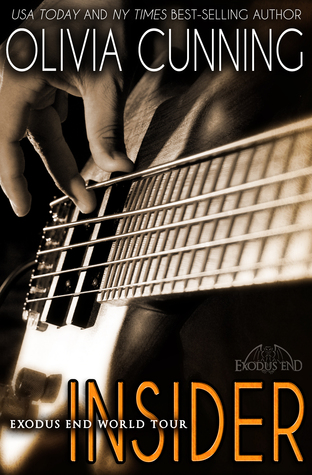 Title: Insider
Series: Exodus End #1
Author: Olivia Cunning
Format: ebook
Published: June 30th 2015
ISBN:139781939276186
Links: Goodreads | Amazon | B&N
Reviewer: Crystal
Source: NetGalley via. Blog Tour Co.
Rating: 4 out of 5 Wine Glasses
She thought she was ready to rock...

Toni Nichols put her aspirations on hold while she raised her little sister, but now she's reaching for the stars and living her dreams as the creator of a revolutionary interactive biography about the rock band Exodus End. Creating the book requires her to go on tour and immerse herself in the band's world as an insider, but can she gain the trust of four veteran superstars who've been burned by the media before? Or will her dreams crumble at her feet?





He's always ready to roll




Logan Schmidt was born an adrenaline junkie. He lives for the rush he gets from playing his bass guitar before thousands of fans. When he's not performing on stage or in the bedroom, he's looking for his next endorphin high in extreme sports. So what is it about the sweet and innocent journalist on their world tour that gets his heart pumping and captures his full attention? Is she the real deal or is she posing at being his perfect woman to get inside secrets on Exodus End?





They're both ready to experiment




Though Toni was innocent the first time she climbed the bus steps, that didn't last long once Logan set his sights on her. He's so much more worldly than she is and she's ready to learn how to please a lover and explore all the ways she can be pleased. Logan can't believe his luck. Toni's a phenomenal woman and she wants him to teach her how to rock and roll in the sack? Not exactly a burdensome task. Until she starts to get too close to his heart and takes her insider look to a place he never anticipated.
Crystal's Thoughts:
Insider
, the long-awaited first book in the
Sinners on Tour
spin-off series, follows the major rock metal band, Exodus End. A lot of Sinners fans were anticipating this being Dare's book, Trey's (Sinner's guitarist) older brother. But it's not.
Insider
instead introduces you to all of the Ex-End members while following Logan, the band's bassist. And unfortunately, it doesn't look like the second book will be Dare's either. We'll just have to wait not-so-patiently for Olivia Cunning to give us all what we've been craving for in her own time, the author knows best I suppose. lol BUT, we will be seeing lots more of Trey in the second installment so that's a win in my book!
As I mentioned above, Insider, follows the band's bassist, Logan and journalist, Toni. Toni is a extremely sheltered twenty-five year old virgin who is finally let off her mother's leash to write an interactive biography covering the band, Exodus End. To do this, she is going on tour with the band for a month. This is like throwing a minnow into a group of sharks. Toni was incredibly naive throughout the story, unbelievably so, and it wasn't until the last leg of the story that I began to relate to her in any way. I will commend her character for being so dedicated to her sister and family though. Not a lot of women her age would take on the responsibility that she did without complaint. Her little sister, Birdie, also added many heart-warming moments to the story. While Logan often times acted like a man half his age. He was the clown of the group, which added humor to the story-line but also was a little much in some circumstances.
I also felt though, that Logan had a little bit of a self esteem problem that was never fully recognized by the characters or author, and used his goofiness as a shield. He saw himself as unimportant in the band,
"I'm just the bassist."
Which tugged at my heart. Logan is also an adrenaline junkie. Cliff diving, bungee jumping, sky diving, motocross. You name it, he's done it. Being dragged along on his crazy adventures helped Toni come out of her shell. These two together were cute, had incredibly hot sex, and I loved how they played off each other.
On a side note; it is becoming beyond cliche for women who feel that they are over-weight (although the only real description of Toni's looks were from herself, while others just described her as 'stacked' and nerdy looking) to have a gay man as their BFF.
Sinners fans will not be disappointed as many of them show up in this book, and Insider plays along the same timeline as the end of the Sinners series.
Before
Insider
, my main focuses of the band were Dare and Reagan because of the Sinners series. Now, after being introduced to each character and getting a glimpse into their stories I am intrigued by each and everyone one!
The dynamics between the Ex-End members is what truly captured my attention in this book. Each had a love-hate relationship with each other at times, which I could understand after being stuck on a bus with the same five people day in and day out. They were bawdy, aggressive, sometimes contemplative, yet loyal to one another and I loved reading all about their antics.
There was a
big twist in the plot that I saw coming a mile away, and
I did feel that some scenes were glossed over. I would have liked some expansion on those, for instance when the band went from hatred back to love for Toni near the end. Why did Reagan go from wanting to kill a b*tch to tackle-hugging her? Did Logan talk to them? Did they have a band meeting? Did they realize on their own that Toni would never betray them?
While titillating (pun intended, you'll get it if you read), Insider lacked that gripping edge that I found in the Sinners series but all-together ending up being an enjoyable, rockin' read.
The ending of this book bumped it up from three stars to four stars for me. I really relished it and turned that last page with a smile on my face.
What I love most about Olivia Cunning's writing is her obvious love of music that radiates from the pages. Everything you would expect in a rock-star romance, Cunning delivers. If you are a Sinners fan then I 100% recommend you reading
Insider
, and though it didn't completely rock my world, I don't, and I know you won't, regret reading it. I'm eagerly anticipating the next book in the series! If you haven't read the Sinners On Tour series yet O.o Yeah, that's me giving you the "Whaaa?" look, you can technically read Insider as a stand alone, but you will miss a lot of backstory on one of the band members and a series that will rock your world!