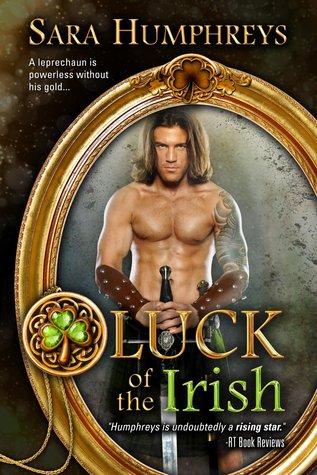 Title:
Luck of the Irish
Series:
Leprechaun's Gold #1
Author:
Sara Humphreys
Format:
ebook
Published:
June 30th 2015 by Sara Humphreys
ISBN:
1495153282
Links:
Goodreads
| Amazon | B&N
Reviewer:
Linda
Source:
Author
Rating:
4 out of 5 Wine Glasses
A leprechaun is powerless without his gold….

Banished to the mirrored realm for hundreds of years, Declan Aherne had nothing but time to plot his revenge and mourn the loss of his beloved wife. But when a beautiful human woman, with a familiar amulet, stares into the mirror….Declan's luck was about to change.
Linda's Thoughts:

Maggie had a sinking suspicion that those stories her Aunt Lizzie told her, the ones that sent her to bed with her head full of leprechauns and fairies, may be more than fairytales after all.

LUCK OF THE IRISH by Sara Humphreys is an enchanting tale of a leprechaun fae who is freed from the mirror which has served as his prison for two hundred years by a young maiden in Brooklyn. It is most definitely an engrossing read as I had to stay up well past my bedtime finishing it; Sleep was impossible until I'd read the last sentence.

This story is a spin off of the author's Princes of Hell series and features the leprechaun fae. You do not need to have read the Princess of Hell to fully enjoy this tale. I know this because I have not read any of the Princess of Hell series and I loved LUCK OF THE IRISH! So you know... The leprechaun fae are born of a witch and fae pairing, but considered outcasts by both. The leprechaun fae live quietly in a remote village within the Fae realm. I understand that this novella was originally published in the Get Lucky anthology but that version included a cliffhanger. This updated rendition no longer features a cliffhanger, although the story is still not done. LUCK OF THE IRISH is now the first installment in a planned trilogy.

As the story opens, we meet Declan Aherne, a leprechaun fae, who has just lost his beloved witch-wife in childbirth. Before she passed, she had asked him to return her to her people for burial and, when he sadly does so, her father, an evil powerful warlock, who blames Declan for his daughter's death, banishes Declan into a spelled mirror to remain there until released by a matching amulet coupled with the right words.

Maggie, a human, vividly remembers the fairy tales that her Aunt Lizzie had shared with her growing up. One of her favorites is about a magic mirror that holds a leprechaun wrongly imprisoned. Her Aunt had described the mirror in detail and, even though her Aunt has passed, Maggie still spends her free time searching antique shops for the mirror.

Lo and behold, one day, she finds the mirror and takes it home. Thinking herself silly, she holds the amulet her Aunt had given her to the mirror and utters the words her Aunt had taught her. The mirror's surface ripples and a six-foot, hunky, kilted Irishman complete with a sword on his back erupts! Do not worry! He poses no threat to Maggie; He only wants to is to get back to the Fae realm and find his daughter who has been without a mother or father for centuries.

I loved both the hero and heroine. She craved excitement in her life and sure got it! LOL! I've always thought of leprechauns as wee wizened, mischievous gnome-like creatures with their hidden pot of gold at the end of the rainbow. This story makes me re-think my former typecasting. I definitely like Sara's sexy version better! Oh... and wait until you find out about that pot of gold...

Following please find a few of my favorite quotes from this light-hearted read:




"Mirror, mirror on the wall, who's the hottest bitch of all?" ---


"Me father always said if ya can find a lass who's brilliant in the kitchen and in the bed ya best not let her go." ---


"Are ya tryin' to kill me, Maggie?" Declan bit the words out and his fingers dug deeper into her hips. "Are ya wantin' to see a grown man beg?" ---


"I'll not be lyin' if I tell ya that I fancy ya a bit myself."

"The fancy feelings are mutual."

A grin curved her lips right before Declan pressed a kiss to them.

LUCK OF THE IRISH is a delightful sexy and sweet adult fairy tale. I highly recommend it to anyone who enjoys mature paranormal/fantasy romances with an Irish twist! I can't wait for the next installment!