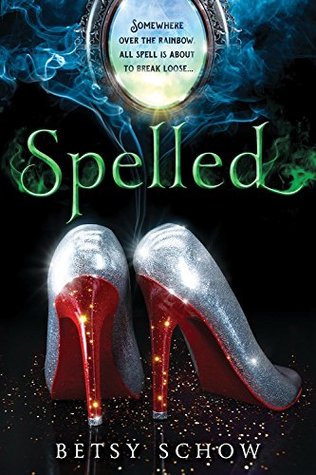 Title: Spelled
Author: Betsy Schow
Format: Paperback, 352 pages
Published: June 2nd 2015 by Sourcebooks Fire
ISBN: 1492608718
Links: Goodreads | Amazon
Reviewer: Linda
Source: Netgalley
Rating: 3.5 out of 5 Wine Glasses
Fairy Tale Survival Rule #32: If you find yourself at the mercy of a wicked witch, sing a romantic ballad and wait for your Prince Charming to save the day.

Yeah, no thanks. Dorthea is completely princed out. Sure being the crown princess of Emerald has its perks—like Glenda Original ball gowns and Hans Christian Louboutin heels. But a forced marriage to the brooding prince Kato is so not what Dorthea had in mind for her enchanted future.

Talk about unhappily ever after.

Trying to fix her prince problem by wishing on a (cursed) star royally backfires, leaving the kingdom in chaos and her parents stuck in some place called "Kansas." Now it's up to Dorthea and her pixed off prince to find the mysterious Wizard of Oz and undo the curse...before it releases the wickedest witch of all and spells The End for the world of Story.
Linda's Thoughts:
An ill-worded wish is worse than a curse...
SPELLED by Betsy Schow is an enchanting,farcical YA fractured fairy tale. It is the story of Dorthea, the Crown Princess of Emerald, and Prince Kato.
As the story opens, we learn that the heroine is magically imprisoned at her castle and not allowed to be near flames because of a curse:
Our family became spelled after my ancestor pixed off two evil witch sisters. The witches' curse was supposed to doom my great- great- great grandmother to turn evil and torch the world— except the spell wasn't worded right. It didn't spec-ify which Emerald princess. So ever since, all the girls in the Emerald family have been stuck inside, since there's no way to know what generation will inherit the curse.
Our heroine is a spoiled brat. She has money, clothes and servants. She spends her days attempting to break the wards holding her captive and dismissing her royal suitors. Being shut in doesn't stop Dorthea from socializing with other fairy tale royalty.
Though all the major fairy tale families were coming tonight, I wouldn't exactly call any of them friends. Aside from the once-a-year gathering, I never spoke to any of them, except the occasional chat on Flitter with Cinderella, since we shared a love of designer footwear.
Nor does it keep her from shopping at her favorite stores: the Castle Shopping Network and Blooming Dales.
When her parents decree that she is to marry Prince Kato, Dorthea is rebellious to say the least.
No way. I would rather lick a toad. I would let a wicked old hag bake me into gingerbread before I married this son of a bas-ilisk who had the gall to look amused while I hyperventilated.
She throws a fit and utters a selfish, foolish wish that backfires and turns the entire fairy tale realm topsy turvy giving evil the upper hand and causing her parents to disappear. In Dorthea's words: "All spell broke loose." Evidence of the turmoil is all around. The wicked witch has taken up residence at Emerald and the Beast is now wearing Beauty's dress!
A ferocious growl drew my gaze to the back of the room, where a hairy beast wore a yellow ball gown. I tried to block out the memory of Beauty in that dress earlier this evening.
So... Dorthea, Prince Kato, who has been turned into a small, furry dragonish creature, and a reluctant servant embark on a quest seeking to reverse Dorthea's wish.
Following please find just two more of my favorite quotes that I just have to share:
No need to panic. I was the heroine in this story, so everything would get fixed somehow.
---
First, I spit out a mouthful of dirt. Then, I screamed at the sky. "That's it! I've had it! Everything is trying to kill me! All I did was make one stupid wish. Aladdin made three. I'm the hero of this story, so where's my happy ending, already? It's not fair."
I have to mention that I loved some of the author's clever play on words. For example, ebook in the fairy tale realm is short for enchanted book. I also enjoyed watching Dorthea mature into a character that you will want to cheer on by the end of the book. This book is written for the young and the young at heart. The story is light and the pacing is fast - to where I did a few double-takes going back to re-read as I thought I'd missed something. Romance-wise, there are some kisses, but no hanky panky. The ending was nuts and ended with a wacky cliffhanger; I sure hope there's a sequel in the near horizon. I would recommend this entertaining twisted fairy tale to anyone who enjoys their fantasy with a plethora of whimsicality, satire and snarky levity.