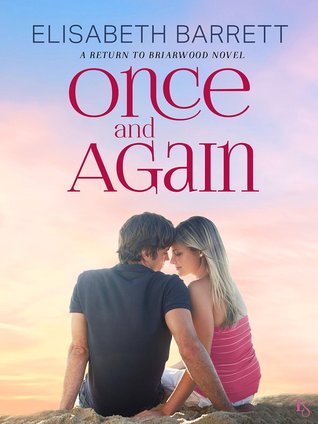 Title:
Once and Again
Series
: Return to Briarwood #1
Author:
Elisabeth Barrett
Format:
eBook, 302 pages
Published:
July 14, 2015 by Loveswept
ASIN:
B00ONUYEW8
Links:
Goodreads
|
Amazon
|
B&N
Source:
Netgalley
Reviewer:
Kimberly
Rating:
2 out of 5 Wine Glasses
For readers of Shannon Stacey and Susan Mallery, the heartfelt new Briarwood series begins with a tale of forbidden love, broken promises, and second chances.

Growing up in Eastbridge, Connecticut, Carolyn Rivington was a young debutante who did whatever her parents asked. So when her father demanded that she break things off with the boy from the wrong side of the tracks or else, she did. Now Carolyn's family is deep in debt. She's no longer a member of the Briarwood Golf and Yacht Club, she's an employee. And the tanned, tattooed, dangerously handsome stranger who saunters into her lobby isn't just her new boss . . . he's also her first love.

The last time he saw Carolyn, Jake Gaffney was in the back of a police cruiser, handcuffed and humiliated. But seeing her again stirs other memories: a blanket on the beach, the moon above their heads, and the most expensive bottle of wine he could afford. Now the tables have turned. As a real-estate magnate and Briarwood's new owner, Jake doesn't have to answer to anyone. But now that he's back home, he's finding it hard to live down his old reputation.
Kimberly's Thoughts:
Carolyn is a former rich girl currently drowning in bills due to her father's mismanagement of money. Working at a country club that she used to stay at has humbled her and revealed her tougher side. When the country club gets bought by none other than Jake, the boy from the wrong side of the tracks her parents had arrested for making out with her, she thinks her world will crumble again. Jake has never forgotten Carolyn and used his anger for motivation to work his way to the top. When he sees her at her lowest, he wants to be glad but old feelings start to be rekindled. Jake and Carolyn are still struggling with the past but have a second chance to make things right for the future.

Once and Again is the first in a new series and it is painfully obvious. Secondary characters, especially a newly acquired friend of Carolyn, get loads of face time with little story tangents that have no real place in this story but are obviously meant to intrigue for future interest in later books. This, along with pages devoted to tedious descriptions and doings by Carolyn, filled the story with unnecessary details that dragged and created a slow pace. I enjoyed and liked seeing the female relationships Carolyn cultivated but I mainly came for the romantic relationship between her and Jake, sadly this was missing.


Carolyn seemed like a stiff character, I could never quite get a read on her and as a consequence never felt attached. She is working to pay off her father's debts, while her sisters apparently got out of Dodge, and while she cries and gets hot for Jake, I never felt true emotion from her. Jake had more vitality to him but, especially for the first half, he felt like a guest star in his own story. We get to see more of his personality through his interactions with two of his business partners but I would have loved to see him with Carolyn more. There were no flashback scenes to the two meeting and falling in love as kids which left them without a foundation in this story. It essentially felt like they see each other again, feel some sparks again, sleep together, spend a lot of the story apart, sleep together, Carolyn has a handful of pages wondering if she should be with Jake, and then are together forever. Sadly, at no point did I feel or understand their romance.


This story basically follows Carolyn's life as she finds her way working at the country club, many side tangents of what I am guessing are future characters, Jake's commercial real estate issues, and Carolyn and Jake's infrequent meet-ups. The writing is technically sound but the actual story drifts into being boring and loses its focus many times. There was promise here with rich girl and the boy from the wrong side of the tracks, unfortunately, the author seemed too focused on setting up characters for future books.