The fourth book in J. Lynn's addictive new adult contemporary romance series is finally here -
Fall With Me
!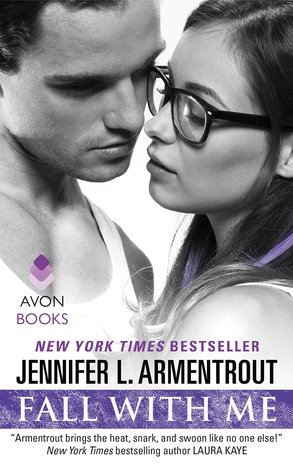 Fall with Me
(Wait for You #4)
by J. Lynn, Jennifer L. Armentrout
Published March 31st 2015 by Avon
Eleven months ago, bartender and weird-shirt-wearing extraordinaire Roxy and Officer Reece Anders had a one night stand. Well, kind of. She's been in love with him since she was fifteen, and he wishes that night they shared never happened. She's sworn him off forever, but the past and future collide, forcing her to rely on the one man who broke her heart not once, but twice.

Her best friend since birth has been in a long-term care facility since he became a victim of a hate crime years ago, and the person who put him in there is out of prison and wanting to make amends with him and Roxy. She's not sure she has room for forgiveness in her and when she begins to receive frightening messages and is on the receiving end of escalating violence, she thinks she knows who is to blame. The man who already destroyed one life already.

But Reece isn't convinced. The threats are too personal, and even if Roxy doesn't believe him, he's not willing to let anyone hurt her. Including himself. He's already messed up more than once when it comes to Roxy and he's not going to let history repeat itself.
Excerpt:
There was a county cruiser parked next to my car and there was a really freaking hot cop propped against the passenger side, long legs crossed at the ankles and arms folded across a yummy chest.
I wasn't really thinking about my list of priorities as I stared at him in the dimly lit parking lot. The muggy night air settled over me as he unfolded his legs and pushed off the cruiser. My gaze roamed over him. I was really just thinking about how the polyester material of his work pants moved along his thighs.
God, he walked with the kind of lethal grace that should be illegal.
Nick leaned in and whispered in my ear, "And right there is the main reason why I wouldn't get with you."
"Hey man." Nick clapped Reece on the shoulder as he strolled past him. "Have a good night. See you Wednesday, Roxy."
"Bye-bye." I didn't take my eyes off Reece. What was he doing here, at two thirty in the morning? It wasn't the first time I'd stepped out of the bar late at night and found Reece waiting. Back before "the night thou shalt not repeat," he used to do it every once in a while, when he was working the night shift and was taking lunch.
But it was something I hadn't expected him to do again.
The sound of Nick's motorcycle rumbling to life echoed throughout the otherwise silent parking lot. I needed to say something, because we were standing there, a few feet between us, staring at one another. "Hi."
Well, that was spectacular.
One side of his lips kicked up as his gaze dipped. "What . . . ?" He laughed, and there was a flutter deep in my belly, like a nest of butterflies had suddenly taken flight.
"What does your shirt say?"
I glanced down, trying to stop the smile tugging at my lips. "It says 'Ladies' Man.' What's wrong with that?"
Long, thick lashes lifted and then he laughed again, that nice and light laugh that wrapped around me. "You are . . . you're something else, Roxy."
Shifting my weight from one foot to the next, I bit down on my lip. "I'm not sure if that's a good thing or a run-in-the-other-direction kind of thing."
He took one step closer, his arms loose at his sides—his right arm brushing against the handle of his duty gun. The star on his chest seemed shinier than possible, and was eye level with me. "It's . . . yeah, it's a good thing."
Don't miss any of J. Lynn's best selling Wait For You series!
About Jennifer L. Armentrout:
# 1 NEW YORK TIMES and USA TODAY Bestselling author Jennifer lives in Martinsburg, West Virginia. All the rumors you've heard about her state aren't true. When she's not hard at work writing, she spends her time reading, working out, watching really bad zombie movies, pretending to write, and hanging out with her husband and her Jack Russell Loki.





Her dreams of becoming an author started in algebra class, where she spent most of her time writing short stories….which explains her dismal grades in math. Jennifer writes young adult paranormal, science fiction, fantasy, and contemporary romance. She is published with Spencer Hill Press, Entangled Teen and Brazen, Disney/Hyperion and Harlequin Teen. Her book Obsidian has been optioned for a major motion picture and her Covenant Series has been optioned for TV.



She also writes adult and New Adult romance under the name J. Lynn. She is published by Entangled Brazen and HarperCollins. http://www.jenniferarmentrout.com/