Meet Trick Roth in this roller coaster ride of angst, suspense, & scorching hot HEAT?!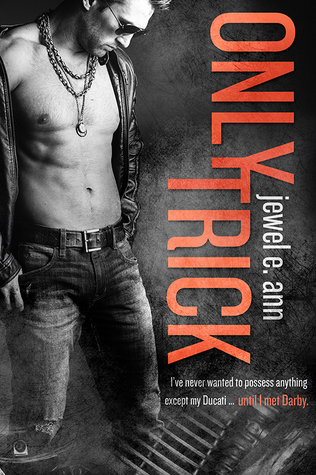 Only Trick
by Jewel E. Ann
Paperback, 331 pages
Published April 13th 2015
"Don't Look Back in Anger"

In one night, I lost five years of my life. Here's what I know …

I was homeless.

I'm a recovering drug addict.

My inked skin crawls from lustful eyes.

I have a serious aversion to women.

My gay partner is a home wrecker.

I own a gun and I'm a damn good shot.

I'm a makeup artist, but it's an insult to my talent.

I've never wanted to possess anything except my Ducati … until I met Darby.

Now here's what I know since that day in the ER when she pieced me back together … nothing—but a few random thoughts.

My new "friend" is distracting, clingy, and obsessed with acronyms, emojis, and phrases like "breakfast soul mates."

I didn't want to like her, but she crawled under my skin and swallowed me whole. Now we're best friends and she's my new addiction. I'd drink her from a shot glass, snort her up my nose, or inject her into my veins if I could. What I won't do … is ever tell her that.

She doesn't know me … I don't know me. When those missing years come back, I think she will hate me … I think I will hate me.

My parents named me Patrick Roth, and this is my story.
"Ahh!" I scream as the closet door opens. My heart explodes and I nearly wet myself. I shuffle my feet against the floor, scooting as far in the corner as I can, hugging my knees to my chest.
I shake my head, holding my breath.
His lip twitches. Then, with what can only be described as a scene from a horror movie, he grabs my ankles and drags … he fucking drags me out of the closet. "Trick!"
Hoisting me over his shoulder, he smacks my ass so hard I yelp. "I'm thinking sofa."
"Trick! Stop!" I scream, kicking and flailing as he carries me downstairs. As I pound my fists against his back, something catches my eyes. He has the ties to both my satin and terrycloth robes partially tucked into the waistband of his shorts along with one of his belts.
He sets me down with my ass backed up to the sofa, my chest heaving, eyes wide.
"Darby?" He lifts my chin with his finger.
Another swallow, another nod.
"Good." He lifts my yoga top over my head, wetting his lips as he stares at my breasts. Then he pulls down my pants, leaving me naked. His lips skim up my legs, stopping at my sex, but all he does is just breathe out causing my legs to pinch closer together. Then he inhales. Standing, he watches me—daring me to run again.
About the Author:
Jewel is a free-spirited romance junkie with a quirky sense of humor.

With 10 years of flossing lectures under her belt, she took early retirement from her dental hygiene career to stay home with her three awesome boys and manage the family business.





After her best friend of nearly 30 years suggested a few books from the Contemporary Romance genre, Jewel was hooked. Devouring two and three books a week but still craving more, she decided to practice sustainable reading, AKA writing.



When she's not donning her cape and saving the planet one tree at a time, she enjoys yoga with friends, good food with family, rock climbing with her kids, watching How I Met Your Mother reruns, and of course…heart-wrenching, tear-jerking, panty-scorching novels. http://www.jeweleann.com/
Tour-Wide Giveaway:
a Rafflecopter giveaway