Sundays have never been so sexy!
Sexy Snippets is a weekly feature hosted by Reading Between the Wines for the 18+ crowd. Want to join in? Just grab the button, post a sexy paragraph or two from your current read and share the author & title so other participants can add the book to their TBR list if they like, and then leave a comment with a link to your post. And don't forget to have a sexy-good time!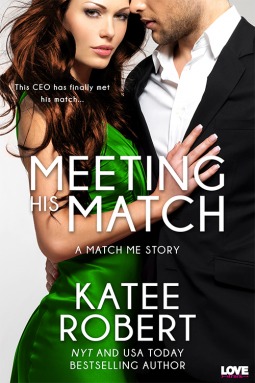 Addison let her head drop back to the table. "Don't stop."




He hadn't realized how tense he'd been as he waited for her answer until his legs threatened to give out. Caine pressed a kiss to the inside of her knee. " I won't." He reached behind him for the chair he'd kicked aside and dragged it back so he could sit down. Having laid her out like the best kind of feast did things for him- things he wasn't completely prepared to deal with. Because she trusted him to take this further without pushing it too far, and he fully intended to reward that trust.




He pulled her to the edge of the table and stroked his hands over her hip bones and down to trace over the lace of her panties. He teased her, dipping one finger just beneath the edge of the fabric, silently letting her know the he could keep this up all night if he were so inclined.




He wasn't.
Buy MEETING HIS MATCH now at
Amazon
and
B&N
! Read our Review of
MEETING HIS MATCH and add it to your
Goodreads
shelf today!