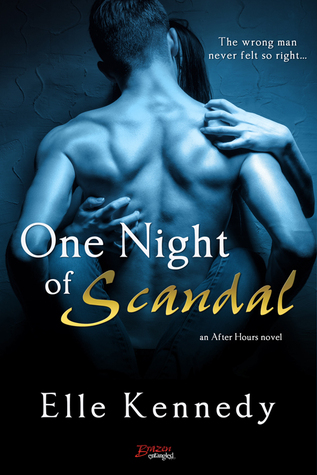 Title: One Night of Scandal
Series: After Hours #2
Author: Elle Kennedy
Format: ebook, 230 pages
Published: September 8th 2014 by Entangled: Brazen
ISBN: 1633750795
Links: Goodreads | Amazon | B&N | ARe
Source: Publisher
Reviewer: Crystal
Rating: 4/5
A sexy category romance from Entangled's Brazen imprint...

The wrong man never felt so right...



Ex-fighter Reed Miller has been secretly lusting over his best friend's girl for months, but he refuses to jeopardize a friendship over a woman—especially one who doesn't like him all that much. Now that Darcy's on the market again, it's even more imperative to stick to his strict hands-off policy. But the sizzling attraction between them is too powerful to ignore, and once he's had a taste of her…all bets are off.





Darcy Grant is tired of walking the straight and narrow path. She's on the hunt for passion, and there's no denying Reed is just the man to give it to her. Although she has no interest in dating a bad boy, and certainly not her ex's best friend, it's impossible not to melt beneath Reed's skillful touch. Now it's just a matter of setting a few ground rules—and hoping her rule-breaking, sweet-talking bad boy agrees to follow them. But if she lets Reed into her bed, does she stand a chance of keeping him out of her heart?
Thoughts:
One Night of Scandal is a sinfully sexy frienemies to lovers story that you won't want to miss!
Darcy Grant is looking for one night of passion after a disappointing break-up, the last place she expected to find it though was in the arms of her ex's best friend... Reed Miller is part owner of the night club, Sin, with his two friends and fellow ex-MMA fighters. He has watched Darcy from afar since she first stepped into the club on the arm of his best friend, AJ. Knowing she was off limits from the start, Reed kept Darcy at a distance with a cold demeanor. Now that she's single though, Reed valiantly tries to keep his attraction in check but the temptation proves to be too much. Will one night be enough or will Reed end up fighting for more?
There was no denying the sexual tension between Darcy and Reed in the first After Hours book, One Night of Sin. And in One Night of Scandal that tension is only amped up more. Reed and Darcy fight a powerful attraction, combustible chemistry, preconceived assumptions, and the guilt of being together and possibly hurting AJ. The story was intriguing and provocative with characters that I loved. Reed's dirty talk was smokin' hot and Darcy really never stood a chance against him. I am sooo looking forward to AJ's story, he more then deserves a HEA!
This is only the third book that I have read from author, Elle Kennedy, but she has proved so far to write engaging and sizzling hot romances. I can't wait to read more from her and the After Hours series! One Night of Scandal can be read as a stand-alone but you really don't want to miss Gage's story so be sure to pick up One Night of Sin as well!