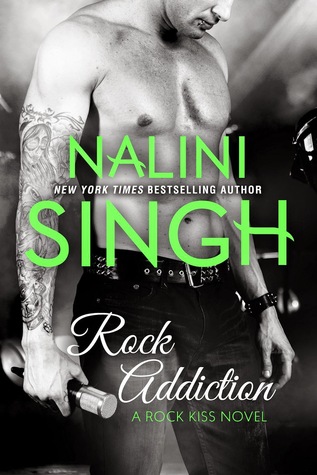 Title: Rock Addiction
Series: Rock Kiss #1
Author: Nalini Singh
Published: September 9th 2014
Links: Goodreads | Amazon | ARe
Source: NetGalley
Reviewer: Crystal
Rating: 4 out of 5 Wine Glasses
New York Times bestselling author Nalini Singh stuns with a sizzling contemporary romance…





A bad boy wrapped in a sexy, muscled, grown-up package might be worth a little risk…





Molly Webster has always followed the rules. After an ugly scandal tore apart her childhood and made her the focus of the media's harsh spotlight, she vowed to live an ordinary life. No fame. No impropriety. No pain. Then she meets Zachary Fox, a tattooed bad boy rocker with a voice like whiskey and sin, and a touch that could become an addiction.





A one-night stand with the hottest rock star on the planet, that's all it was meant to be…





Fox promises scorching heat and dangerous pleasure, coaxing Molly to extend their one-night stand into a one-month fling. After that, he'll be gone forever, his life never again intersecting with her own. Sex and sin and sensual indulgence, all with an expiration date. No ties, no regrets. Too late, Molly realizes it isn't only her body that's become addicted to Fox, but her heart…
Crystal's Thoughts:
Nalini Singh explodes onto the rock-n-roll contemporary romance scene with her new self-published title, Rock Addiction!
Molly Webster knows all about being in the public eye and never wants to experience that spotlight again. So when hot rock star, Zachary Fox, catches her eye Molly is uneasy about returning the attention. But she can't seem to help herself. When Fox requests a ride home from a party, Molly knows that she should say no. Any association with Fox threatens to hurtle her fears from the past straight to the present. She's been good for so long though, the temptation to let go for just one night is too great. But when one night turns into one month of passion and pleasure, can Molly keep her heart separate from her body? And will Fox let her?
I didn't even read the blurb for Rock Addiction when I saw it available on NetGalley after seeing Singh's newsletter announcing the upcoming release. All I saw was "Nalini Singh" over a sexy rock star cover and I was sold! Set in Singh's home of New Zealand, a place that I have always wanted to visit, she brings the beautiful country to life on the pages with her eloquent writing style.
Though Rock Addiction is a totally different direction then Singh's paranormal romances, you can still feel the heart she puts behind every book with her writing. Bad boy Zachery Fox, lead singer of School Boy Choir, is a strong, determined character that knows exactly what he wants. He doesn't plays games, he goes after it. I really loved him from the get-go. He is also a very naughty little rock star. *wink, wink* The chemistry between him and Molly burst from the pages. At the beginning, I will admit that Fox and Molly's relationship was purely sexual. And boy was it hot. However, this caused a bit of an emotional disconnect for me but as the story progressed so did the connection between the two and this is when I really started to get lost in the story and never want to leave.
You know Fox wants more but Molly is resistant to anything deeper.
Molly was a sweet character and someone I think that readers can easily relate to. I liked her ability to communicate her feelings with Fox and vice versa even though she was understandably reluctant at first. The secondary characters were enjoyable
to read about as well and
Rock Addiction
laid down the foundation for the rest
of the series and characters, and I am excited to see where they go from here.
Bottom line:
Rock
Addiction was a sexy and enticing foray into the contemporary romance world
for Nalini Singh a
nd I am looking forward to more from this talented and diverse author!