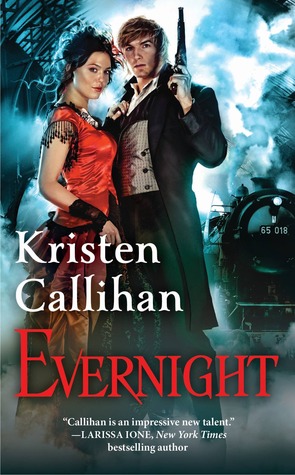 Title: Evernight
Series: Darkest London #5
Author: Kristen Callihan
Format: Mass Market Paperback, 385 pages
Published: August 26th 2014 by Forever (first published January 1st 2014)
ISBN: 145558164X
Links: Goodreads | Amazon | Kindle | B&N | ARe
Source: NetGalley
Reviewer: Linda
Rating: 5/5
Once the night comes . . .



Will Thorne is living a nightmare, his sanity slowly being drained away by a force he can't control. His talents have made him the perfect assassin for hire. But as he loses his grip on reality, there is no calming him—until he finds his next target: the mysterious Holly Evernight.



Love must cast aside the shadows . . .



Holly cannot fathom who would put a contract on her life, yet the moment she touches Will, the connection between them is elemental, undeniable—and she's the only one who can tame his bouts of madness. But other assassins are coming for Holly. Will must transform from killer to protector and find the man who wants Holly dead . . . or his only chance for redemption will be lost.
Thoughts:
"Before he could say a word, she moved closer and pressed her smooth palm to his scar.
He nearly swooned. Clutching the chair at his side, Will swayed into her space, lured by the luscious heat and pleasure that she gave him with that simple touch. A moan escaped him.
"Interesting," she murmured.
He would kill her. Just for that. "I do believe I hate you, Miss Evernight."
Firelight caressed her skin as she gave him the smallest of smiles. "Your sense of humor is odd."
He hadn't been joking."
EVERNIGHT BY Kristen Callihan is the fifth book in her Darkest London Series. It was a FABULOUS read! The story engaged me from the very beginning and was the sole cause of my book hangover the next day as I willingly gave up hours of sleep finishing it. This was the first book I've read in her Darkest London series. Even though I hadn't read the preceding books, I was never lost or confused so I can attest that this book can be easily read as a standalone. The author seamlessly filled in any background information needed to fully enjoy this tale by itself. I'm sure, though, that my enjoyment would have been kicked up a notch if I had read the books that came before; I hope to remedy that oversight soon!
I easily connected to the lead characters; They were both realistic and likeable. Holly Evernight, our heroine, is an elemental, a scientist at heart with a seemingly limitless imagination. She's on leave from her position with the Society for the Suppression of Supernaturals as she secludes herself essentially as a recluse at her home after having been imprisoned and forced to work with the madman villain in the prior book (SHADOWDANCE). While she was imprisoned, she had assisted her captor in removing Will Thorne's heart and replacing it with a mechanical heart that Holly had invented.
Will, our hero, is a demon who, thanks to Holly's heart, is battling insanity as the platinum in that cursed heart is painfully spreading through-out his body. He badly wants to take Holly out for what she has done. When he discovers that Holly's touch relieves his pain, he realizes that if he kills her, he will be essentially sealing his own fate. Since he's not the only one targeting her, they negotiate an agreement: Will's protection in exchange for her cure.
Thanks to the metal commonality they shared, their chemistry flared immediately. Holly was very focused as most nerds are; Everything was black and white to her. Will, because he craved and lived for Holly's touch, found that he had to also cope with his growing attraction to her. Holly awakened sexual feelings in Will that appeared not to affect Holly. Oh my! The charisma between these two was palpable. I loved their scenes together and enjoyed watching Holly slowly thaw as they tap danced with each other. Their romance was sweet and hot; born of necessity; torn apart by paranormal underhanded trickery; then reunited by fate.
Within London's shadows, breathtaking danger abounds. My favorite scene was a fight scene in which Holly was the underdog; One wrong move would result in her quick but agonizing death.
Supporting characters were great and included, but were not limited to, fae, shifters, ghosts, fallen angels and demons. Gadget lovers will be in heaven with inventions from clockwork hearts to spectrometers and more.
Following please find three of my favorite quotes illustrating the darkness, the humor and the chemistry between the characters:
"Here is what we shall do. You put your hand in mine, keep me sane while I keep you safe. And then you shall put one foot in front of the other until you no longer have to count your steps, and I will not let you go."
---
"I picked this room because it was the closest," he muttered, "but hells bells, it's like walking into a pink nightmare." He shuddered and turned to her. "I have the sudden fear that I might be attacked by dozens of French poodles."
---
"I want you to..." He bared his teeth, those evil-looking fangs growing longer. "I want to know if you feel ---"
His teeth ground together, his eyes wild and silver-black.
"Feel?" she prompted as if her heart wasn't beating madly.
"Anything!" he roared. "Jesus." He ran a hand through his hair. "You touch me every day. You rub your hands all over me. And nothing! Not a flicker of emotion. As if I didn't exist." The expanse of his chest heaved with exertion, the sinewy muscles along his abdomen clenching. "And all the while I'm lying here aching, fucking dying to... You're driving me to insanity," he finished with a wild shout. "And it means exactly nothing to you ---"
Kristen's writing is top-notch. The characters are likeable, well-developed and AWESOME! The plot is well-paced and totally engaging. Surprising twists and turns combined with paranormal and historical aspects added up to a genuine fireworks show! I'm most eager to read Adam and Eliza's story after their interesting start herein in SOULBOUND which releases February 2015. Thank you, Kristen, for the no-cliffhanger stunningly amazing ending! I can't recommend EVERNIGHT highly enough to anyone who loves dark urban steampunk fantasies.