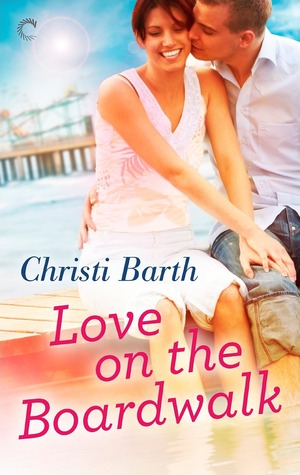 Lexi: Welcome back Christi! We love having you here because that means another fun contemporary romance has been released! Yay!! And this time we get to see more of the wonderful characters you introduced to us in Love at High Tide. Now we get to see Coop and Darcy's friends find love in Love on the Boardwalk. Is this technically part of a series, or considered a standalone that happens to follow some known characters?
Well, it doesn't have a snazzy series name - and I think you need more than two to be a series, anyway. So I've been calling it a sequel. The most important thing to know is that it 100%, absolutely can be read as a stand alone - you'll still get all the laughs and all the sexy/tender moments, I promise!
Lexi: Trina was fun to read about before so I am happy to see you chose her to come into the forefront for this release. Or rather, did she stomp over to you and demand that you give her some lime light?
When I wrote Love at High Tide,I had no intention (and zero ideas!) of writing a sequel. But when I started doing promotion for its release last year, I realized that I'd--brilliantly--set up Trina and Brad to have a romance of their own. All that was left was finding a new beach town and planning a new caper (easier said than done, by the way!).
Lexi: The women are full of life, and especially in Trina's case, feisty. But your heroes are equally well written, and handsome, and intelligent, and heroic. I could go on and on. Brad is a perfect example. A detective who has a broken heart, easy on the eyes and protective. Hmm...yeah, not going to pass that one up. How do you keep coming up with these guys?
Brad seems so real, like he is one of your best friends or something. Wait, do you have a huge friend pool of single successful men? Funny you ask - I used to volunteer with an all-women's organization, and they constantly asked me for a hook-up - but I have exactly zero single male friends. Zero! Well, aside from one who is freshly divorced. Books are a fantasy, so I write the fantasy of the ultimate male. Kind of an amalgamation of the best parts of every man I know, frosted with the features and muscles of actors who make me drool.
Lexi: That would be fun, even if the closest thing we will ever get to that is by reading your books. Romance is central to your stories, but so is friendship. Your series span friendships and introduce love matches to people who may not have otherwise met. Have you seen this happen in real life?
To me, my friends are my family. People you choose to care about, consistently choose to spend time with, are so very important. (or maybe it is just that I'm an only child and trying to make up for it!) So I skew my stories with that world view. And yes, while I adore writing friends to lovers stories, it is super fun to thrust hot strangers together and give them a reason to fall in love.
Lexi: It's all in who you know huh. Good thing we know you! You write light, sweet romances so well. From brides to detectives, it doesn't matter the characters we know we will get an enjoyable read. Thank you so much for stopping by again Christi! Cheers to your writing and hoping for more soon!
Published September 22nd 2014 by Carina Press
Atlantic City is the perfect place for detective Bradley Hudson to nurse his broken heart. A week of beer and strippers is sure to erase his former fiancée from his memory for good. What he didn't count on was running into a sassy redhead from his past. Maybe a rebound romp is an even better plan…





Trina Trimble, private eye in training, is thrilled to be reunited with the hottie she almost hooked up with last summer. She's undercover on her first solo case, but there's always time to lock lips with a sexy cop. Besides, a fun fling with Brad doesn't have to last beyond his week in town.





Brad and Trina are supposed to be just flirting, not forging a new forever. Brad's still healing, and although Trina changes careers the way other women change shoes, she has finally found her calling in her new life of disguises and stakeouts. But when an irresistible job offer threatens to lure her away, Brad will need to decide to let her go or bet it all on love and risk his heart again.