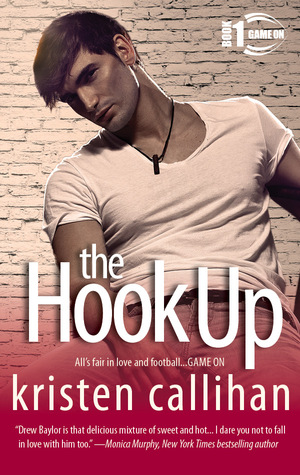 Title: The Hook Up
Series: Game On #1
Author: Kristen Callihan
Format: ebook, 415 pages
Published: September 8th 2014 by Kristen Callihan
Links: Goodreads | Amazon
Source: Author
Reviewer: Crystal
Rating: 4/5
The rules: no kissing on the mouth, no staying the night, no telling anyone, and above all… No falling in love.





Anna Jones just wants to finish college and figure out her life. Falling for star quarterback Drew Baylor is certainly not on her to do list. Confident and charming, he lives in the limelight and is way too gorgeous for his own good. If only she could ignore his heated stares and stop thinking about doing hot and dirty things with him. Easy right?





Too bad he's committed to making her break every rule…





Football has been good to Drew. It's given him recognition, two National Championships, and the Heisman. But what he really craves is sexy yet prickly Anna Jones. Her cutting humor and blatant disregard for his fame turns him on like nothing else. But there's one problem: she's shut him down. Completely.





That is until a chance encounter leads to the hottest sex of their lives, along with the possibility of something great. Unfortunately, Anna wants it to remain a hook up. Now it's up to Drew to tempt her with more: more sex, more satisfaction, more time with him. Until she's truly hooked. It's a good thing Drew knows all about winning.





All's fair in love and football…Game on.





New Adult/Contemporary Romance with a HEA - Recommended for readers 17 and older.
Thoughts:
After a rocky start where I thought for sure that The Hook Up was going to be a DNF, I ended up loving the story and I am so glad that I stuck with it!
Anna Jones and Drew Baylor meet their senior year in college. Total opposites, it had to be fate that sat the football star and high school outcast next to each other. Drew knows nothing about Anna's hellish years as a teenager but when he see's her, a lightening bolt of awareness shoots through his body. And Anna's reaction to him is not much different. But Anna want's nothing to do with anyone who has a constant spotlight on them. Drew isn't one to give up easily though on something he wants, and he wants Anna. By his side, in his bed, and with him always. Even if that means he has to play along with her sex-only, hook-up rules...for now. When he decides to change the rules though, will Drew be able to hook Anna for good or will he loose at the most important game he has ever played? The game of love.
The Hook Up
is a wonderful, sexy, and tension filled new adult romance that is the perfect kick-off to fall and football season! The story is completely character driven, which is my kind of romance. Drew made a swoon-worthy, multidimensional hero that I couldn't help but fall in love with and the chemistry between him and Anna was sizzling. So what made me almost set this book down in the beginning? Right off the bat there was an insta-love connection between the hero and heroine that I could not get on board with. After time and midway through the story I finally started to feel a deeper connection between Drew and Anna besides just a physical attraction but at the beginning it was not believable for me. Anna's attitude at the start of the story also rubbed me the wrong way. She instantly disliked Drew and judged him because of his success in football and her inner dialogue disparaging him because of her own insecurities became repetitive. Eventually though, her character began to develop into something other then a snide harpy and I was able to empathize with her. Both Drew and Anna have become products of their past;
Drew has a fear of being left and Anna has a fear of being ridiculed. And they each much learn to let that past go if they ever hope to have a future with each other.
All in all, The Hook Up was well written and an enjoyable read. This was my first time reading a book from
Kristen Callihan, though she has been on my radar, and I'll definitely be picking up more of her stories. The story also flowed at a good pace with vivid world building. It was easy to picture the college campus and football fields.
Drew's teammates provided some great comic relief and I look forward to seeing more of them in future books. I hope that Anna's friend George gets his own story in the future as well though I d
isliked his sister and Anna's best friend, Iris. She was self-centered and demeaning, and there was nothing about her that I liked. I can't wait to read Gray's story next, Drew's sexy best friend. It sounds like it is going to be full of angsty goodness!