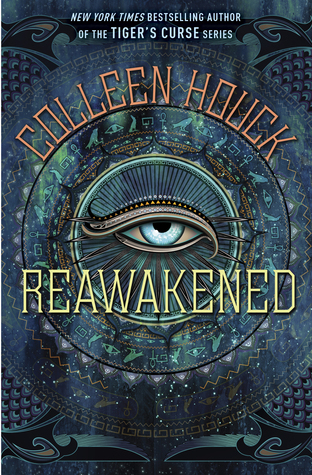 Title:
Reawakened
Series:
The Reawakened #1
Author:
Colleen Houck
Format:
Hardcover, 400 pages
Published:
August 11th 2015 by Delacorte Press
Links:
Goodreads
|
Amazon
|
B&N
Reviewer:
Crystal
Source:
Publisher
Rating:
5 out of 5 Wine Glasses
When seventeen-year-old Lilliana Young enters the Metropolitan Museum of Art one morning during spring break, the last thing she expects to find is a live Egyptian prince with godlike powers, who has been reawakened after a thousand years of mummification.

And she really can't imagine being chosen to aid him in an epic quest that will lead them across the globe to find his brothers and complete a grand ceremony that will save mankind.

But fate has taken hold of Lily, and she, along with her sun prince, Amon, must travel to the Valley of the Kings, raise his brothers, and stop an evil, shape-shifting god named Seth from taking over the world.

From New York Times bestselling author Colleen Houck comes an epic adventure about two star-crossed teens who must battle mythical forces and ancient curses on a journey with more twists and turns than the Nile itself.
Crystal's Thoughts:
Lilliana Young is your typical Manhattan teenage girl, but with a desire to break out of the mold that her wealthy and influential parents have cast for her. Needing time away for all the glitter, glam and faux, Lily escapes for a little sanctuary at the Metropolitan Museum of Art. What she finds in a closed exhibit though, will turn her neat little world on it's ear!
In an adventure like no other, Lily finds herself bound to a centuries old Egyptian prince. A prince that must find and awaken his brothers before a dark God can destroy the world. Amon has awoken in a time like no other though, and needs Lily's help to navigate these new lands with their towering dwellings and yellow chariots. And with the clock quickly counting down, they need to find his brothers fast, which means they don't have time for the unexpected attraction blooming between them...because no matter how their hearts feel, one of them isn't making it out alive.
This is my first experience with Colleen Houck's writing but I can tell you right now, it will not be my last! A sweeping, powerful, breathtaking journey -
Reawakened
held me captive from the very first page. This story and it's characters have stuck with me long after turning that last page as well.
In the beginning of the story we meet Lily, who comes across as the cliche rich kid unhappy with her glittery life. But we soon find that there is a lot more to her then first meets the eye. An artist and a dreamer, she likes to look below the surface from everything to a stranger walking by in the street to a painting on the museum wall. Even though she could be frustratingly indecisive at times about her feelings, which I attributed to her young age, I enjoyed her character immensely. She was bright, caring, and when it came down to it - ready to give her all. Now Amon, I had mixed feelings about at first. Here this stranger is, basically attacking a young women, binding her against her will, not being entirely up front with her, and requesting her help....you get where I am coming from, right? But Amon had his reasons, and I'm not saying that I agreed with them, but it sure did make for a good story! The sexual tension, though this is a young adult novel so it was never graphic, sizzled between Amon and Lily almost from the beginning. And Amon, being the honorable old-world Prince that he is, fought it to his last breath knowing that him and Lily could never have a future together. That doesn't mean there weren't some slip up's in his resolve though. This is a romance. *grins*
The ancient Egyptian meets present day New York-er worked beautifully for this story. I also enjoyed Amon's brothers. I really feel for the circumstances that all three of them have found themselves in, chosen or not. Houck showed immeasurable creativity, weaving together a complex, interesting world. The plot was well-paced, and the suspense kept me on the edge of my seat, leading to a compelling story from beginning to end. I'm now dying for the next book in this series and cannot believe that I have a year's wait! All in all,
Reawakened
, was a spellbinding, unforgettable story that I would recommend to all romance lovers, no matter their age, who enjoy a good dose of mythology but don't mind being left craving for more at the end! An absolute delight!