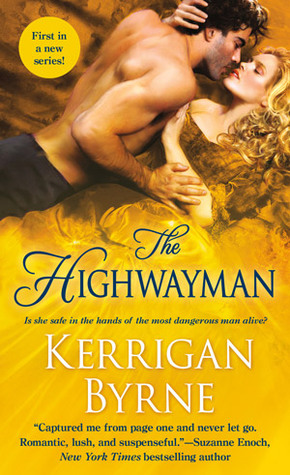 Title
: The Highwayman
Series
: Victorian Rebels #1
Author
: Kerrigan Byrne
Format
: Paperback & eBook, 384 pages
Published
: September 1, 2015 by St. Martin's
ASIN
: B00TDRJ8CC
Links
:
Goodreads
|
Amazon
|
B&N
Source
: Netgalley
Reviewer
: Kimberly
Rating
: 5 out of 5 Wine Glasses
They're rebels, scoundrels, and blackguards—dark, dashing men on the wrong side of the law. But for the women who love them, a hint of danger only makes the heart beat faster…

STEALING BEAUTY
Dorian Blackwell, the Blackheart of Ben More, is a ruthless villain. Scarred and hard-hearted, Dorian is one of London's wealthiest, most influential men who will stop at nothing to wreak vengeance on those who've wronged him…and will fight to the death to seize what he wants. The lovely, still innocent widow Farah Leigh Mackenzie is no exception—and soon Dorian whisks the beautiful lass away to his sanctuary in the wild Highlands…

COURTING DESIRE
But Farah is no one's puppet. She possesses a powerful secret—one that threatens her very life. When being held captive by Dorian proves to be the only way to keep Farah safe from those who would see her dead, Dorian makes Farah a scandalous proposition: marry him for protection in exchange for using her secret to help him exact revenge on his enemies. But what the Blackheart of Ben More never could have imagined is that Farah has terms of her own, igniting a tempestuous desire that consumes them both. Could it be that the woman he captured is the only one who can touch the black heart he'd long thought dead? 
Kimberly's Thoughts:
From the moment Farah wipes the blood from Dougan's hands they are bound to one another, two outcasts in an orphanage. On a fateful night, Dougan violently protects Farah and they are separated, cast out into their fates. It is not until seventeen years later that Farah learns what befell her childhood friend. Dorian Blackwell, the Blackheart of Ben More, villainous fiend and king of the underworld kidnaps Farah and claims he is there to protect Dougan's "Fairy". Leaving most unsaid but what is heartbreakingly clear in the painful spaces between words, Dorian recounts his experience in jail with Dougan to Farah, how they banded together to try and survive and how Dougan would tell stories about Farah to the other boys. Dorian plans to make good on the deathbed promise he made to Dougan about eventually finding Farah and making sure she was safe. What Dougan didn't know was that Farah had her own painful past she was running from and Dorian feels he must restore Farah to her rightful place in society. There are lies, half-truths, dangers, and love but most importantly, a feeling that destiny won't be denied.
This is the first book by Kerrigan Byrne I have read; it will definitely not be my last. The Highwayman took me by surprise with its sweeping emotional romantic story. Byrne's writing had a way about it that I felt like I was walking the streets of London with Farah and Dorian, everything is described but not overly in a way that bogs you down with details; she was a master of making you feel through showing, not telling. The overall details of the story with the characters and their actions leans toward a darker tone but there is lightness to the story that springs from our main character's relationship for balance. Dorian and Farah have a certain spark between them that is at turns playful, light, deep, emotional, burning, and heavy. Their contentment to be around one another colors their dialogue at times with a lightheartedness that makes their growing love believable and investing to read.
Farah's journey from the orphanage to her position at the Police Headquarters was taken with Dougan in mind with every step. Farah very easily could have been written as a saintly martyr but instead she is shown to be while inherently goodhearted, also a steel-spined survivor; she's believable. Dorian's background and dark attitude could have easily been written to make him a Beauty and the Beast caricature but instead he is given depth of emotion. He is single-minded in his pursuit of taking care of Farah but with a yearning, stubborn streak, and desperate desires of a man still locked in an abused boy's mindset of protection mode; he's believable. When together, the author doesn't come out and tell us they want each, instead it's felt by the reader in every glance Dorian gives Farah that isn't seen and every touch Farah reaches out to give that is never felt by Dorian. There's anger, desire, hurt, hunger, lies, and love all swirling between Farah and Dorian; together they're believable.
Dorian and Farah are clearly the center piece of the story, as they should be and the structure of the story supported that with the beginning setting up Dougan and Farrah's relationship, the middle introducing Farrah to Dorian and creating their relationship, and the second half delving into the mystery and intrigue while bonding our couple more. If I were to express any complaints, which trust me are minor, it would be that Dougan's childhood origins were a bit murky and that Farrah's endangerment from her father's lawyer Warrington could have been fleshed out more in regards to how I didn't really feel the danger from Warrington as he was too much to the peripheral of the story. Byrne's secondary characters did an amazing job of adding to the story and world she created for her characters. Dorian's house full of men who were all forged in the fire together from prison, again, could have come off as bears with hearts of gold caricatures but instead are given just enough individual thoughts and emotions to make them memorable with adding to the story instead of feeling tagged on after thoughts or show stealers. Even while putting me through the wringer with Farrah and Dorian, Byrne was still able to squeeze some heartbreak out of me for Dorian's man Walters and Farrah's friend Gemma (honestly, I dare anyone not to shed at least a few internal tears over their quiet moment in the kitchen at the end). This feeling of connection to minor characters was another reason why I felt Byrne knocked this one out of the park.
Byrne's writing style reminded me a little bit of Amanda Quick's historicals, the sentences and character's actions can come off at times light and loving but you will suddenly find yourself wrecked by the hidden emotional depth and the overall story somewhat reminded me of an updated 21st century "A Rose in Winter" by Kathleen Woodiwiss. There are a couple hotter, rougher moments in this but ultimately, the story is dominated by the searing emotion between our couple. If you are a historical romance fan, then this is a must read for you. The second in the series looks to be about Dorian's friend and assassin Christopher Argent and based on the glimpses we get of Argent in this book, I'm pre-ordering.