Tuesday May 7, 2019
A new Mercy Thompson book! A new Mercy Thompson book! Eeep!!! 📚💸🎉
CONTEMPORARY ROMANCE/ROMANTIC SUSPENSE
Mass Market Paperback, 368 pages
Published May 7th 2019 by Berkley Books
ISBN 0451492358
The first in a sexy new contemporary western romance series from New York Times and USA Today bestselling author Julia London where cowboys and true love brings you home...

Cimarron County knows the youngest son of the fabled Prince family as a womanizing hell-raiser, but Luca has another side to him. He intends to turn the overworked pasture land his father left him back to its natural beauty. There's just one problem--a woman with sparkling eyes and more fight than a barnyard cat is grandfathered into some acreage on his portion of Three Rivers Ranch.

After years of living in foster homes, Ella has exactly three things to her name: A dog, a pig, and the rundown house she just inherited. Luca may not remember her from high school, but she definitely remembers him. He is as seductive as he was then, but Ella isn't about to fall for his flirting--if only she could stop melting at his touch.

What begins as a game of seduction for Luca quickly turns into something more, but Ella has learned the hard way to trust no one but herself--especially when it comes to her deepest secret. Yet the closer Luca gets to Ella, the more he wants to be the one she leans on. For once, Luca is determined to do something right and give the woman he loves the home she deserves.
Paperback, 304 pages
Expected publication: May 7th 2019 by Berkley
ISBN 0399585184
Love burns white-hot in this first scorching romance in an all-new trilogy about a family of firefighters from the New York Times bestselling author of the Play-by-Play novels and the Hope series.

Firefighter Jackson Donovan doesn't look back--as a rule. So when his past comes roaring back to life in the form of not-so-damsel-in-distress Becks Benning, the last thing he wants to do is relive old times. No matter how tempting she makes it seem...

Now thanks to his two interfering brothers, Becks is living with them while she looks for a new place and tries to pick up the pieces of her tattoo business that went up in flames. Which means a grown up, smokin' hot Becks is in his house, sharing meals, and digging up old wounds. And despite his better judgement, the more time he spends with this smart, artistic, incredible woman the more he wants her in his bed--and his future.

Becks always had it bad for Jackson. Unfortunately for her, not much has changed--he's still honorable, hard-working, sexy as sin--and closed off. But there's more than one way to get to a man's heart and if Jackson doesn't want to recall old memories, she'll just have to help him make new ones. Because now that she's found Jackson again, she's not letting him go.
Things We Never Said
(Hart's Boardwalk #3)
by Samantha Young
ebook, 1st Edition, 361 pages
Published May 7th 2019 by Samantha Young
ISBN 0463548299
Local metalsmith and gift shop owner, Dahlia McGuire, likes her quiet life in Hartwell, Delaware. It's the perfect place to hide from her family and the tragic events that led to their estrangement. However, when her father, the person she loves most in the world, needs her Dahlia has no choice but to return to Boston to face her ghosts. One of those happens to be her ex-boyfriend's best friend, Michael Sullivan. The man she was never supposed to fall in love with.

Michael Sullivan has never forgotten Dahlia McGuire. Some might say he's never gotten over her. For years he lived with the anger of her desertion, and now, newly-divorced, he's finally ready to move on. That proves impossible when Dahlia returns to Boston and reawakens their explosive connection. Despite everything, Michael wants her back, but Dahlia can't seem to let go of the tangled emotions of the past. When she flees home to Hartwell, Michael follows, determined to do everything in his power to convince her they belong together.

However, when the unthinkable hits the quiet seaside town, Michael finds himself trying to unravel more than the mystery of Dahlia's broken heart. It's time for truths left unsaid to finally be spoken or Michael and Dahlia might find themselves torn apart forever…
Boyfriend Bargain
by Ilsa Madden-Mills
Kindle Edition
Published May 5th 2019
ASINB07RD87KBK
Wall Street Journal bestselling author Ilsa Madden-Mills returns with an all-new swoon-fest of a novel about what happens when you take a chance on love.

Wanted: one hot guy with rock-hard abs and a big stick.

Broke and desperate, Sugar Ryan has no use for arrogant, bad boy athletes . . . until she's forced to bargain with the cockiest of them all.

If only he knew she was alive.

Her mission? Get on this hockey player's radar any way possible.

Zack Morgan is the king of the ice and the bedroom—but nothing prepares him for the mystery girl who shows up everywhere he does—frat parties, his favorite bar, and finally his front door with an offer he can't refuse. The only rule in her boyfriend bargain: no falling in love.

But after one (um, two) smoking-hot hookups, he's done with pretending and vows to make their fake relationship real. Too bad she can't trust a player with a reputation for breaking hearts.

Will this hockey star score his forever girl or will their Boyfriend Bargain end in heartbreak?
Eli's Triumph
(Reapers MC #6.7)
by Joanna Wylde
Kindle Edition, 120 pages
Published May 7th 2019 by Evil Eye Concepts, Incorporated
ASINB07L9GZ8WP
From New York Times and USA Today bestselling author Joanna Wylde comes a new story in her Reapers MC series…

Peaches Taylor spent the last seven years slinging drinks and dodging drunks at the Starkwood Saloon. Some might call it a dead end job, but to her it was an investment—another six months, and she'd have enough money to buy the place.

Life would've been perfect if Eli hadn't come home.

Eli King is ready to settle down. He stood by his brothers when they needed him, paying the price for their freedom with his own. Now it's time to claim his reward—the Starkwood Saloon. He's got the cash to buy the bar, the skills to run it, and just one person standing between him and his dream: Peaches Taylor.

She's been driving him crazy since they were kids, and not in the good way. When she was six, she shoved a spider down his pants. When he was ten, he locked her in a closet overnight. Then she hot-wired his car at seventeen, and things got ugly…

They're adults now, and the Starkwood isn't a toy to fight over—it's the hill they'll die on. No prisoners. No compromises. No mercy.

Peaches Taylor and Eli King are going to war.
Code Name: Genesis
(Jameson Force Security #1)
by Sawyer Bennett
Kindle Edition, 152 pages
Published May 7th 2019 by Big Dog Books, LLC
ASINB07MWCKCW8
Years ago, they were in love. She was an up-and-coming superstar and he was the devilishly handsome security professional hired to keep her safe. They fell hard and fast, no matter how they tried to resist one another. But not everyone around them was happy about their relationship, and a string of lies and deceit destroyed what they once had.

Having just taken the helm of a nationally renowned protective services company, Kynan McGrath is looking to rebrand and revamp his career. The newly crowned Jameson Force Security is moving from the glitz and glamour of Las Vegas to the mountainous steel town of Pittsburgh, and the last thing Kynan has time for is to deal with his past.

More than a decade has passed since their split, but even a bruised and battered heart remembers its first love. So when Joslyn Meyers comes to him for help, Kynan reluctantly agrees to keep her safe from a terrifying stalker who keeps threatening her life.

As the danger they face continues to intensify, Kynan realizes he'll stop at nothing to protect the woman who turned her back on him all those years ago. Because one thing is certain—no matter how hard he tries to convince himself otherwise, Joslyn still has his heart.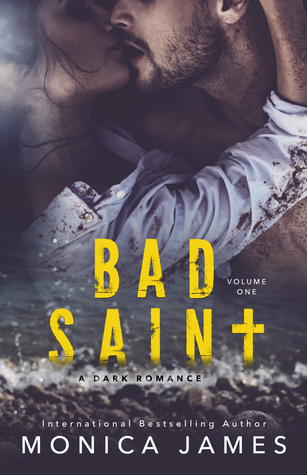 Bad Saint: Volume One
(All The Pretty Things Trilogy #1)
by Monica James
ebook, 267 pages
Published May 6th 2019
Edition LanguageEnglish
I was kidnapped on my honeymoon by three masked men.

Blindfolded.
Bound.
Destination unknown.

I was told to stay silent and abide by their rules. But they didn't realize I wasn't a victim…not anymore.

The open sea was my backdrop for nine torturous days. During that time, glimmers of my fate were revealed by a man with the mysterious chartreuse-colored eyes. He should have scared me, but he didn't.

He intrigued me. And I intrigued him.

He punished me when I didn't listen, which was every single day. But beneath his cruelty, I sensed he was guarding a grave secret.

I was sold.
And in a game of poker, no less.

My buyer? A Russian mobster who likes to collect pretty things. Now that I know the truth, I only have one choice.

Sink or swim.

And when one fateful night presents me the opportunity, I take it. I just never anticipated my actions would leave me shipwrecked with my kidnapper.

He needs me alive. I want him dead.

But as days turn into weeks, one thing becomes clear—I should hate him…but I don't.

My name is Willow.
His name is Saint.

Ironic, isn't it? He bears a name that denotes nothing but holiness yet delivers nothing but hell. However, if this is hell on earth…God, save my soul.
Heartthrob
(American Royalty #1)
by Robin Bielman
ebook
Published May 7th 2019
Edition LanguageEnglish
He likes a challenge…

Here's the deal: I'm the best center fielder in the major leagues. I'm also the guy who cost his team the championship game and acted very unsportsmanlike. So, when the team hires a social media manager to repair the damage to my reputation, I don't argue. But then I meet Chloe Conrad, and I suddenly understand what people mean when they say they have an instant connection to someone. Which means I'm in serious trouble. Chloe's a smart, sexy distraction I can't afford, but one date can't hurt, right? Only she turns me down. And just like that, it's game on.

She's sworn off love…

Finn Auprince is the hottest player in the major leagues. Look up "It Factor" in the dictionary and there's his handsome face. He's also my biggest client and I don't care how easy it is to talk to him or how fun it is to manage his social media accounts, I will not give in to his charms. Then one drunken night, I tell him about my curse: all my previous boyfriends have found their soul mates while dating me. One more heartbreak, and I'll never recover. But Finn doesn't believe in curses—he believes in me. Professionally and personally. He sets out to prove the universe isn't against me, and that his one true love isn't waiting around the next corner.

The problem is…can we play the game of love and both come out on top?
Sweet Home Louisiana
(Boys of the Bayou #2)
by Erin Nicholas
Kindle Edition
Published May 7th 2019 by EN Fiction, Inc.
ISBN139781733890106
A sexy, small town, second chance rom com!

Thanks to a drawn-up-while-drinking-moonshine partnership agreement, Madison Allain has to spend thirty days back on the bayou before she can sell her part of the family business.

And if the heat and humidity and freaking alligators of Louisiana aren't enough to agitate the cool and in-control California girl, then Owen Landry, the equally hot guy who stole her heart twelve years ago, will sure do the trick.

Owen just has to remember three simple-ish rules: Do not fight with her. Do not fight *over* her. Do *not* kiss her. He can do this. He's charming and friendly for a living after all. But this is Maddie. The only woman to ever shake up this laid-back bayou boy.

Besides, she's not staying. No way. These people and this town make her crazy. She doesn't want to be crazy. She definitely does *not* want to own a swamp boat tour company. She just wants to paint. In her quiet, beautiful, alligators-not-allowed, *air-conditioned* art studio.

As for that hot bayou boy? Well, he's… amazing. But he belongs here in the South. And she definitely doesn't. Even if her heart stays behind when she leaves.
Cole: Desert Rebels MC Series
by Tory Richards
Kindle Edition, 272 pages
Published May 1st 2019
ASINB07PFNXKVK
He can't resist her.
She can't refuse him.
Lies will rip them apart.

As enforcer of the Desert Rebels Cole's job is to protect his MC. As a favor to a friend they take in a young woman who they think is trying to escape a crazy ex. But she's lying. When the truth comes out, so does trouble to the club. Cole wants Raven, but will their explosive attraction to one another be enough to overcome the deception, and give them both a chance at happiness?
Dance With Me
(With Me in Seattle #12)
by Kristen Proby
Kindle Edition
Published May 7th 2019 by Ampersand Publishing, Inc.
ASINB07NPXTBCM
From New York Times Bestselling Author Kristen Proby comes an all-new novel in her beloved With Me In Seattle Series, Dance With Me.


Starla. Just Starla.

She doesn't have a last name, and she doesn't need one. Not with that many Grammys on her mantel. Everyone knows her kick-ass, no-holds-barred style of singing, dancing, and living.

No one knows that America's Sweetheart is still living with the wreckage of four years ago, when her world was torn apart. Losing her fiancé was devastating, but she's channeled all of that into her music. Closing off her heart opened a hundred new doors.

Officer Levi Crawford, Seattle PD.

For almost twenty years, Levi has been consumed by the law. He eats, sleeps, and breathes work. Not just because he's a workaholic, but because he loves it. Sure, he doesn't have time for a woman and barely sees the rest of his family, but it's a trade he's always been happy to make.

Until Starla.

Two lonely hearts could learn to beat again, if they're willing to dance together.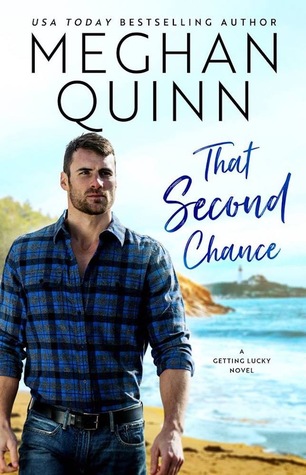 That Second Chance
(Getting Lucky #1)
by Meghan Quinn
Kindle Edition, 1st edition, 330 pages
Published May 7th 2019 by Montlake Romance
ASINB07K1VVC5W
USA Today bestselling author Meghan Quinn delivers a smart and cheeky romance about love's power to lift hearts . . . and curses.

It was supposed to be an innocent night, celebrating my brother's birthday. Nothing was supposed to go wrong. We'd vowed to be on our best behavior after all . . .

But it only took one rowdy night with my brothers to flip my world upside down. One unlucky encounter saddled us with a family curse and the promise of doomed relationships. I laughed it off immediately. "Yeah, right," I thought. "A love curse. Ha!"

Boy, was I wrong.

Word spreads quickly in a town like mine; rumors about that night soon made us the most eligible yet untouchable bachelors in Port Snow, Maine. As a subject of endless gossip and speculation, I could kiss my dating life goodbye.

It would have stayed that way if Ren Winters, the new girl in town, hadn't crashed into my life. Brave, beautiful, and smart—her vivacious thirst for a fresh start has given me hope that maybe, just maybe, I can have one too.

Everyone wishes for that second chance . . . but could this really be mine?
Better Than Me
(Remington Medical #2)
by Kimberly Kincaid
ebook
Published May 7th 2019
ISBN131230003076859
Remington's most notoriously single,
notoriously sexy surgeon
is about to fall for the one woman
he can't have...

Did I mention that she's
A) his best friend
B) immune to his panty-melting charm, and
C) sleeping on his couch for the next six weeks?


But Jonah's not made for commitment,
and a good man is the one thing Natalie deserves.
Not someone who can only offer up
a couple of sizzling hot, no-strings-attached nights
of pure pleasure.

Unless that's what she wants.

Because Jonah wants her. And with each
moment they spend working together--
living together--
the harder it is to resist temptation.

And even harder to resist the fall
that might break them both...

A steamy medical contemporary romance from USA Today best-selling author Kimberly Kincaid. Watch this cocky hero fall head over scalpel for his sweet and sexy BFF. Full-length standalone story with action in the emergency room and the bedroom, and a sweet-and-sexy happily ever after.
The Bride Test
(The Kiss Quotient #2)
by Helen Hoang
Paperback, 320 pages
Published May 7th 2019 by Berkley
ISBN 0451490827 (ISBN13: 9780451490827)
Edition LanguageEnglish
Khai Diep has no feelings. Well, he feels irritation when people move his things or contentment when ledgers balance down to the penny, but not big, important emotions—like grief. And love. He thinks he's defective. His family knows better—that his autism means he just processes emotions differently. When he steadfastly avoids relationships, his mother takes matters into her own hands and returns to Vietnam to find him the perfect bride.

As a mixed-race girl living in the slums of Ho Chi Minh City, Esme Tran has always felt out of place. When the opportunity arises to come to America and meet a potential husband, she can't turn it down, thinking this could be the break her family needs. Seducing Khai, however, doesn't go as planned. Esme's lessons in love seem to be working…but only on herself. She's hopelessly smitten with a man who's convinced he can never return her affection.

With Esme's time in the United States dwindling, Khai is forced to understand he's been wrong all along. And there's more than one way to love.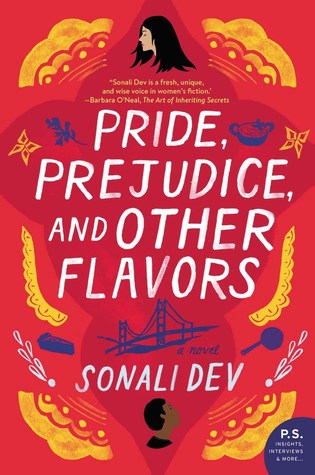 Pride, Prejudice, and Other Flavors
(The Rajes #1)
by Sonali Dev
Paperback, 496 pages
Published May 7th 2019 by William Morrow Paperbacks
ISBN 0062839055
Award-winning author Sonali Dev launches a new series about the Rajes, an immigrant Indian family descended from royalty, who have built their lives in San Francisco...

It is a truth universally acknowledged that only in an overachieving Indian American family can a genius daughter be considered a black sheep.

Dr. Trisha Raje is San Francisco's most acclaimed neurosurgeon. But that's not enough for the Rajes, her influential immigrant family who's achieved power by making its own non-negotiable rules:

· Never trust an outsider

· Never do anything to jeopardize your brother's political aspirations

· And never, ever, defy your family

Trisha is guilty of breaking all three rules. But now she has a chance to redeem herself. So long as she doesn't repeat old mistakes.

Up-and-coming chef DJ Caine has known people like Trisha before, people who judge him by his rough beginnings and place pedigree above character. He needs the lucrative job the Rajes offer, but he values his pride too much to indulge Trisha's arrogance. And then he discovers that she's the only surgeon who can save his sister's life.

As the two clash, their assumptions crumble like the spun sugar on one of DJ's stunning desserts. But before a future can be savored there's a past to be reckoned with...

A family trying to build home in a new land.

A man who has never felt at home anywhere.

And a choice to be made between the two.
HISTORICAL ROMANCE
The Bluestocking
(Wicked Wallflowers #4)
by Christi Caldwell
Kindle Edition, 348 pages
Published May 7th 2019 by Montlake Romance
ASINB0791F3478
Two damaged hearts learn there's a fine line between love and hate in a Wicked Wallflowers novel from USA Today bestselling author Christi Caldwell.

Gertrude, the eldest Killoran sister, has spent a lifetime being underestimated—especially by her own family. She may seem as vulnerable as a kitten, but given the chance, she can be as fierce as a tiger. Her adopted brother, Stephen, has just been snatched back by his true father, and she'll be damned if she relinquishes the boy to the man reviled throughout London as the Mad Marquess.

Still haunted by a deadly tragedy that left him publicly despised, Lord Edwin holds only hatred for the Killorans—the people he believes kidnapped his son. And not one of them will ever see the boy again. But when Gertrude forces her way into the household and stubbornly insists that she remain as Stephen's governess, Edwin believes he may have found someone madder than himself.

With every moment he shares with the tenderhearted Gertrude, Edwin's anger softens into admiration…and more. Is it possible that the woman he loathed may be the only person who can heal his broken soul?
PARANORMAL/FANTASY ROMANCE
Storm Cursed
(Mercy Thompson #11)
by Patricia Briggs
Kindle Edition, 384 pages
Published May 7th 2019 by Ace
ASINB07DMYTL6L
In this powerful entry in the #1 New York Times bestselling series, Mercy Thompson must face a deadly enemy to defend all she loves...

My name is Mercedes Athena Thompson Hauptman, and I am a car mechanic.

And a coyote shapeshifter.

And the mate of the Alpha of the Columbia Basin werewolf pack.

Even so, none of that would have gotten me into trouble if, a few months ago, I hadn't stood upon a bridge and taken responsibility for the safety of the citizens who lived in our territory. It seemed like the thing to do at the time. It should have only involved hunting down killer goblins, zombie goats, and an occasional troll. Instead, our home was viewed as neutral ground, a place where humans would feel safe to come and treat with the fae.

The reality is that nothing and no one is safe. As generals and politicians face off with the Gray Lords of the fae, a storm is coming and her name is Death.

But we are pack, and we have given our word.

We will die to keep it.
YOUNG ADULT
Broken Throne
(Red Queen #4.5)
by Victoria Aveyard
Kindle Edition, 400 pages
Published May 7th 2019 by Orion
ASINB07K6RMVFS
Return once more to the deadly and dazzling world of Red Queen in Broken Throne, a beautifully designed, must-have companion to the chart-topping series from #1 New York Times bestselling author Victoria Aveyard.

The perfect addition to the #1 New York Times bestselling Red Queen series, this gorgeously designed package features three brand-new novellas, two previously published novellas, Steel Scars and Queen Song, and never-before-seen maps, flags, bonus scenes, journal entries, and much more exclusive content.

Fans will be delighted to catch up with beloved characters after the drama of War Storm and be excited to hear from brand-new voices as well. This stunning collection is not to be missed!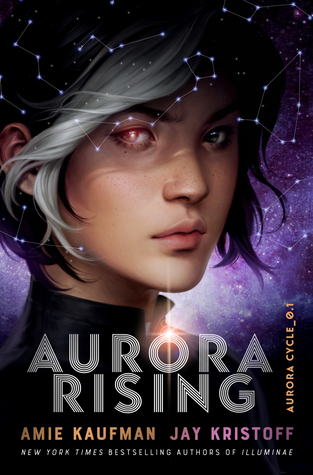 Aurora Rising
(The Aurora Cycle #1)
by Jay Kristoff , Amie Kaufman
Hardcover, 480 pages
Published May 7th 2019 by Knopf Books for Young Readers
ISBN 1524720968
From the internationally bestselling authors of THE ILLUMINAE FILES comes an epic new science fiction adventure.

The year is 2380, and the graduating cadets of Aurora Academy are being assigned their first missions. Star pupil Tyler Jones is ready to recruit the squad of his dreams, but his own boneheaded heroism sees him stuck with the dregs nobody else in the Academy would touch…

A cocky diplomat with a black belt in sarcasm
A sociopath scientist with a fondness for shooting her bunkmates
A smart-ass techwiz with the galaxy's biggest chip on his shoulder
An alien warrior with anger management issues
A tomboy pilot who's totally not into him, in case you were wondering

And Ty's squad isn't even his biggest problem—that'd be Aurora Jie-Lin O'Malley, the girl he's just rescued from interdimensional space. Trapped in cryo-sleep for two centuries, Auri is a girl out of time and out of her depth. But she could be the catalyst that starts a war millions of years in the making, and Tyler's squad of losers, discipline-cases and misfits might just be the last hope for the entire galaxy.

They're not the heroes we deserve. They're just the ones we could find. Nobody panic.
Ask Me Anything
by Molly E. Lee
Paperback, 320 pages
Expected publication: May 7th 2019 by Entangled: Teen
ISBN 1640636587
"Edgy and smart with a sweet and sexy core." —Rachel Harris, New York Times bestselling author of Eyes on Me

I should've kept my mouth shut.

But Wilmont Academy's been living in the Dark Ages when it comes to sex ed, and someone had to take matters into her own hands. Well, I'm a kick-ass coder, so I created a totally anonymous, totally untraceable blog where teens can come to get real, honest, nothing-is-off-limits sex advice.

And holy hell, the site went viral—and we're talking way beyond Wilmont—overnight. Who knew this town was so hard up?

Except now the school administration is trying to shut me down, and they've forced Dean—my coding crush, aka the hottest guy in school—to try to uncover who I am. If he discovers my secret, I'll lose him forever. And thousands of teens who need real advice won't have anyone to turn to.

Ask me anything…except how to make things right.
Hardcover, 352 pages
Published May 7th 2019 by Thomas Nelson
ISBN 078521724X
The history books say I died.

They don't know the half of it.

Anastasia "Nastya" Romanov was given a single mission: to smuggle an ancient spell into her suitcase on her way to exile in Siberia. It might be her family's only salvation. But the leader of the Bolshevik army is after them . . . and he's hunted Romanov before.

Nastya's only chances of survival are to either release the spell, and deal with the consequences, or enlist help from Zash, the handsome soldier who doesn't act like the average Bolshevik. Nastya's never dabbled in magic before, but it doesn't frighten her as much as her growing attraction for Zash. She likes him. She thinks he might even like her . . .

That is, until she's on one side of a firing squad . . . and he's on the other.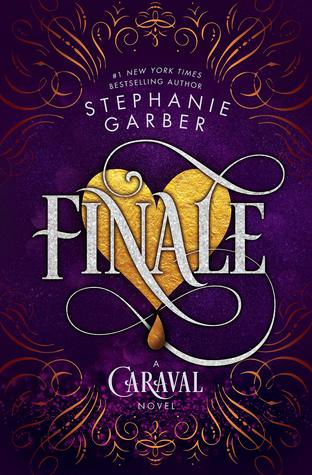 Finale
(Caraval #3)
by Stephanie Garber
Hardcover, 496 pages
Published May 7th 2019 by Flatiron Books
ISBN 1250157668
Welcome, welcome to Finale, the third and final book in the #1 New York Times bestselling Caraval series!

Welcome, welcome to Caraval...all games must come to an end.

It's been two months since the last Caraval concluded, two months since the Fates have been freed from an enchanted deck of cards, two months since Tella has seen Legend, and two months since Legend claimed the empire's throne as his own. Now, Legend is preparing for his official coronation and Tella is determined to stop it. She believes her own mother, who still remains in an enchanted sleep, is the rightful heir to the throne.

Meanwhile, Scarlett has started a game of her own. She's challenged Julian and her former fiancé, Count Nicolas d'Arcy, to a competition where the winner will receive her hand in marriage. Finaly, Scarlett feels as if she is in complete control over her life and future. She is unaware that her mother's past has put her in the greatest danger of all.

Caraval is over, but perhaps the greatest game of all has begun―with lives, empires, and hearts all at stake. There are no spectators this time: only those who will win...and those who will lose everything. . .
Her Royal Highness
(Royals #2)
by Rachel Hawkins
Hardcover, 304 pages
Published May 7th 2019 by G.P. Putnam's Sons Books for Young Readers
ISBN 1524738263
Millie Quint is devastated when she discovers that her sort-of-best friend/sort-of-girlfriend has been kissing someone else. And because Millie cannot stand the thought of confronting her ex every day, she decides to apply for scholarships to boarding schools . . . the farther from Houston the better.

Millie can't believe her luck when she's accepted into one of the world's most exclusive schools, located in the rolling highlands of Scotland. Everything about Scotland is different: the country is misty and green; the school is gorgeous, and the students think Americans are cute.

The only problem: Mille's roommate Flora is a total princess.

She's also an actual princess. Of Scotland.

At first, the girls can barely stand each other--Flora is both high-class and high-key--but before Millie knows it, she has another sort-of-best-friend/sort-of-girlfriend. Even though Princess Flora could be a new chapter in her love life, Millie knows the chances of happily ever afters are slim . . . after all, real life isn't a fairy tale . . . or is it?
Hope and Other Punch Lines
by Julie Buxbaum
Hardcover, 320 pages
Published May 7th 2019 by Delacorte Press
Edition LanguageEnglish
The New York Times bestselling author of Tell Me Three Things and What to Say Next delivers a poignant and hopeful novel about resilience and reinvention, first love and lifelong friendship, the legacies of loss, and the stories we tell ourselves in order to survive.

Sometimes looking to the past helps you find your future.

Abbi Hope Goldstein is like every other teenager, with a few smallish exceptions: her famous alter ego, Baby Hope, is the subject of internet memes, she has asthma, and sometimes people spontaneously burst into tears when they recognize her. Abbi has lived almost her entire life in the shadow of the terrorist attacks of September 11. On that fateful day, she was captured in what became an iconic photograph: in the picture, Abbi (aka "Baby Hope") wears a birthday crown and grasps a red balloon; just behind her, the South Tower of the World Trade Center is collapsing.

Now, fifteen years later, Abbi is desperate for anonymity and decides to spend the summer before her seventeenth birthday incognito as a counselor at Knights Day Camp two towns away. She's psyched for eight weeks in the company of four-year-olds, none of whom have ever heard of Baby Hope.

Too bad Noah Stern, whose own world was irrevocably shattered on that terrible day, has a similar summer plan. Noah believes his meeting Baby Hope is fate. Abbi is sure it's a disaster. Soon, though, the two team up to ask difficult questions about the history behind the Baby Hope photo. But is either of them ready to hear the answers?
MYSTERY/THRILLER
Such a Perfect Wife
by Kate White
ebook, 368 pages
Published May 7th 2019 by Harper Paperbacks
ISBN 0062747460
Must be blonde, beautiful, and a good Catholic girl…

On a sunny morning in late September, Shannon Blaine, a blonde, green-eyed 34-year old wife and mother of two, sets off on a jog along the rural roads near her home in Lake George, New York. It's her usual a.m. routine, her "me time" after dropping the kids off at school…except on this day she never returns. The residents in the idyllic lakeside town—which is popular with summer tourists—are stunned. Would Shannon have just taken off, overwhelmed with the pressures of being the perfect wife and mother? Did a stranger snatch her? Or could her husband be responsible for her disappearance?

The hot new online magazine Crime Beat wants to cover the case and they hand the assignment to noted true crime writer Bailey Weggins. It doesn't take long for Bailey to see that the story has fars more facets than she initially realized: a bitter sister, an unfaithful brother-in-law, an evasive deacon, and a creepy motel owner who watched Shannon run every morning. When an anonymous caller reaches out to Bailey and gives her the cryptic clue that Shannon was a "good Catholic girl," the tip eventually leads Bailey to the grisly discovery of Shannon's body. And suddenly, based on what else Bailey finds, everything about the case shifts, suggesting that Shannon's murder isn't an isolated incident but rather the work of a serial killer with a very specific calling card. Bailey sets out to expose the killer before another woman has to die, including herself.
The Last Time I Saw You
by Liv Constantine
Kindle Edition, 320 pages
Published May 7th 2019 by Harper
ASINB07B2SX451
The internationally bestselling author of The Last Mrs. Parrish follows that success with an addictive novel filled with shocking twists about the aftermath of a brutal high-society murder.

Dr. Kate English has it all. Not only is she the heiress to a large fortune; she has a gorgeous husband and daughter, a high-flying career, and a beautiful home anyone would envy.

But all that changes the night Kate's mother, Lily, is found dead, brutally murdered in her own home. Heartbroken and distraught, Kate reaches out to her estranged best friend, Blaire Barrington, who rushes to her side for the funeral, where the years of distance between them are forgotten in a moment.

That evening, Kate's grief turns to horror when she receives an anonymous text: You think you're sad now, just wait. By the time I'm finished with you, you'll wish you had been buried today. More than ever, Kate needs her old friend's help.

Once Blaire decides to take the investigation into her own hands, it becomes clear that all is not as it seems in Baltimore high society. As infidelity, lies, and betrayals come to light, and tensions rise to a boiling point, she begins to alienate Kate's friends and relatives with her relentless, accusatory questions, as she tries to find Lily's killer. The murderer could be anyone—friend, neighbor, loved one. But whoever it is, it's clear that Kate is next on their list. . .

In The Last Time I Saw You, Liv Constantine takes the lightning pace of The Last Mrs. Parrish and raises the stakes, creating an exquisitely tension-filled and absorbing tale of psychological suspense in which innocent lives—and one woman's sanity—hang in the balance.
WOMEN'S FICTION
Drawing Home
by Jamie Brenner
Hardcover, 368 pages
Published May 7th 2019 by Little, Brown and Company
ISBN 031647679X
An unexpected inheritance, a promise broken, and four lives changed forever: the newest page-turner from USA Today bestselling author Jamie Brenner.

"Welcome to the gold standard of summertime escapism."-Elin Hilderbrand
Summer has started in idyllic Sag Harbor, and for Emma Mapson that means greeting guests at the front desk of The American Hotel. But when one of the town's most famous residents, artist Henry Wyatt, dies suddenly, Emma learns he has mysteriously left his waterfront home - a self-designed masterpiece filled with his work - to her teenage daughter, Penny.

Back in Manhattan, legendary art patron Bea Winstead's grief at her lifelong friend and former business partner Henry's passing turns to outrage at the news of his shocking bequest. How did these unknown locals get their hands on the estate? Bea, with her devoted assistant Kyle in tow, descends on Sag Harbor determined to reclaim the house and preserve Henry's legacy.

While Emma fights to defend her daughter's inheritance, Bea discovers that Henry left a treasure trove of sketches scattered around town. With Penny's reluctant help, Bea pieces them together to find a story hidden in plain sight: an illustration of their shared history with an unexpected twist that will change all of their lives.

Drawn together in their battle for the house, Emma and Bea are forced to confront the past while facing a future that challenges everything they believe about love, fate, and family.
You, Me, and the Sea
by Meg Donohue
Paperback, 368 pages
Published May 7th 2019 by William Morrow Paperbacks
ISBN 006242985X
From the USA Today bestselling author of All the Summer Girls and Dog Crazy comes a spellbinding and suspenseful tale that illuminates the ways in which hope—and even magic—can blossom in the darkest of places.

To find her way, she must abandon everything she loves…

As a child, Merrow Shawe believes she is born of the sea: strong, joyous, and wild. Her beloved home is Horseshoe Cliff, a small farm on the coast of Northern California where she spends her days exploring fog-cloaked bluffs, swimming in the cove, and basking in the light of golden sunsets as her father entertains her with fantastical stories. It is an enchanting childhood, but it is not without hardship—the mystery of Merrow's mother's death haunts her, as does the increasingly senseless cruelty of her older brother, Bear.

Then, like sea glass carried from a distant land, Amir arrives in Merrow's life. He's been tossed about from India to New York City and now to Horseshoe Cliff, to stay with her family. Merrow is immediately drawn to his spirit, his passion, and his resilience in the face of Bear's viciousness. Together they embrace their love of the sea, and their growing love for each other.

But the ocean holds secrets in its darkest depths. When tragedy strikes, Merrow is forced to question whether Amir is really the person she believed him to be. In order to escape the danger she finds herself in and find her own path forward, she must let go of the only home she's ever known, and the only boy she's ever loved....
M/M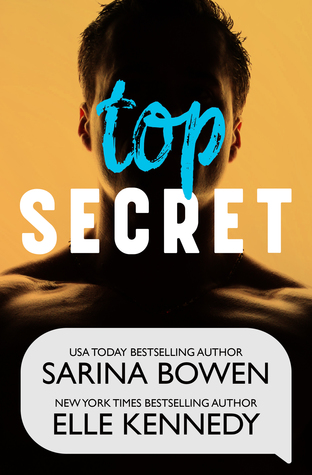 Top Secret
by Sarina Bowen, Elle Kennedy
ebook, 280 pages
Published May 7th 2019
ISBN 1942444796
Bestselling authors Sarina Bowen & Elle Kennedy return with their first Male / Male romance in 3 years.

LobsterShorts, 21
Jock. Secretly a science geek. Hot AF.

LobsterShorts: So. Here goes. For her birthday, my girlfriend wants…a threesome.

SinnerThree: Then you've come to the right hookup app.

LobsterShorts: Have you done this sort of thing before? With another guy?

SinnerThree: All the time. I'm an equal opportunity player. You?

LobsterShorts: [crickets!]


SinnerThree, 21
Finance major. Secretly a male dancer. Hot AF.

SinnerThree: Well, I'm down if you are. My life is kind of a mess right now. School, work, family stress. Oh, and I live next door to the most annoying dude in the world. I need the distraction. Are you sure you want this?

LobsterShorts: I might want it a little more than I'm willing to admit.

SinnerThree: Hey, nothing wrong with pushing your boundaries...

LobsterShorts: Tell that to my control-freak father. Anyway. What if this threesome is awkward?

SinnerThree: Then it's awkward. It's not like we'll ever have to see each other again. Right? Just promise you won't fall in love with me.

LobsterShorts: Now wouldn't that be life-changing...