Tuesday May 28 2019
So many great books releasing today! Just look at all of these gorgeous historical romances! 📚💸🎉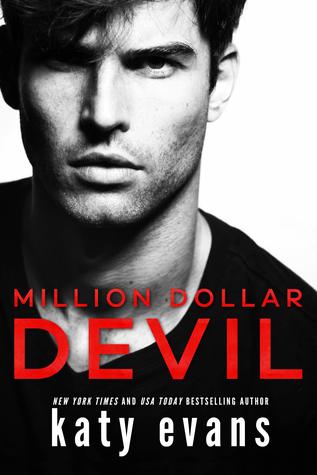 Million Dollar Devil
(Million Dollar #1)
by Katy Evans
Kindle Edition, 1st edition, 291 pages
Published May 28th 2019 by Montlake Romance
ASINB07HWPH8M2
Big-city sophistication meets carnal hunger in this devilish contemporary romance from New York Times and USA Today bestselling author Katy Evans.

Heir apparent to her father's company, Lizzy Banks needs a man. The perfect man. But when the rich "fundbabies" she usually rubs shoulders with prove impossible to hire, she takes a chance on a raw beast of a man salvaged from the wreckage of a bar brawl.

James Rowan earns a modest income as a YouTube daredevil, but he can't refuse Lizzy's million dollar deal. As she polishes his rough edges, creating a sophisticated gentleman fit for the highest circles of society, not only does she bring out the perfect man—it's like she's making the man of her dreams. How can she resist?

Though Lizzy loves seeing James in his clothes—and out of them—he isn't the kind of man you bring home to Daddy. Her father's disapproval and the pressure of the campaign have her eyeing the straight and narrow, but Lizzy's finding it awfully hard to resist the devil on her shoulder…
Take the Bride: A Knight Brothers Novella
(The Knight Brothers #1.5)
by Carly Phillips
Kindle Edition, 125 pages
Published May 28th 2019 by Evil Eye Concepts, Incorporated
ASINB07K6ZTNKZ
From New York Times and USA Today bestselling author Carly Phillips comes a new story in her Knight Brothers series…

She used to be his. Now she's about to marry another man.
Will he let her go … or will he stand up and take the bride?

Ryder Hammond and Sierra Knight were high school sweethearts. Despite him being her brother's best friend, their relationship burned hot and fast…and ended with heartbreak and regrets.

Years later, she's at the altar, about to marry another man.

He's only there for closure, to finally put the past behind him.

But when the preacher asks if anyone has a reason the couple shouldn't wed, she turns around and her gaze locks on his.

Suddenly he's out of his seat.

Objecting.

Claiming.

And ultimately stealing the very pissed off bride and taking her to a secluded cabin.

He wants one week to convince her they're meant to be, to remind her of the fiery passion still burning between them.

When their time together is up, will she walk away and break his heart this time, or will he finally have the woman he's wanted all along?
Bridal Boot Camp
(Little Bridge Island 0.5)
by Meg Cabot
ebook, 96 pages
Published May 28th 2019 by Avon Impulse
ISBN 0062933205
From #1 New York Times bestselling author Meg Cabot comes the first story in her Little Bridge Island series—which also includes an excerpt from her forthcoming new full-length novel No Judgments!

Looking for a tropical escape?

Welcome to Little Bridge, one of the smallest—and most beautiful—islands in the Florida Keys, home to sandy white beaches, salt-rimmed margaritas, stunning sunsets, and some of the quirkiest—but also kindest and most resourceful—people you'll ever meet.

Physical trainer Roberta "Rob" James moved to Little Bridge hoping she'd found paradise, but things haven't turned out quite as she'd hoped. The closest Rob has come to her "happily ever after" is happy hour at the Mermaid Café with her buddy Bree, the bartender slash waitress who's got romance problems of her own.

But Rob's situation suddenly changes when sheriff's deputy Ryan Martinez accidentally enrolls in her bridal boot camp class. Turning mush into metal in time for the big day is Rob's passion (because even the happiest bride could use a little toning).

But what happens when a guy who's all mush meets a girl who's all metal?

They discover they have a lot to learn . . . about each other, themselves, and the island paradise they've come to call home.
The Tiger Catcher
(End of Forever #1)
by Paullina Simons
Paperback, 464 pages
Published May 28th 2019 by HarperCollins - AU
ISBN 0732294924
The first novel in a beautiful, heartbreaking new trilogy from Paullina Simons, the international bestselling author of Tully and The Bronze Horseman.

Can true love ever die?

Julian lives a charmed life in Los Angeles. Surrounded by friends, he is young, handsome, and runs a successful business. Everything changes after he has a fateful encounter with a mysterious young woman named Josephine. Julian's world is turned upside down by a love affair that takes him—and everyone else in his life—by storm. For the two new lovers, the City of Angels is transformed into a magical playground.

But Josephine is not what she seems and carries secrets that threaten to tear them apart—seemingly forever.

A broken man, his faith in tatters, Julian meets a mysterious stranger who tells him how to find Josephine again if he is willing to give up everything and take a death-defying trip from which no one has ever returned.

So begins Julian and Josephine's extraordinary adventure of love, loss, and the mystical forces that bind people across time and space. It is a journey that propels Julian toward an impossible choice which will lead him to love fulfilled…or to oblivion.

The Tiger Catcher takes readers from the depths of despair to the dizzying heights of joy in the first novel of an unforgettable trilogy of love lost and found. For all fans of Outlander, The Time Traveler's Wife, and Jojo Moyes.
Passion on Park Avenue
(Central Park Pact #1)
by Lauren Layne
Paperback, 288 pages
Published May 28th 2019 by Gallery Books
Original TitlePassion on Park Avenue
ISBN 1501191578
From the author of the New York Times bestselling Stiletto and Oxford series, the first in a sizzling new series following the unlikely friendship of three Upper East Side women as they struggle to achieve their dreams and find true love and happiness in the city that never sleeps.

For as long as she can remember, Bronx-born Naomi Powell has had one goal: to prove her worth among the Upper East Side elite—the same people for which her mom worked as a housekeeper. Now, as the strongminded, sassy CEO of one of the biggest jewelry empires in the country, Naomi finally has exactly what she wants—but it's going to take more than just the right address to make Manhattan's upper class stop treating her like an outsider.

The worst offender is her new neighbor, Oliver Cunningham—the grown son of the very family Naomi's mother used to work for. Oliver used to torment Naomi when they were children, and as a ridiculously attractive adult, he's tormenting her in entirely different ways. Now they find themselves engaged in a battle-of-wills that will either consume or destroy them…

Filled with charm and heart and plenty of sex and snark, this entertaining series will hook you from the very first page.
Smooth Moves
(Veteran Movers #2)
by Marie Harte
Paperback, 384 pages
Published May 28th 2019 by Sourcebooks Casablanca
ISBN 1492670472
Ex-Marine Cash Griffith is a beacon for trouble. Working for the family moving company, he does his best to keep a low profile, but he can't help finishing a fight someone else starts. There's one person at work who annoys and baffles him. But if he even thought about taking her on, she'd put him down. Hard. Which is a real problem, because Cash wants nothing more than to tangle with sexy Jordan Fleming.

The ex-Army MP has her hands full with her new job and her rebellious teenage brother. Getting him through summer school is a chore. Figuring out what to do with her life now that she's a civilian is disheartening. But one thing she lives for—doing battle with the obnoxious, arrogant, incredibly hot Marine at work.
Their battles turn into true camaraderie, then into something more. Helping each other out with family problems, Cash and Jordan learn to trust each other. One kiss leads to another, and friendship starts turning to love. But when dangerous secrets come to light, their bond will either break or strengthen into a future they both deserve.
The Fallen: Genesis
(Deadly Virtues 0.5)
by Tillie Cole
Published May 28th 2019 (first published May 27th 2019)
IN THE BEGINNING...

They told them they were evil.
They told them they were possessed by demons.
They told them that darkness ran in their veins.

Holy Innocents Home for Children is a haven for orphaned boys who have nothing and no one. The priests watch over them, educate them, raise them in the family of the church.

Except for some.

Seven of the orphans are no ordinary boys. They attract the attention of the priests for their acts of violence, of bloodlust. The priests realize these boys are drawn to the darkness.

And the priests are no ordinary priests. They are the Brethren, a secret sect who believe themselves on a divine mission to seek out evil in the boys in their care. Seek it out, and then drive it out.

The seven have fallen from God's grace. And the Brethren will cleanse their blackened souls…
Savaged
by Mia Sheridan
ebook
Published May 28th 2019
When wilderness guide, Harper Ward, is summoned to the small town sheriff's office in Helena Springs, Montana, to provide assistance on a case, she is shocked to find that their only suspect in the double murder investigation is a man described as a savage.

But the longer she watches the man known only as Lucas, on the station surveillance camera, the more intrigued she becomes. He certainly looks primitive with his unkempt appearance and animal skin attire, but she also sees intelligence in his eyes, sensitivity in his expression. Who is he? And how is it possible that he's lived alone in the forest since he was a small child?

As secrets begin to emerge, Harper is thrust into something bigger and more diabolical than she ever could have imagined. And standing right at the center of it all, is Lucas. But is he truly the wild man he appears to be? A cold blooded killer? An innocent victim? Or a perplexing mix of all three?

Harper must find out the answers to these questions because the more time she spends with him, the more she risks losing her heart.
Stealing Vengeance
(Vengeance #1)
by Kaylea Cross
Kindle Edition, 251 pages
Published May 28th 2019 by Kaylea Cross Inc. (first published April 30th 2019)
ASINB07P7WX87N
She's an expert at getting into places she doesn't belong.

The government created Megan, transforming her into a Valkyrie—a deadly operative only whispered about in certain circles. They took everything from her and made her into a weapon. Now someone is leaking secret information about her sisters-in-arms, betraying them for money. Loyal Unto Death is the Valkyrie motto. So when Megan is recruited to find who leaked the files, she takes the high-risk assignment. Even if it means working with the man who betrayed her trust long ago. Even if it means giving her life. Because she'll do whatever it takes to find justice.

But this is one situation she can't escape from on her own.

Tyler Bergstrom never forgot the resourceful woman who escaped during the toughest phase of SERE school. So when he learns the stunning truth about her and his unwitting part in her past, he volunteers to work alongside Megan for a chance at redemption. Except she doesn't want a partner. Doesn't want to let anyone into her life, including him—hell, especially him. Yet whether she likes it or not, for this mission they're partners. Now it's a race against the clock to bring down the shadowy figure targeting Valkyries. But the threat goes deeper than they ever imagined. No one is safe. And if they can't overcome the past and learn to trust each other, they're both dead.
A Rogue by Night
(The Devils of Dover #3)
by Kelly Bowen
ebook, 368 pages
Published May 28th 2019 by Forever
ISBN 1478918616
From the author who Sarah MacLean calls "a charming, clever, and engaging storyteller" comes the next regency romance in the witty and sexy Devils of Dover series!

Baron. Physician. Smuggler. Sir Harland Hayward is living a double life as an aristocrat by day and a criminal by night. As a doctor, Harland has the perfect cover to appear in odd places in the dead of night, a cover he uses to his advantage to bring in all sorts of illicit cargo from across the English Channel. He's chosen this life to save his family from financial ruin, but he draws the line at taking advantage of the honest and trustworthy Katherine Wright.

Katherine has returned to Dover to find that her family is working for a mysterious new crime boss. Growing up in a family of smugglers, she knows it's only a matter of time before they are caught—and killed. So after her brother is shot, she convinces her family to move away and start over. After they honor their last contract, of course. With her injured brother and elderly father unable to work, Katherine reluctantly steps back into the life she had left behind. And straight into the path of the merciless Harland Hayward.
The Earl Next Door
(First Comes Love #1)
by Amelia Grey
Mass Market Paperback, 304 pages
Published May 28th 2019 by St. Martin's Paperbacks
ISBN 1250214300
What does a Wickedly Wonderful Widow really want? One noble suitor is about to find out. . .

Adeline, Dowager Countess of Wake, is all on her own after her husband's sudden death. The good news? Losing him allowed her to find herself. Finally, Adeline is free to do, go, and be as she pleases. She cherishes her newfound independence and is not looking for another man to wed. But seeking out a new lover? Well, that is a whole 'nother story. . .

Lord Lyon, son of the two-timing Earl of Marksworth, wishes to have a respectable, loving wife someday. When he meets the beautiful and self-reliant Adeline, Lyon is instantly smitten. But Adeline would rather have the handsome suitor in her bed than to take his hand in marriage. It's a scandalous proposal—and one that's hard for Lyon to refuse. Unless the fire of his passion can melt Adeline's resolve. . .and he can find a way to be the Wickedly Wonderful Widow's lover for all time?
Wicked Highland Ways
(Highland Weddings #6)
by Mary Wine
Kindle Edition, 384 pages
Published May 28th 2019 by Sourcebooks Casablanca
ASINB07JLZW7WX
Brenda Grant has no desire to marry. Ever since her first, horrible marriage she's made herself into a hellion of a woman to keep men from wanting her. But the Campbells, her previous husband's family, are determined to find her a new husband.

Highland Chief Bothan Gunn is smitten by the woman who won't be tamed. It takes all Brenda's willpower to resist the brawny Highlander who takes her to safety. But as they spend time together—and grow ever closer—Brenda finally finds the freedom she's been longing for all along.
Rebel
(Women Who Dare #1)
by Beverly Jenkins
ebook, 384 pages
Published May 28th 2019 by Avon
ISBN 0062861697
The first novel in USA Today Bestselling Author Beverly Jenkins' compelling new series follows a Northern woman south in the chaotic aftermath of the Civil War...

Valinda Lacey's mission in the steamy heart of New Orleans is to help the newly emancipated community survive and flourish. But soon she discovers that here, freedom can also mean danger. When thugs destroy the school she has set up and then target her, Valinda runs for her life—and straight into the arms of Captain Drake LeVeq.

As an architect from an old New Orleans family, Drake has a deeply personal interest in rebuilding the city. Raised by strong women, he recognizes Valinda's determination. And he can't stop admiring—or wanting—her. But when Valinda's father demands she return home to marry a man she doesn't love, her daring rebellion draws Drake into an irresistible intrigue.
Desperate Measures
(Wicked Villains #1)
by Katee Robert
Kindle Edition, 215 pages
Published May 28th 2019 by Trinkets and Tales LLC
ASINB07PH1MSHL
My Savior… Or My Ruin?

One night, and my entire life went up in flames. All because of him. Jafar. As my world burned down around me, he offered me a choice. Walk away with nothing but my freedom… Or rise to his challenge and win my fortune back.

I bargained.

I lost.

Now Jafar owns me, and even as my mind rails against his rules, my body loves the punishments he deals out when I break them.

But a gilded cage is still a prison, I'll do anything to obtain my freedom.

Even betray the man I'm falling for.
Into the Jungle
by Erica Ferencik
Hardcover, 320 pages
Published May 28th 2019 by Gallery/Scout Press
ISBN 1501168924
In this pulse-pounding thriller from the author of the "haunting, twisting thrill ride" (Megan Miranda, New York Times bestselling author) The River at Night, a young woman leaves behind everything she knows to take on the Bolivian jungle, but her excursion abroad quickly turns into a fight for her life.

Lily Bushwold thought she'd found the antidote to endless foster care and group homes: a teaching job in Cochabamba, Bolivia. As soon as she could steal enough cash for the plane, she was on it.

When the gig falls through and Lily stays in Bolivia, she finds bonding with other broke, rudderless girls at the local hostel isn't the life she wants either. Tired of hustling and already world-weary, crazy love finds her in the form she least expected: Omar, a savvy, handsome local man who'd abandoned his life as a hunter in Ayachero—a remote jungle village—to try his hand at city life.

When Omar learns that a jaguar has killed his four-year-old nephew in Ayachero, he gives Lily a choice: Stay alone in the unforgiving city, or travel to the last in a string of ever-more-isolated river towns in the jungles of Bolivia. Thirty-foot anaconda? Puppy-sized spiders? Vengeful shamans with unspeakable powers? Love-struck Lily is oblivious. She follows Omar to this ruthless new world of lawless poachers, bullheaded missionaries, and desperate indigenous tribes driven to the brink of extinction. To survive, Lily must navigate the jungle--its wonders as well as its terrors—using only her wits and resilience.

Primal, gripping, and terrifying, Into the Jungle features Erica Ferencik's signature "visceral, white-knuckle" (Entertainment Weekly) prose that will sink its fangs into you and not let go.
Trouble at Brayshaw High
(Brayshaw High #2)
by Meagan Brandy
ebook, 1st Edition
Published May 28th 2019
"You don't belong."

No words whispered in anger have ever rung more true.

They're the Kings of Brayshaw with the world at their feet, destined for greatness and in need of control.
I'm the girl from the ghetto with nothing to offer and as defiant as they come.

They say it doesn't matter, that I'm one of them now, and nothing could ever change that. Not even me, should I dare try.

But they're wrong.
They underestimate how far I'll go to protect them.

Trouble is coming...and they have no idea.
The Kingdom
by Jess Rothenberg
Hardcover, 352 pages
Published May 28th 2019 by Henry Holt & Company
ISBN 1250293855
Welcome to the Kingdom... where 'Happily Ever After' isn't just a promise, but a rule.

Glimmering like a jewel behind its gateway, The Kingdom(TM) is an immersive fantasy theme park where guests soar on virtual dragons, castles loom like giants, and bioengineered species--formerly extinct--roam free.

Ana is one of seven Fantasists, beautiful "princesses" engineered to make dreams come true. When she meets park employee Owen, Ana begins to experience emotions beyond her programming including, for the first time... love.

But the fairytale becomes a nightmare when Ana is accused of murdering Owen, igniting the trial of the century. Through courtroom testimony, interviews, and Ana's memories of Owen, emerges a tale of love, lies, and cruelty--and what it truly means to be human.