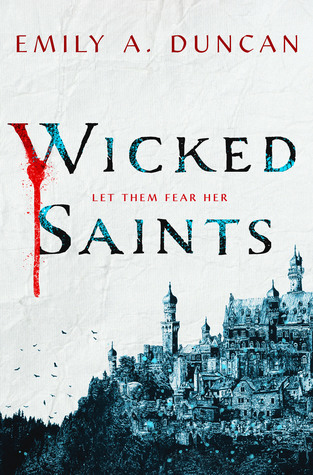 Title: Wicked Saints
Series: Something Dark and Holy #1
Author: Emily A. Duncan
Format: eBook/Hardcover, 385 pages
Published: April 2nd 2019 by Wednesday Books
ISBN: 1250195667
Links: Goodreads | Amazon | B&N
Source: NetGalley
Reviewers: Crystal & Lexi
An instant New York Times bestseller!





A girl who can speak to gods must save her people without destroying herself.





A prince in danger must decide who to trust.





A boy with a monstrous secret waits in the wings.





Together, they must assassinate the king and stop the war.





In a centuries-long war where beauty and brutality meet, their three paths entwine in a shadowy world of spilled blood and mysterious saints, where a forbidden romance threatens to tip the scales between dark and light. Wicked Saints is the thrilling start to Emily A. Duncan's devastatingly Gothic Something Dark and Holy trilogy..
Crystal's Thoughts:
Wicked Saints is a dark and seductive debut from Emily A. Duncan, brimming with magic and mayhem. Dark and light. Saints and sinners. You won't want to miss this spellbinding fantasy!
"We're all monsters, Nadya, some of us just hide it better than others."
Nadya, a rare cleric who can speak to all of the Gods, has spent her life hidden behind monastery walls. Always knowing that one day, her country would need her in their never-ending war. When that war arrives at the monastery's doorstep though, Nadya must flee in order to survive, and put her life in the hands of her country's enemies. The blood prince, Serefin, will stop at nothing to find her. But is it the enemy at her side that she should fear most? The boy with the haunted eyes, Malachiasz, pushes Nadya to reach beyond the saints, and explore her power to it's limits. Does he have his own agenda though in seeking to end this war?
"Are we so different, Nadya?" He lifted his hand, fingers tipped with long claws, and pressed his thumb against her lips. "We both long for freedom. For power. For a choice. We both want to see our kingdoms survive."
Wicked Saints is a dark, entrancing young adult fantasy story with lush writing, unique world-building, and complex characters. It is also incredibly dark, and filled with blood and gore. It would fit in perfectly with one of the brother Grimm's' Fairy Tales. Nadya was an intriguing character with a rare and sought after gift. She is also young enough to question what to do with that gift. She has been taught all of her life to follow one path, and one path only, but when her world is suddenly upturned she soon learns that the world, and the Gods, is much more convoluted. Her character showed a lot of growth by the end, and is one that was forged in fire. The story itself had a great premise, and while some of the different countries and magical abilities were confusing at times, I enjoyed the Russian and Polish influences that they were built on. With alternating POV's, readers also see the world from Serefin's perspective. A prince and powerful blood mage who has been on the front lines of the war for most of his life. He's as exhausted with it as anyone else, but wants his country to prosper. This is one of those tales that you can understand each of the characters standpoints, which makes it hard to dislike the supposed enemies, but with the many twists and turns the story takes you on, you'll most likely change your view of the characters several times before the end. Malachiasz was a difficult character for me, and I'll only touch on him as I don't want to spoil anything. There is a very light romance between him and Nadya that will leave you breathless with the intrigue of it all. I am looking forward to the possibility of more passionate aspects blooming in future books.
"You could be exactly what these countries need to stop their fighting. Or you could rip them apart at the seams."
Wicked Saints is aptly titled and carries heavy religious tones, so that, along with the war-strewn plot, may not be for all readers, but I certainly found it fiendishly good. All in all, Wicked Saints is a thrill ride that you won't want to miss. The tale held me captive, beginning to end, with it's deep characters and the world that is built around them. Emily A. Duncan is definitely a dazzling new talent in the young adult fantasy world!
Rating: 4.5 out of 5
Lexi's Thoughts:
WICKED SAINTS is a very dark, gothic fantasy read. Duncan's writing was fantastic and you can practically feel the mood/setting, but you'd best have a strong stomach for blood and cutting before you dive in.
There were things I loved, obviously or I wouldn't have picked it up. The writing took me by surprise and was by far the best part of this book. Another plus was the plot, the story was structured very well and the world building was solid, the Slavic undertones fit in perfectly. Also, the epilogue was stellar.
But there were things that didn't work for this reader, the characters. Maybe I would've enjoyed them better in my teen years, but I didn't connect with them and when I put the book down, they weren't begging me to pick it back up. And it was dark, very dark. I enjoy a dark read every now and then, but for whatever reason, me/what's going on in my life, it was a bit much.
I'll be curious to see what else Duncan brings us in the future, she's got talent. And the hardcover edition has a beautiful cover, 'let them fear her' is stamped into it. But I don't think I'll be picking up book two of this series.
Rating: 3 out of 5