Tuesday May 14, 2019
Christina Lauren's The Unhoneymooners is such a fun read, be sure to grab a copy today! 📚💸🎉
CONTEMPORARY ROMANCE/ROMANTIC SUSPENSE
The Unhoneymooners
by Christina Lauren
Paperback, 432 pages
Published May 14th 2019 by Gallery Books
ISBN 1501128035
Olive is always unlucky: in her career, in love, in…well, everything. Her identical twin sister Amy, on the other hand, is probably the luckiest person in the world. Her meet-cute with her fiancé is something out of a romantic comedy (gag) and she's managed to finance her entire wedding by winning a series of Internet contests (double gag). Worst of all, she's forcing Olive to spend the day with her sworn enemy, Ethan, who just happens to be the best man.

Olive braces herself to get through 24 hours of wedding hell before she can return to her comfortable, unlucky life. But when the entire wedding party gets food poisoning from eating bad shellfish, the only people who aren't affected are Olive and Ethan. And now there's an all-expenses-paid honeymoon in Hawaii up for grabs.

Putting their mutual hatred aside for the sake of a free vacation, Olive and Ethan head for paradise, determined to avoid each other at all costs. But when Olive runs into her future boss, the little white lie she tells him is suddenly at risk to become a whole lot bigger. She and Ethan now have to pretend to be loving newlyweds, and her luck seems worse than ever. But the weird thing is that she doesn't mind playing pretend. In fact, she feels kind of... lucky.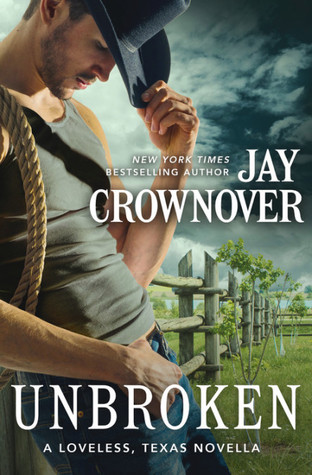 Unbroken
(Loveless, Texas 0.5)
by Jay Crownover
Kindle Edition, 160 pages
Published May 14th 2019 by Forever Yours
ASINB07H29KFKS
From the New York Times bestselling author of the Marked Men series comes a captivating novella about a rugged rodeo star who will do anything to protect the people he loves.

When rodeo star Crew Lawton loses everything in a bad bet, he has no choice but to take a new job to pay off his debts – even if it means becoming the face of an expensive male skincare line. Crew is used to getting sweaty and rustling in the dirt, not posing for photo shoots. And he's certainly not used to being bossed around by a woman who doesn't even know the difference between bulls and broncs. But Crew owes money to dangerous criminals, and he'll do anything Della says in order to pay them back and keep them far away from his family in Loveless, Texas…

The launch of her new men's line for her family's company means everything to Della Deveaux, and she's not willing to let some rugged, arrogant cowboy ruin her campaign. Crew Lawton is the last man she would have chosen to represent her chic, sophisticated brand. Unfortunately, her father already invested millions in Crew's stupidly handsome face. Yet the more time they spend together, Della and Crew realize that opposites do attract. But when the time comes for Crew to face his past mistakes, will he be able to protect his family…and the woman he's come to love?
Corrupt Savior
(Wages of Sin #2)
by Tara Leigh
256 pages
Published May 13th 2019
I am the monarch of Manhattan's underworld.
A corrupt king, ruling a sinful empire.

I wasn't born to the crown.
Nevertheless, I wear it well.

Aislinn Granville is the Crown Jewel of my empire—my queen.
To my enemies, she's my Achilles heel—a perfect pawn.

Without her, I am a wounded warrior.
A ruthless, relentless beast.

There is nowhere she can be taken that I won't find her.
No adversary I won't crush to get her back.

Even if I have to burn this city to the ground.
Frisky Business
(Chick Flick Club Book 3)
by Lila Monroe
Kindle Edition
Published May 13th 2019 by Lila Monroe Books
ASINB07HHF2RLS
Get frisky with the sizzling new standalone romantic comedy from USA Today bestselling author, Lila Monroe!

Noah Hathaway is infuriatingly hot, annoyingly charming… and my new room-mate?! This pet-sitting gig was supposed to be a vacation from drama, but that was before the hunky guy in the pool-house started sticking his nose (and his annoyingly chiseled abs) in my business.

I'm looking for Mr. Right, not Mr. Most Likely to Sneak Out of Bed (And Steal Your Breakfast Pop Tart On the Way Out the Door), so despite the red-hot sparks between us, I'm determined to stay away. But when one little party gets way out of hand, we're suddenly both on the wrong side of trouble. Unless we can come up with ten thousand dollars in the next three weeks, we're screwed. And not just when it comes to the adorable pooches.

With the clock ticking, we have no choice but to team up and embark on a madcap scheme to save our asses - with the help of a few furry friends. But with the chemistry between us reading Defcon-69, can I keep my hands (and heart) to myself? Or will this pup-tastic scheme leave us both in the doghouse?

Find out in the latest hot and hilarious rom-com from "the queen of romantic comedy", Lila Monroe!
A Really Bad Idea
by Jeannine Colette
Published May 14th 2019
YOUNG ADULT
We Hunt the Flame
(Sands of Arawiya #1)
by Hafsah Faizal
Hardcover, 480 pages
Published May 14th 2019 by Farrar, Straus and Giroux
ISBN 0374311544
People lived because she killed.
People died because he lived.

Zafira is the Hunter, disguising herself as a man when she braves the cursed forest of the Arz to feed her people. Nasir is the Prince of Death, assassinating those foolish enough to defy his autocratic father, the king. If Zafira was exposed as a girl, all of her achievements would be rejected; if Nasir displayed his compassion, his father would punish him in the most brutal of ways.

Both are legends in the kingdom of Arawiya—but neither wants to be.

War is brewing, and the Arz sweeps closer with each passing day, engulfing the land in shadow. When Zafira embarks on a quest to uncover a lost artifact that can restore magic to her suffering world and stop the Arz, Nasir is sent by the king on a similar mission: retrieve the artifact and kill the Hunter. But an ancient evil stirs as their journey unfolds—and the prize they seek may pose a threat greater than either can imagine.

Set in a richly detailed world inspired by ancient Arabia, We Hunt the Flame is a gripping debut of discovery, conquering fear, and taking identity into your own hands.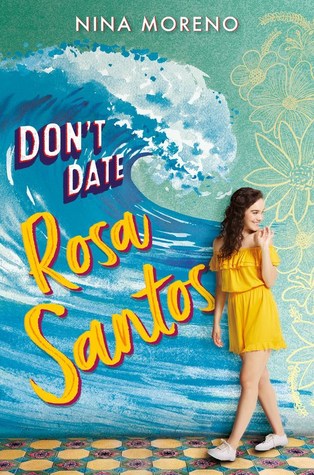 Don't Date Rosa Santos
by Nina Moreno
Hardcover, 336 pages
Published May 14th 2019 by Disney-Hyperion
ISBN 1368039707
Rosa Santos is cursed by the sea-at least, that's what they say. Dating her is bad news, especially if you're a boy with a boat.

But Rosa feels more caught than cursed. Caught between cultures and choices. Between her abuela, a beloved healer and pillar of their community, and her mother, an artist who crashes in and out of her life like a hurricane. Between Port Coral, the quirky South Florida town they call home, and Cuba, the island her abuela refuses to talk about.
As her college decision looms, Rosa collides - literally - with Alex Aquino, the mysterious boy with tattoos of the ocean whose family owns the marina. With her heart, her family, and her future on the line, can Rosa break a curse and find her place beyond the horizon?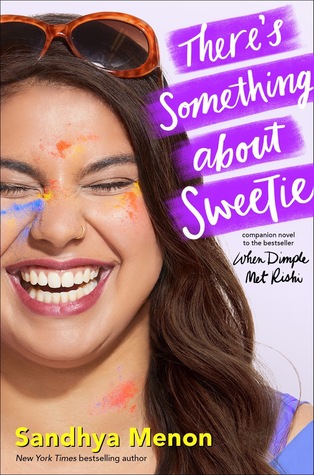 There's Something About Sweetie
(Dimple and Rishi #2)
by Sandhya Menon
Published May 14th 2019 by Simon Pulse
MYSTERY/THRILLER
A Perfect Lie
by Lisa Renee Jones
383 pages
Published May 14th 2019 by Julie Patra Publishing
Secrets. Lies. A man. There's always a man. And there's always a truth to be told.

I'm Hailey Anne Monroe. I'm twenty-eight years old. An artist, who found her muse on the canvas because I wasn't allowed to have friends or even keep a journal. And yes, if you haven't guessed by now, I'm that Hailey Anne Monroe, daughter to Thomas Frank Monroe, the man who was a half-percentage point from becoming President of the United States. If you were able to ask him, he'd probably tell you that I was the half point. But you can't ask him, and he can't tell you. He's dead. They're all dead and now I can speak.
WOMEN'S FICTION
LGBT ROMANCE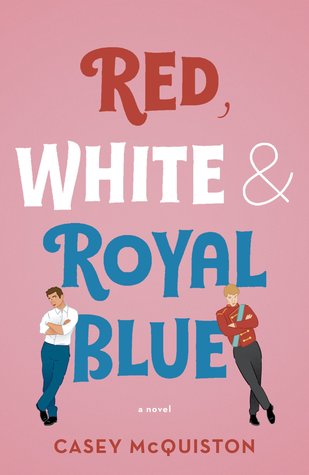 Red, White & Royal Blue
by Casey McQuiston
Paperback, 432 pages
Published May 14th 2019 by St. Martin's Griffin
Original TitleRed, White & Royal Blue
ISBN 1250316774
A big-hearted romantic comedy in which First Son Alex falls in love with Prince Henry of Wales after an incident of international proportions forces them to pretend to be best friends...

First Son Alex Claremont-Diaz is the closest thing to a prince this side of the Atlantic. With his intrepid sister and the Veep's genius granddaughter, they're the White House Trio, a beautiful millennial marketing strategy for his mother, President Ellen Claremont. International socialite duties do have downsides—namely, when photos of a confrontation with his longtime nemesis Prince Henry at a royal wedding leak to the tabloids and threaten American/British relations.

The plan for damage control: staging a fake friendship between the First Son and the Prince. Alex is busy enough handling his mother's bloodthirsty opponents and his own political ambitions without an uptight royal slowing him down. But beneath Henry's Prince Charming veneer, there's a soft-hearted eccentric with a dry sense of humor and more than one ghost haunting him.

As President Claremont kicks off her reelection bid, Alex finds himself hurtling into a secret relationship with Henry that could derail the campaign and upend two nations. And Henry throws everything into question for Alex, an impulsive, charming guy who thought he knew everything: What is worth the sacrifice? How do you do all the good you can do? And, most importantly, how will history remember you?