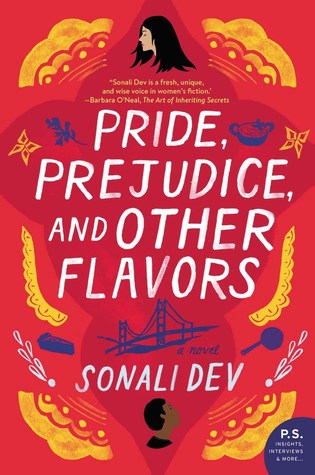 Title
: Pride, Prejudice, and Other Flavors
Series
: The Rajes #1
Author
: Sonali Dev
Format
: Paperback/eBook, 496pages
Publication
: May 7th 2019 by William Morrow
ASIN
: B078R4J67W
Links
:
Goodreads
|
Amazon
|
B&N
Source
: Edelweiss
Reviewer
: Kimberly
Rating
: 4.3 out of 5 Wine Glasses
It is a truth universally acknowledged that only in an overachieving Indian American family can a genius daughter be considered a black sheep.

Dr. Trisha Raje is San Francisco's most acclaimed neurosurgeon. But that's not enough for the Rajes, her influential immigrant family who's achieved power by making its own non-negotiable rules:

·Never trust an outsider
·Never do anything to jeopardize your brother's political aspirations
· And never, ever, defy your family

Trisha is guilty of breaking all three rules. But now she has a chance to redeem herself. So long as she doesn't repeat old mistakes.

Up-and-coming chef DJ Caine has known people like Trisha before, people who judge him by his rough beginnings and place pedigree above character. He needs the lucrative job the Rajes offer, but he values his pride too much to indulge Trisha's arrogance. And then he discovers that she's the only surgeon who can save his sister's life.

As the two clash, their assumptions crumble like the spun sugar on one of DJ's stunning desserts. But before a future can be savored there's a past to be reckoned with...
A family trying to build home in a new land.
A man who has never felt at home anywhere.
And a choice to be made between the two.
Kimberly's Thoughts:
The truth was, he was right about many things—things she could change, like how she treated people. He was also wrong about a few—things she could not change, like who she was.
In this start to the Rajes series, Sonali Dev gives us an emotional look into a royal Indian family that migrated to America. The title gives a clue that Ms. Dev took inspiration from Jane Austen, Trisha is our arrogant still waters run deep Mr. Darcy while DJ is our making some snap judgments Elizabeth. There is also a villainous Wickham character, older sister (already married) worried about her beau wanting someone else, sick younger sister, mother pressuring children to get married, and other little takings that Pride and Prejudice readers will recognize. It's all inspired by and not based on and I loved how Dev put her spin on the tale.
It had been fifteen years. Fifteen years since Trisha had been shut out of her brother's political career, the family's most precious dream.
The beginning focuses on Trisha, a young brilliant brain surgeon, and the dynamics she has with her family. Her family is rather large but I never felt overwhelmed with characters, Dev is amazing at weaving sibling, parent, cousin, and grandparent relationships into the fabric of the story. We learn how Trisha feels like an outcast in her family because of how a friendship (Julia Wickham) ended up hurting her brother Yash, a US District Attorney gearing up to make a run at California Governor. I can't even put into words how Dev expertly touches on and relays all those complicated family feelings; you'll get sucked in believing the Rajes are a real family and probably personally connect with some of their issues.
"Looks like we're stuck together for the sake of our sisters." He pulled the door shut, put the car in gear, and shot off around the looping driveway, watching her disappear in his rearview mirror. She didn't look any happier at the prospect than he was.
DJ comes into the story with the opposite of a meet-cute with Trisha, leaving him to believe she's an arrogant snob. He also turns out to be the older brother of Emma, a patient of Trisha's. Emma has a brain tumor that other doctors have said is inoperable, but Trisha has developed a way to remove it, however, it would leave Emma, an artist, blind. Emma wants to refuse the surgery and DJ is mad that Trisha won't heavily push her. They are forced to spend more time together when, because of his friendship with one of Trisha's cousins, leads to him catering for her brother Yash's campaign fundraiser. Further complicating matters is Trisha's past enemy, Julia, snaking around DJ and Emma.
My sister is not live tissue. But DJ Caine was wrong. That's precisely what Emma had to be to her, because Trisha knew exactly what to do with misbehaving live tissue.
Trisha is harder to warm up to right away, she is a bit arrogant but Dev deftly draws out her character through showing how she grew up, the dynamics, her guilt, her love for her family, and the very essence of what makes Trisha such a brilliant surgeon. Her character is a master class in giving what people need from you while still staying true to your core and finding someone who understands and loves you because and despite it all. It takes a little longer to get to DJ but Dev gives him as much depth and breadth to his character as Trisha. His background, parent's situation, racial and class divisions, relationship with surrogate mother, and being responsible for Emma at a young age, breath life into his thoughts, feelings, actions, and motivations.
The romance is all at once the background and motivation for the story, family dynamics steal the show often enough but without those dynamics driving the story, the romance would not flourish and feel as complete the way it does. Their relationship is very biting at first but as Dev peels back the layers on Trisha and Dev, it becomes clear how they are talking at cross purposes to each other and you begin to root for these two to clear up misunderstandings and give into what their hearts are trying to tell them.
As I said earlier, there is no way to touch on all the characters and threads that make this such an enriching full story. I don't know if it is a term but this read like literary romance, Dev beautifully began a woven tapestry of the Raje family. I've called Dev a "lip quivering" author and while the emotions can be quite raw at times, there is always an underlining hopefulness to her writing that makes me believe that love will win in the end. I'm utterly invested in the Raje family and can't wait for the next in the series.