From New York Times bestselling author Jay Crownover comes UNBROKEN, the prequel novella in her brand new Loveless, Texas series! Check out the amazing excerpt below, and grab your copy today!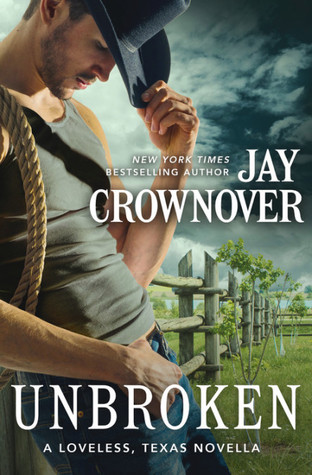 Unbroken
(Loveless, Texas 0.5)
by Jay Crownover
Kindle Edition, 160 pages
Published May 14th 2019 by Forever Yours
ASINB07H29KFKS
From the New York Times bestselling author of the Marked Men series comes a captivating novella about a rugged rodeo star who will do anything to protect the people he loves.

When rodeo star Crew Lawton loses everything in a bad bet, he has no choice but to take a new job to pay off his debts – even if it means becoming the face of an expensive male skincare line. Crew is used to getting sweaty and rustling in the dirt, not posing for photo shoots. And he's certainly not used to being bossed around by a woman who doesn't even know the difference between bulls and broncs. But Crew owes money to dangerous criminals, and he'll do anything Della says in order to pay them back and keep them far away from his family in Loveless, Texas…

The launch of her new men's line for her family's company means everything to Della Deveaux, and she's not willing to let some rugged, arrogant cowboy ruin her campaign. Crew Lawton is the last man she would have chosen to represent her chic, sophisticated brand. Unfortunately, her father already invested millions in Crew's stupidly handsome face. Yet the more time they spend together, Della and Crew realize that opposites do attract. But when the time comes for Crew to face his past mistakes, will he be able to protect his family…and the woman he's come to love?
EXCERPT:
"This the one, Ms. Priss?" I turned in a circle, hating how restrictive and stiff the refined suit felt. There would be no staying on the horse for eight seconds in something like this. I doubted I could even bend over and pull my boots on in this getup. I failed to see how being dressed like I was going to high tea with the queen was going to convince normal men with a little extra cash to buy the junk in my hair. It felt like overkill, but I would chew my tongue off before telling Della that. I knew how much this campaign meant to her, and I needed her to keep me around so I could get paid. .. and get to kiss her again.
Della circled around me, eyes scanning from head to toe. A small frown tugged her perfectly arched brows down into a V, and her lush, soft mouth pulled into a pout I was becoming achingly familiar with. She lifted a hand and touched the knot of the silk tie where it rested at the base of my throat. She fingered the delicate material and heaved a sigh.
"You look perfect, but something is still off." She met my gaze with a scowl. "Can you try and look a little less like you're being tortured? That might help the overall image."
Her snippy tone and the upturn of her nose made me grin. I rolled my head around, causing my neck to pop and my shoulders to relax. Della's expression softened when I was no longer standing at attention, but she still let out a dejected-sounding sigh and reached for my tie, releasing me from the expensive noose.
"You have a body made for designer clothes, but something is lost when you put them on. I feel like we're trying to wrap the Mona Lisa in silk or something. Frankly, it's annoying that you make denim and flannel look just as good as Versace and Prada." Once she had the tie off, she told me to go ahead and get back into my own clothes. I asked her what the plan was for the shoot and a brief flare of panic and doubt lit up her cat like eyes. She forced a smile and told me she would figure it out.
Since I was totally a fish out of water in this scenario, all I could do was follow orders like a good soldier. I stripped out of the fitted vest and worked on the tiny buttons of the shirt. I was handing them both off to the flirty wardrobe girl who was enjoying the impromptu striptease when Della's "Wait a second!" had both of us freezing on the spot.
She was looking at me in the mirror, eyes roving over my half-dressed form. She wandered over to where my jeans and boots were tossed in a haphazard pile on the floor. After a second of rooting around, she came toward me, my black wifebeater in one hand and my boots in the other.
"Put these on with the pants." She looked at the wardrobe girl with a lifted brow and had to snap her fingers in the woman's face to get her attention. "Go find me a pair of suspenders, leather if you have them." The other woman scurried off to do as she was told and I dropped to the seat to pull on my boots.
"I keep trying to turn you into something better." I looked up at Della as she snorted out a laugh. "But from the start, you were perfect the way you are."
And don't miss...
About Jay Crownover:
Jay Crownover is the international and multiple New York Times and USA Today bestselling author of the Marked Men series, the Saints of Denver series, the Point series, the Breaking Point series, the Getaway series, and the Loveless, Texas series. Her books can be found translated in many different languages all around the world. She is a tattooed, crazy haired Colorado native who lives at the base of the Rockies with her awesome dogs. This is where she can frequently be found enjoying a cold beer and Taco Tuesdays. Jay is a self-declared music snob and outspoken book lover who is always looking for her next adventure, between the pages and on the road.

Website: http://www.jaycrownover.com/
Facebook: https://www.facebook.com/AuthorJayCrownover?ref=hl
Twitter: https://www.twitter.com/JayCrownover
Goodreads: https://www.goodreads.com/Crownover