We're rolling into the holiday season and there are plenty of new releases this month to keep you nice and toasty! I am SO looking forward to

The Brightest Embers

by Jeaniene Frost, the final Broken Destiny book. Ack! How will it end?!

Wingman by Emmy Curtis was an exciting high-flying adventure. Rosemarked by Livia Blackburne looks like a promising new Y.A. fantasy series. You'll want to add Wish You Were Mine by Tara Sivec to your list if you love second-chance romances! And did you hear that Nalini Singh has a new series coming out this month, Hard Play?! Also, Twisted Truths, the final book in the Blood Brothers series by Rebecca Zanetti is releasing in the middle of the month!

Which releases are

you looking forward to the most this month?
*This list may be updated throughout the month.
1st
Mark of Fire
(The Endarian Prophecy #1)
by Richard Phillips
Kindle Edition, 302 pages
Published November 1st 2017 by 47North
ASINB06ZYW8B2D
An ancient prophecy. A young woman's destiny.



Lorness Carol, coming of age in the kingdom of her warlord father, Lord Rafel, aspires to wield magic. But she's also unknowingly become the obsession of Kragan, an avenging wielder as old as evil itself. He's waited centuries to find and kill the female prophesied as the only human empowered to destroy him. However, dispatching the king's assassin, Blade, to Rafel's Keep, ends in treason. For Blade arrives not with a weapon but rather a warning for the woman he's known and loved since he was a child. With a price on his head, Blade flees—as Carol and her family are urged away on their own desperate route of escape.





Now, traversing the lawless western borderlands, Carol struggles to understand the uncanny magic she possesses and must learn to master. Though separated, Carol and Blade are still united—not only by the darkness pursuing them both but by a quest toward destiny, revenge, and the revelations of an ancient prophecy that signal the ultimate war between good and evil.
The New Dark
by Lorraine Thomson
ebook, 187 pages
Published November 1st 2017 by Bastei Entertainment
"She thought she knew who she was and where she came from.Then her home was destroyed. Her brother lost amongst the ashes. And the boy she loves vanished. She owed her own survival to a mutant — the very forces behind the destruction. Now Sorrel will never be the same again."




There is no "Before", there is only "Now". Because now there's no internet, no TV, no power grid. Food is scarce, and the world's a hostile place. But Sorrel lives a quiet life in the tiny settlement of Amat. It's all she's ever known ...





Until a gang of marauding mutants destroys the village, snatching her brother Eli, and David, her boyfriend. Sorrel sets out after them, embarking on a journey fraught with danger. Can she survive? The only thing that keeps her going is Eli and David. They are out there somewhere. They must be alive. And if she has her way, she will find them.
7th
Title: Trapped
Series: Finding Justice #3
Author: Rhonda Pollero
Format: Paperback & eBook, 352pgs
Published: Nov. 7, 2017 by Forever Yours
ASIN: B06XFWSWWQ
Lured into danger, trapped by desire . . .





Chasyn Summers has a target on her back. As the key witness in a murder case, she's risking her life to testify in court--and she needs protection. But when she's assigned a personal bodyguard who's disarmingly tough--and distractingly gorgeous--it's not just her life that's in danger. It's her heart . . .





Declan Kavanaugh works strictly by the rules. Never get too close to a client. And never, ever, fall in love. But he's never protected anyone as beautiful, or as intriguing, as Chasyn. Surrendering to passion is a risk they can't afford to take, especially when danger meets desire and Declan realizes Chasyn Summers may be the ultimate trap.
Title: Risky Redemption
Series: Rogue Security #1
Author: Marissa Garner
Format: Paperback & eBook, 416pgs
Published: Nov. 7, 2017 by Forever Yours
ASIN: B07288DWB9
Four years ago, Angela Reardon was brutally attacked, and she still bears the physical scars and traumatic memories. While she's worked hard to overcome her fears and build a successful business, she's still haunted by her inability to identify her assailant. Now Angela only wants to be left alone-until a shadowy stranger reignites her desire to be loved. But their time together may be brief...because someone wants her dead.





CIA assassin Jake Stone's targets deserved to die. Until now. Until he falls in love with the innocent woman he's been hired to kill. Jake can't fight his attraction to Angela, and he knows that someone else will be sent to finish the job. So can he save Angela and redeem himself by uncovering who wants her killed? When the trail leads him into the carnal underbelly of L.A., the truth is more shocking than even he could ever imagine.
Wingman
(Elite Ops #2)
by Emmy Curtis
ebook, 304 pages
Expected publication: November 7th 2017 by Grand Central Publishing / Forever Yours
ISBN139781478947950
The higher the risk, the harder the fall.



Maj. Missy Malden loves her job, her plane, and its pilot-not that she could ever let him know. He's way too cocky, way too sexy, and in their job, any distraction is way too dangerous. But when a training exercise spirals out of control, Missy's in the hot seat, and Conrad's the only one who can bail her out . . .





Lt. Col. Francis Conrad has always valued Missy too much as his weapons specialist to ever tell her how he really feels. But now that she's been accused of treason, he can't sit back and let her fly solo. To keep her safe, he'll put everything on the line-his career, his heart, and even his life.
Holiday Wishes
(Heartbreaker Bay #4.5)
by Jill Shalvis
ebook, 128 pages
Expected publication: November 7th 2017 by Avon Impulse
ISBN 0062463586
It's Christmastime again in Heartbreaker Bay!



When Sean O'Riley shows up at the Hartford Bed & Breakfast for his older brother's bachelor weekend, he's just hoping to make it through the weekend. What he's not expecting is to come face to face with the woman he lost his virginity to a decade ago—a woman he's never really forgotten.





The last time Lotti Hartford saw Sean, she told him she loved him while he said nothing. Now, ten years later, she's just looking for a good time. For once, she wants to be the wild and free one, and Sean – the good time guy – is the perfect candidate.





But as the weekend continues, Sean realizes that after a lifetime of being the hook-up king, he's ready to find happily-ever-after, and he wants it with Lotti. But will she open her heart to him again? As Christmas sweeps through the little B&B, he can only hope love and magic are in the air.
Dream On
(Dreams Come True #1)
by Stacey Keith
ebook, 251 pages
Expected publication: November 7th 2017 by Lyrical Shine
ASINB06W9H7JR2
Deep in the heart of Texas is a small town where secret wishes have a funny way of coming true . . .





With a nine-year-old daughter, an overdue light bill, and a job slinging burgers while zooming around on roller skates, Cassidy Roby is not living the glamorous life. But Cuervo, Texas, has its charms: quiet streets, loving family, and the down-home familiarity of knowing which of your neighbors are mean as snakes. With Cassidy's reputation, she knows what will happen if she steps a foot out of line. But how can she help it now that Mason Hannigan's back in town?





As Cuervo's high school quarterback ten years ago, Mason was all rock-hard abs and yes-ma'am manners. Now that he's living the glitz and glory of the NFL, he's all that plus a couple million bucks. The desire blazing between them is too hot to hide. Cassidy has some experience getting her heart broken by the hometown hero—and having the whole world watch her try to pick up the pieces. Will adding fame, fortune, and paparazzi be a playbook for disaster—or lead to the biggest adventure of her life?
The Right Kind of Reckless
(Reckless Hearts #2)
by Heather Van Fleet
Kindle Edition, 352 pages
Expected publication: November 7th 2017 by Sourcebooks Casablanca
ASINB01MZ9RY6U
I'm in love with a woman I can't have, and there's absolutely nothing I can do to stop myself from falling.





The problem? Her brother's my best friend.





I shouldn't want her this much. Not when it goes against the bro code. Not when I've never been able to commit to a woman for longer than a night.





But one look into her eyes and I'm a mess for her. She's my everything. And I have to walk away with nothing.
Always Red
(Red #2)
by Isabelle Ronin
Paperback
Expected publication: November 7th 2017 by Sourcebooks Casablanca
ISBN 1492658480
Chasing Red is the Wattpad phenomenon with over 130 million reads, and one million reads each week. Revised and with new original content, it will be published in two volumes, Chasing Red and Always Red. New readers and fans alike will fall in love with Red and Caleb--over and over again.



THE RIVETING CONCLUSION TO RED AND CALEB'S EPIC STORY




Veronica "Red" Strafford's painful past has made trusting Caleb Lockhart difficult. But Red might have pushed Caleb away one too many times...





I want you to fight for me. Just as I fought for you. But you wouldn't.

I stood there, staring after him, tears pouring down my face.
Misadventures on the Night Shift
(Misadventures #6)
by Lauren Rowe
Hardcover, 280 pages
Expected publication: November 7th 2017 by Waterhouse Press
ISBN 1943893438
Hotel clerk Abby Medford has always enjoyed the quiet solitude of the night shift. The long, boring hours allow her time to study her law books. But when bad-boy-rocker Lucas Ford checks into the penthouse suite one night and demands Abby personally deliver his room service request, her formerly quiet nights are quickly filled with Lucas's erotic games.





But as Abby soon learns, if she thinks she can indulge her innermost desires with Lucas without giving him her heart, she's dead wrong.
Nauti Angel (Nauti #9)
by Lora Leigh
Paperback
Expected publication: November 7th 2017 by Berkley Books
ISBN 0399583858
#1 New York Times bestselling author Lora Leigh unleashes a fiery new Nauti novel, in which a dangerous woman finds herself a target in more ways than one...



Angel Calloway isn't the girl next door. Known for being rude and cursing like a sailor on a bender, she's meaner than the two mercenaries she's followed since she was young. Needing anyone is not what she's about. Or so she thought--until she found the mother she was taken from so long ago, Chaya Mackay, wife to the notorious Natches Mackay.





One night with Angel and devilishly sexy Marine Reece Duquaine was hooked. She nearly blew his head off, and moments later, she blew his mind. He's been after her ever since, wrestling with a desire that fights to consume him. But now he has her in his sights--and is ready to take his shot.

Unless someone else moves in for the kill first...
Hooking Up
by Helena Hunting
Kindle Edition, 1st edition, 444 pages
Expected publication: November 7th 2017 by Swerve
ASINB071DSQFLC
Amalie Whitfield is the picture of a blushing bride during her wedding reception–but for all the wrong reasons. Instead of proclaiming his undying love, her husband can be heard, by Amalie and their guests, getting off with someone else. She has every reason to freak out, and in a moment of insanity, she throws herself at the first hot-blooded male she sees. But he's not interested in becoming her revenge screw.





Mortified and desperate to escape the post-wedding drama, Amalie decides to go on her honeymoon alone, only to find the man who rejected her also heading to the same tiny island for work. But this time he isn't holding back. She should know better than to sleep with someone she knows, but she can't seem to resist him.





They might agree that what happens on the island should stay on the island, but neither one can deny that their attraction is more than just physical.



Filled with hilariously scandalous situations and enough sexual chemistry to power an airplane from New York City to the South Pacific, Hooking Up is the next standalone, laugh-out-loud romantic comedy from Helena Hunting, the New York Times bestselling author of the Pucked series and Shacking Up.
Title: Someone to Wed
Series: Wescott #3
Author: Mary Balogh
Format: Paperback & eBook, 394 pgs
Published: Nov. 7, 2017 by Berkley
ASIN: B06VTV29NX
A very practical marriage makes Alexander Westcott question his heart in the latest Regency romance from the New York Timesbestselling author of Someone to Hold.





When Alexander Westcott becomes the new Earl of Riverdale, he inherits a title he never wanted and a failing country estate he can't afford. But he fully intends to do everything in his power to undo years of neglect and give the people who depend on him a better life. . . .




A recluse for more than twenty years, Wren Heyden wants one thing out of life: marriage. With her vast fortune, she sets her sights on buying a husband. But when she makes the desperate—and oh-so-dashing—earl a startlingly unexpected proposal, Alex will only agree to a proper courtship, hoping for at least friendship and respect to develop between them. He is totally unprepared for the desire that overwhelms him when Wren finally lifts the veils that hide the secrets of her past. . . .
Title: No Other Duke Will Do
Series: Windham Brides #3
Author: Grace Burrowes
Format: Papberbook & eBook, 368pgs
Published: Nov. 7, 2017 by Forever
ASIN: B06XFR3CCH
Julian St. David, Duke of Haverford, is barely keeping his head above water in a sea of inherited debts. Though he has a long-term plan to restore the family finances, his sister has a much faster solution: host a house party for London's single young ladies and find Julian a wealthy bride.





Elizabeth Windham has no interest in marriage, but a recent scandal has forced her hand. As much as she'd rather be reading Shakespeare than husband-hunting, she has to admit she's impressed by Julian's protective instincts, broad shoulders, and, of course, his vast library.





As the two spend more time together, their attraction is overwhelming, unexpected... and absolutely impossible. With meddling siblings, the threat of financial ruin, and gossips lurking behind every potted palm, will they find true love or true disaster?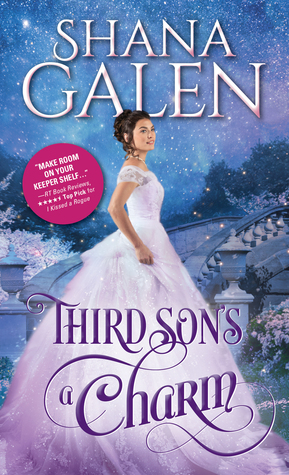 Third Son's a Charm
(The Survivors #1)
by Shana Galen
Mass Market Paperback, 416 pages
Expected publication: November 7th 2017 by Sourcebooks Casablanca
ISBN 1492657034
Ewan Mostyn thinks a job as a duke's daughter's bodyguard will be easy―but Lady Lorraine has a few tricks up her sleeve that spark an undeniable passion...



Fiercely loyal to his friends and comrades, Ewan Mostyn is the toughest in a group of younger sons of nobility who met as soldiers and are now trying desperately to settle back into peaceful Society. Ewan trusts his brawn more than his brains, but when he's offered a job watching the Duke of Ridlington's stubbornly independent daughter, he finds both are challenged.





Lady Lorraine wants none of her father's high-handed ways, and she'll do everything in her power to avoid her distressingly attractive bodyguard―until she lands herself in real trouble. Lorraine begins to see Ewan's protectiveness in a new light, and she can only hope that her stoic guardian will do for her what he's always done―fight for what he wants.
To Marry a Texas Outlaw
(Men of Legend #3)
by Linda Broday
Mass Market Paperback, 384 pages
Expected publication: November 7th 2017 by Sourcebooks Casablanca
ISBN 1492630233
Three Brothers. One Oath.
No Compromises.
The MEN of LEGEND

The Outlaw
Outlaw Luke Weston survives by his wits. On the run for a murder he didn't commit, the last thing he needs is to go looking for more trouble. But when Luke stumbles across a fiercely beautiful woman struggling against two heavily armed men, it's obvious that trouble has found him.



After all, he never could resist a damsel in distress.





Josie Morgan's distressed, all right―and hopping mad. She has no idea why she's been kidnapped...or who she is...or why her body melts for the mysterious gunslinger who saved her life. But as the lost memories come tumbling back together, Josie is faced with the stark reality of why she and Luke can never be...even as her heart is telling her she will always be his.
Perfect Gravity
(Tether #2)
by Vivien Jackson
Paperback
Expected publication: November 7th 2017 by Sourcebooks Casablanca
ISBN 1492648191
Second in a snarky, sexy sci-fi romance series with the perfect balance of humor, heart, and heat. When someone tries to kill powerful continental senator Angela Neko, Texan outlaw and old flame Kellen Hockley is the only man who can keep her safe...and help her save the world.



Kellen Hockley usually keeps quiet about his past, but once upon a time he loved a girl named Angela. He hasn't seen her in a decade, but now he has to break the news to her that his team of rogue treasure hunters accidentally killed her husband. He's had better days...





It's not the news that's delivered to Angela Neko that breaks her apart--it's the rumbly, Texas drawl delivering it. She can't believe she's hearing Kellen's voice again. But there's no time for distractions. When Angela's own life is threatened, yielding up all of her lies and secrets, she and Kellen must figure out how to reverse the geopolitical firestorm she lit to save the world, to save Kellen's cat...and just maybe to save each other.
Deja New
(Insighter #2)
by MaryJanice Davidson
Kindle Edition, 320 pages
Expected publication: November 7th 2017 by Berkley
ASINB06WRWD3KS
The New York Times bestselling author of the Undead Novels takes on reincarnation in this unforgettable Insighter Novel about the pitfalls in past—and love—lives…





Leah Nazir lives in a world where the past can and will come back to bite you in the ass. No, not teething ghosts—reincarnation! As an Insighter, it's Leah's job to delve into the murky and (often) deadly former lives of her patients. And she knows a thing or two about danger after killing her mother's murderer with the help of new beau, Archer Drake.





Isn't he the best?





Now, it's time to take their relationship to the next level, but not in any way Leah could have predicted. She and Archer head to Chicago to meet his parents—and try to figure out why Archer's dad killed his brother decades ago. When someone tries to sabotage their investigation, Leah must decide if the Drake family past is a deal breaker…
Rosemarked
(Rosemarked #1)
by Livia Blackburne
Hardcover, 400 pages
Expected publication: November 7th 2017 by Disney-Hyperion
ISBN 1484788559
A healer who cannot be healed . . .



When Zivah falls prey to the deadly rose plague, she knows it's only a matter of time before she fully succumbs. Now she's destined to live her last days in isolation, cut off from her people and unable to practice her art—until a threat to her village creates a need that only she can fill.



A soldier shattered by war . . .



Broken by torture at the hands of the Amparan Empire, Dineas thirsts for revenge against his captors. Now escaped and reunited with his tribe, he'll do anything to free them from Amparan rule—even if it means undertaking a plan that risks not only his life but his very self.





Thrust together on a high-stakes mission to spy on the capital, the two couldn't be more different: Zivah, deeply committed to her vow of healing, and Dineas, yearning for vengeance. But as they grow closer, they must find common ground to protect those they love. And amidst the constant fear of discovery, the two grapple with a mutual attraction that could break both of their carefully guarded hearts.



This smart, sweeping fantasy with a political edge and a slow-burning romance will capture fans of The Lumatere Chronicles and An Ember in the Ashes.
13th
Dirty Games
(Tropical Temptation Book 4)
by Samanthe Beck
Kindle Edition, 202 pages
Expected publication: November 13th 2017 by Entangled: Brazen
ASINB076PLVK53
A five figure fee. A private villa at an exclusive tropical paradise. Absolute compliance. Top tier celebrity trainer Luke McLean demands all of the above, plus strict adherence to his zero bullshit policy. Especially when faced with six short weeks to whip a spoiled starlet into leading lady shape.





Quinn Sheridan suddenly has half the time she anticipated to turn herself into an action hero for the role of her career. Luckily, her agent calls in a secret weapon, but the demanding, drop dead gorgeous hardass fails to understand SHE'S the client. She has no problem taking direction, but Luke's definition of cooperation feels more like complete and utter submission. And she's tempted to give it to him...
Tequila Sunrise
(Agents Irish and Whiskey #4)
by Layla Reyne
Kindle Edition, 120 pages
Expected publication: November 13th 2017 by Carina Press
ASINB074DWPVV1
True love perseveres in this Agents Irish and Whiskey spin-off novella from author Layla Reyne





Former FBI agent Melissa "Mel" Cruz spent years skirting the line between life and death, knowing the next assignment might be her last. Back from overseas and eager to enjoy life outside the Bureau, she's ready to give Danny Talley a Christmas Eve he'll never forget.





A proven asset in high stakes missions, Danny's known for having the skill and brains to get the job done. When the Talley Flag Ship is hijacked during the company holiday party, he'll do anything to save his family, his love, and everything they've all worked so hard to build. But their enemies have a secondary protocol—leave no survivors—and that plan is already in play.





Navigating through a tangled web of lies and betrayal, Mel and Danny race against the clock to retake the ship before their future goes up in flames. As the seconds tick down, they're forced to face their greatest fear—losing each other.
Duchess by Day, Mistress by Night
(Rebellious Desires #1)
by Stacy Reid
ebook
Expected publication: November 13th 2017 by Entangled: Scandalous
ISBN139781640633735
Georgiana Rutherford, the Duchess of Hardcastle, seemingly has it all—wealth, pedigree, and the admiration of the ton, except her heart hungers for a passionate affair. She meets the enigmatic and ruthless Mr. Rhys Tremayne, a man known to low and high society as the Broker. The attraction between them is impossible to deny, but she cannot be feeling it for this man.





Rhys Tremayne has built his wealth and empire by dealing secrets on the black market of the London underworld. He is determined to take his sisters away from the depraved world they've known their entire lives, and the duchess is the perfect woman to help sponsor his sisters into society. The only problem is that he wants more from Georgiana, even if the social divide between them ensures she can only ever be his lover in secret.
14th
Wish You Were Mine
by Tara Sivec
ebook, 272 pages
Expected publication: November 14th 2017 by Forever Yours
ISBN 1478920165
From the USA Today bestselling author of The Story of Us and Fisher's Light comes a new, standalone novel—a heart-wrenching story about first loves and second chances that will make you fall in love all over again….





Five years. I would've stayed away longer if I hadn't received the letter. Not a day has gone by that I haven't thought about her, haven't missed her smile, haven't wished that things were different.





The last time I saw my two best friends, I vowed to not stand in the way of their happiness, even if that meant I couldn't be a part of their lives. Cameron James and her emerald-green eyes were too much of a temptation and I couldn't stay and watch them together. Cameron deserved better than me. She deserved him.





But now that I am back, things are different. I'm not going to stand by and watch the woman I've always loved slip away again. I'm done living my life with regrets and I'm ready to tell her the truth. And I'll do whatever it takes to show her that I always wished she was mine.
Cherish Hard
(Hard Play #1)
by Nalini Singh
Kindle Edition, 372 pages
Expected publication: November 14th 2017 by TKA Distribution
ASINB076BWMDG4
New York Times bestselling author Nalini Singh kicks off her new Hard Play contemporary romance series with a sizzling story that'll leave you smiling…





Sailor Bishop has only one goal for his future – to create a successful landscaping business. No distractions allowed. Then he comes face-to-face and lips-to-lips with a woman who blushes like an innocent… and kisses like pure sin.





Ísa Rain craves a man who will cherish her, aches to create a loving family of her own. Trading steamy kisses with a hot gardener in a parking lot? Not the way to true love. Then a deal with the devil (aka her CEO-mother) makes Ísa a corporate VP for the summer. Her main task? Working closely with a certain hot gardener.





And Sailor Bishop has wickedness on his mind.





As Ísa starts to fall for a man who makes her want to throttle and pounce on him at the same time, she knows she has to choose – play it safe and steady, or risk all her dreams and hope Sailor doesn't destroy her heart.
Nightshade
(Redemption #3)
by Molly McAdams
Expected publication: November 14th 2017
Bodyguard
(Hollywood A-List #2)
by C.D. Reiss
Kindle Edition, 1st edition, 330 pages
Expected publication: November 14th 2017 by Montlake Romance
ASINB073ZDWPLH
From New York Times bestselling author CD Reiss: Protecting a celebrity in Hollywood isn't easy, but protecting Emily could break his heart.





Emily enjoys all the perks of fame—the parties, the glamour, the tours—but they've brought her back to the attention of a dangerous ex-boyfriend hell bent on getting her back.





Enter Carter Kincaid, a bodyguard so crushingly sexy he takes her breath away.





Carter's the best in the business and Emily is—professionally speaking—off-limits. But when it comes to stirring his desires, she's hitting all the right notes. What's happening between them is so hot it could get both of them burned. As Emily's past gets closer, Carter is willing to break every rule of the job to save her. But letting Emily into his life also means letting her in on the secrets of his own past. For both of them, falling in love could be the greatest risk of all.
Wicked Torture
(Stark World #3)
by J. Kenner
Expected publication: November 14th 2017
Up for Heir
(Westerly Billionaire #2)
by Ruth Cardello
Kindle Edition, 234 pages
Expected publication: November 14th 2017 by Montlake Romance
ASINB071Z3KXNW
New York Times and USA Today bestselling author Ruth Cardello puts two hearts on the line when a Boston billionaire takes a second chance on the woman of his dreams.





Spencer Westerly is his own man. He didn't need his father's money to build his wildly successful tech company—and he doesn't want to deal with the fallout from old family secrets. But as much as Spencer wants to avoid Westerly drama, his grandmother—the family matriarch—is determined to pull him back into the fold. And she's discovered the perfect lure: his college sweetheart, Hailey.





Although she broke his heart, Hailey is still the only woman he's ever loved. Now that she's back and looking as desirable as ever, Spencer is determined to get a second chance.





A lot has changed for Hailey Tiverton. The only thing that hasn't? The inexplicable pull she feels toward Spencer. When they were younger, his work was his priority. Now, he'd better be willing to prove that, this time, love comes first…
Seducing the Defendant
(Conflict of Interest #2)
by Chantal Fernando
Paperback, 320 pages
Expected publication: November 14th 2017 by Gallery Books
ISBN 1501172360
New York Times bestselling author Chantal Fernando returns to her latest, steamy Conflict of Interest series with this electrifying tale of murder, justice, and intense attraction.





Jaxon Bentley is a hardnosed criminal lawyer whose entire life revolves around his work. He's been asked to represent Scarlett Reyes, a woman accused of murdering her police officer husband in cold blood. All the evidence points to Scarlett being guilty and Jaxon is sure it's an open and shut case.





But when he meets his client, he can't help but feel that she's innocent and that there's more to the story than meets the eye. With a bit of digging, he uncovers a connection to the notorious Wind Dragons Motorcycle Club and realizes that Scarlett's case is a complicated and difficult one. It certainly doesn't help that the two share an immediate and passionate attraction. Will Jaxon be able to prove Scarlett's innocence or are the two doomed to fail both in court and as a couple?
Title: Twisted Truths
Series: Blood Brothers #3
Author: Rebecca Zanetti
Format: Paperback & eBook, 432 pgs
Published: Nov. 14, 2017 by Forever
ASIN: B06XFVS9CB
You can't escape the past . . .



Noni is desperate. Her infant niece has been kidnapped, and the only person who can save her is a private detective with too many secrets to count--and more enemies than he can name. A man who walked away from Noni without any warning a year ago, a man who broke her heart. But with Talia's life on the line, Noni needs his help now more than ever--and this time, she won't take no for an answer . . .





The moment Denver Jones sees Noni, the memories come rushing back. The fire in her eyes. The determination in her voice. The danger of having her in his life. Denver had to push her away once, but now with vicious criminals threatening Noni and her niece, he'll do whatever it takes to protect them. But enemies from his past are circling, and they'll use anything--and anyone--to get to Denver.



With twists and turns that will blow you away, TWISTED TRUTHS is sexy, action-packed suspense at its very best from New York Times bestselling author Rebecca Zanetti.
Title: Romancing the Scot
Series: The Pennington Family #1
Author: May McGoldrick
Format: eBook, 284 pgs
Published: Nov. 14, 2017 by Swerve
ASIN: B0746MLYFZ
In this stunning series starter by USA Today bestselling author May McGoldrick, meet the new generation of Penningtons...five brothers and sisters of passion and privilege. Enter their aristocratic world…where each will fight injustice and find love.



Hugh Pennington—Viscount Greysteil, Lord Justice of the Scottish Courts, hero of the Napoleonic wars—is a grieving widower with a death wish. When he receives an expected crate from the continent, he is shocked to find a nearly dead woman inside. Her identity is unknown, and the handful of American coins and the precious diamond sown into her dress only deepen the mystery.





Grace Ware is an enemy to the English crown. Her father, an Irish military commander of Napoleon's defeated army. Her mother, an exiled Scottish Jacobite. When Grace took shelter in a warehouse, running from her father's murderers through the harbor alleyways of Antwerp, she never anticipated bad luck to deposit her at the home of an aristocrat in the Scottish Borders. Baronsford is the last place she could expect to find safety, and Grace feigns a loss of memory to buy herself time while she recovers.





Hugh is taken by her beauty, passion, and courage to challenge his beliefs and open his mind. Grace finds in him a wounded man of honor, proud but compassionate. When their duel of wits quickly turns to passion and romance, Grace's fears begin to dissolve…until danger follows her to the very doors of Baronsford. For, unknown to either of them, Grace has in her possession a secret that will wreak havoc within the British government. Friend and foe are indistinguishable as lethal forces converge to tear the two lovers apart or destroy them both.
Title: Alec MacKenzie's Art of Seduction
Series: MacKenzies and McBrides #9
Author: Jennifer Ashley
Format: Paperback & eBook, 396 pgs
Published: Nov. 14, 2017 by JA / AG Publishing
ASIN: B074WLPD54
Alec Mackenzie earns a living in exile as an art instructor, a cover for his search of several countries for his missing brother. Lady Celia, an Englishwoman who refuses to marry gentlemen her martinet mother chooses for her, is sent to Alec, the mysterious Scottish recluse, for drawing lessons–her family commands her to learn a skill if she's put herself off the marriage mart. Alec decides that the courageous Celia needs to expand her talents in painting the human figure, especially that of the male …





Celia is intrigued by the man who pretends his name is Mr. Finn. He's a Scotsman, she deduces, but he can't be one of the Highlanders who rose against the king, else she'd be allowed nowhere near him, and he'd be under arrest or already dead.





But as Celia lets her curiosity guide her, she uncovers more about Alec, including his name, his title, and the fact that he was indeed one of the Highlanders at Culloden. She sees the loneliness in Alec, his terrible sense of loss, his tenderness toward his daughter, and realizes he's a complex man trying to survive now that his home has been destroyed. She also wonders why he's left the safety of France to come to England, and the learns that he believes she's the key to finding his missing brother.





But Celia unravels too many secrets, which put not only her life and Alec's but also her heart in grave danger.



Note: Alec Mackenzie is the brother of Malcolm from The Stolen Mackenzie Bride. He is an ancestor of the Mackenzie family whose story begins with The Madness of Lord Ian Mackenzie.
Title: How to Woo a Wallflower
Series: Romancing the Rules #3
Author: Christy Carlyle
Format: Paperback & eBook, 396 pgs
Published: Nov. 14, 2017 by JA / Avon Impulse
ASIN: B01NGZK68N
An Unconventional Wallflower…



Clarissa Ruthven was born to be a proper lady, but she's never wanted to live up to the expectations her late father set. Determined to use her inheritance to help the less fortunate women of London, she's devastated to learn that she won't be inheriting anything until she marries, a fate she has no interest in. Unwilling to let go of her plans, Clary works at Ruthven Publishing for Gabriel Adamson, a man who's always hated her. She's always returned the feeling, but as she begins to turn her family's publishing company upside down, she finds herself unable to forget her handsome boss.




Never Follows the Rules…



Gabriel Adamson believes in order. He certainly doesn't believe Clary should be sticking her nose in the publishing company, and she definitely has no business invading his every thought. But Gabe soon finds he can't resist Clary's sense of freedom or her passionate kisses and he starts to crave everything she's willing to give him.




Especially When It Comes to Love…



When Gabe's dark past comes back to haunt him, he'll do anything to make sure that Clary isn't hurt…even if it means giving up the only woman he's ever loved.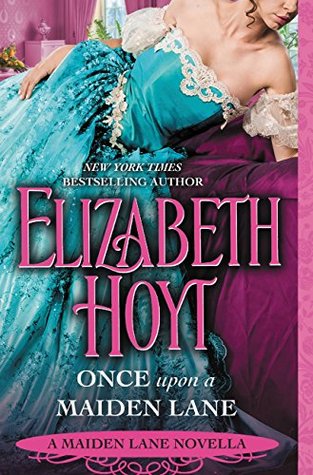 Title: Once Upon a Maiden Lane
Series: Maiden Lane #12.5
Author: Elizabeth Hoyt
Format: eBook, 100 pgs
Published: Nov. 14, 2017 by Forever Yours
ASIN: B01MYGCHYC
Miss Mary Whitsun is far too intelligent to fall for the rakish charms of a handsome aristocrat. But when the gentleman in question approaches her in a bookshop, mistaking her for his fiancée, Lady Johanna Albright, the flirtatious encounter only raises more questions. Could Mary, a servant raised in a St Giles orphanage, actually be Lady Joanna's long-lost twin sister? If so, Mary has been betrothed since birth—to the rakishly handsome artistocrat himself.





Henry Collins, Viscount Blackwell, is far too intrigued by Mary to let her go so easily. He's drawn to her sharp mind, indomitable spirit, and the fiery way in which she dismisses him—ladies simply don't dismiss Lord Blackwell. But as Mary makes her first hesitant steps into society, she can't help but wonder if she truly has a place in Henry's world—or in his heart.
28th
The Bachelor Contract
(The Bachelors of Arizona #3)
by Rachel Van Dyken
aperback, 336 pages
Expected publication: November 28th 2017 by Forever
ISBN 145554213X
A second-chance romance from the #1 NYT bestseller of The Bet, Matchmaker and Elite series!





She's everywhere.





Ex-wife.





Love of his life.





The last person in the world he wanted to see...ever.





And now that he's working beside her every day, he can't escape her. Her scent, glimpses of her smile, even the tension in the air that makes his body hum with the kind of need he'd only experienced with one person-all of it is driving him over the edge.





Brant Wellington was certain of three things:





Alcohol wasn't going to solve this.





He really was losing his F-ing mind.





And his gorgeous ex-wife was going to be the death of him. (less)
Undercover Attraction
(The O'Malleys #5)
by Katee Robert
Kindle Edition
Expected publication: November 28th 2017 by Forever
ASINB06XFTR61D
Scandal. Wealth. Power. Seduction. Welcome to the world of the O'Malleys.





Ex-cop Charlotte Finch used to think there was a clear line between right and wrong. Then her fellow officers betrayed her, and the world is no longer so black and white. Especially when it's Aiden O'Malley, one of the most dangerous men in Boston, who offers her a chance for justice. The only catch: she'll have to pretend to be his fiancée for his plan to work.





Aiden can't afford to let anyone see the man behind the mask. To run the O'Malley empire, he has to be cool and controlled at all times. But the moment he meets Charlie, they're playing with fire. Her slightest touch is enough to send him over the edge. At first their "engagement" was a way to eliminate his enemies. Now he'll do whatever it takes to keep her safe-- even if he has to destroy his own family to do it.
Want You More
(A Mile High Romance #3)
by Nicole Helm
Mass Market Paperback
Expected publication: November 28th 2017 by Zebra
ISBN 1420142801
There's plenty of gorgeous winding trails leading to Gracely, Colorado. And making your way around this rugged Rocky Mountain town is how you start over, fix your mistakes--and find the one person who'll always have your back . . .





Will Evans works hard, plays harder--but never gets in too deep. He'll do anything to keep his family's Mile High Adventures business on track and help Gracely recover. One too many betrayals taught this handsome guide to avoid commitment as expertly as he negotiates difficult trails and treacherous rivers. But now it's impossible for him to play it cool with the one woman he lost--and never forgot.




Nothing is going to keep Tori Appleby from starting over right. After a career-ending personal and professional mistake, she's back to save the company she helped start. She needs Gracely's healing small-town charm--and the caring and help she's only found with the Evans family. But she doesn't need Will trying for a second chance. Or to risk her heart one more time.




Will won't commit, and Tori has a life to rebuild. But to move on, they'll have to give in to the irresistible heat between them . . .
Cajun Crazy
(Cajun #11)
by Sandra Hill
Paperback, 384 pages
Expected publication: November 28th 2017 by Avon
ISBN 0062566393
Welcome back to New York Times bestseller Sandra Hill's Cajun country, where love heats up the Louisiana bayou . . .





Former Chicago cop Simone LeDeux is back home in the bayou, sharing a double wide in the Pearly Gates trailer park to help her mama recover from surgery. Her one rule: no Cajun men. Loved and left by too many double-crossing Cajuns, Simone puts bad experience to good use by opening Legal Belles: an agency that uncovers cheating spouses.





Suddenly she's confronting a two-timer about to swindle his wife out of millions and antagonizing New Orleans bigwigs over an illegal sex club. Adam Lanier learns of the dangerous game Simone is playing . . . and the sexy single dad comes to her aid. Known as a rogue in the courtroom and a player in the bedroom, the ragin' Cajun has Simone triply on guard.





With their crazy chemistry, danger on their trail, and infamous LeDeux relative Tante Lulu working her magical matchmaking, the bayou has never been this steamy.
Close Contact
(Body Armor #3)
by Lori Foster
Mass Market Paperback
Expected publication: November 28th 2017 by Harlequin Books
ISBN 0373789971
There's no resisting a desire like this…





MMA fighter Miles Dartman's casual arrangement with personal shopper Maxi Nevar would be many men's fantasy. She seeks him out, they have mindblowing sex, she leaves. Rinse, repeat. Yet lately, Miles wants more. And when Maxi requests his services via the Body Armor security agency, he's ready to finally break through her defenses—and protect her day and night.





Receiving a large inheritance has brought chaos and uncertainty into Maxi's life. Her ex has resurfaced, along with lots of former "friends," and someone is making mysterious threats. Then there's Miles, who doesn't ask for anything…except her trust. Pleasure is easy. Now Maxi has to give her heart as well as her body…or risk losing a man who could be everything she needs.
Cowboy's Legacy
(Cahill Ranch #3)
by B.J. Daniels
Hardcover
Expected publication: November 28th 2017 by Harlequin Books
ISBN 0373804202
When Sheriff Flint Cahill's lover, Maggie, disappears, he knows his ex-wife is behind it. But with a winter storm coming, can he find her before it's too late? Find out in the next Cahill Ranch novel from New York Times bestselling author B.J. Daniels!
Title: Wrong to Need You
Series: Forbidden Hearts #2
Author: Alisha Rai
Format: Paperback & eBook, 396 pgs
Published: Nov. 28, 2017 by Avon
ASIN: B06XFWNP5V
He wasn't supposed to fall in love with his brother's widow…



Accused of a crime he didn't commit, Jackson Kane fled his home, his name, and his family. Ten years later, he's come back to town: older, wiser, richer, tougher—and still helpless to turn away the one woman he could never stop loving, even after she married his brother.





Sadia Ahmed can't deal with the feelings her mysterious former brother-in-law stirs, but she also can't turn down his offer of help with the cafe she's inherited. While he heats up her kitchen, she slowly discovers that the boy she adored has grown into a man she's simply unable to resist.





An affair is unthinkable, but their desire is undeniable. As secrets and lies are stripped away, Sadia and Jackson must decide if they're strong enough to face the past...and step into a future together.
Merger
(Takeover Duet #2)
by Chelle Bliss
Paperback
Expected publication: November 28th 2017 by Everafter Romance
ISBN 1682306151
Two Rivals. One Enemy. And an Ending No One Saw Coming.



When Antonio Forte met Lauren Bradley, he never expected that making the choice between a possible relationship with her or destroying her company in a hostile takeover would be a hard one. Antonio has always put business before pleasure, but for the first time, he wants both. After proposing a merger of their two companies, Antonio is hoping Lauren accepts his offer so he can show her the world and together they can have it all.





In a world dominated by men, Lauren's leery of anyone willing to show mercy--especially the very handsome, smooth-talking Antonio. Lauren doesn't trust easily, especially when it comes to someone who is threating to dismantle her company, but she'd be lying if she said she didn't find his offer tempting. After finally deciding the path she will choose, a bigger problem emerges--the real enemy is lurking in the shadows and closer than she ever expects.



Merger is the follow-up to Acquisition in the Takeover Duet.
A Crazy Kind of Love
by Mary Ann Marlowe
Paperback
Expected publication: November 28th 2017 by Kensington Publishing Corporation
ISBN 1496708083
Celebrities hold zero interest for photographer Jo Wilder. That's a problem, since snapping pics of the stars is how the pretty paparazza pays the rent. So when Jo attempts to catch a money shot atop the broad shoulders of a helpful bystander, the only thing she notices about the stranger she straddles is that he's seriously hot. Only later does Jo learn that he's also Micah Sinclair--one of rock's notorious bad boys...





Soon Jo is on the verge of getting fired for missing a Micah Sinclair exclusive. Until she's suddenly being pursued by the heartthrob himself. But how can she be sure the musician's mind-blowing kisses are the real deal? Her colleagues claim he's a media whore, gambling on some free PR. But something has Jo hoping Micah's feeling the same powerful pull that she does. A pull so strong, she can't resist becoming his latest love, even if it means she might become the media's latest victim . . .
Past Perfect
by Danielle Steel
Kindle Edition, 304 pages
Expected publication: November 28th 2017 by Delacorte Press
ASINB06XFKXS1J
A magical tale of a modern family sharing a gorgeous Pacific Heights mansion with their ghostly, elegant predecessors.





Sybil and Blake Gregory are the quintessential 21st century power couple: she a cutting-edge interior designer; he a forward-thinking top business analyst. They revel in the privileged, ordered life they lead in Manhattan with their children, teenagers Andrew and Caroline and 6-year-old Charlie. But when Blake accepts a once-in-a-lifetime opportunity to become the CEO of a visionary social media start-up in San Francisco—and then buys a magnificent turn-of-the-20th-century Pacific Heights mansion on impulse—all that will change. Built by the Butterfields, a prominent banking family, abandoned for decades, the grand house retains its exquisite furnishings and aura of long ago elegance. And that's not all it retains. The modern Gregorys are about to meet their ghostly long ago counterparts….
Title: A Hope Divided
Series: The Loyal League #2
Author: Alyssa Cole
Format: Paperback & eBook, 320 pgs
Published: Nov. 28, 2017 by Kensignton
ASIN: B06XFJ6224
The Civil War has turned neighbor against neighbor--but for one scientist spy and her philosopher soldier, war could bind them together . . .





For three years of the War Between the States, Marlie Lynch has helped the cause in peace: with coded letters about anti-Rebel uprisings in her Carolina woods, tisanes and poultices for Union prisoners, and silent aid to fleeing slave and Freeman alike. Her formerly enslaved mother's traditions and the name of a white father she never knew have protected her--until the vicious Confederate Home Guard claims Marlie's home for their new base of operations in the guerilla war against Southern resistors of the Rebel cause.





Unbeknowst to those under her roof, escaped prisoner Ewan McCall is sheltering in her laboratory. Seemingly a quiet philosopher, Ewan has his own history with the cruel captain of the Home Guard, and a thoughtful but unbending strength Marlie finds irresistible.





When the revelation of a stunning family secret places Marlie's freedom on the line, she and Ewan have to run for their lives into the hostile Carolina night. Following the path of the Underground Railroad, they find themselves caught up in a vicious battle that could dash their hopes of love--and freedom--before they ever cross state lines.
Title: A Duke in Shining Armor
Series: Difficult Dukes #1
Author: Loretta Chase
Format: Paperback & eBook, 400 pgs
Published: Nov. 28, 2017 by Avon
ASIN: B06XFCPWZP
Not all dukes are created equal. Most are upstanding members of Society. And then there's the trio known as Their Dis-Graces.



Hugh Philemon Ancaster, seventh Duke of Ripley, will never win prizes for virtue. But even he draws the line at running off with his best friend's bride. All he's trying to do is recapture the slightly inebriated Lady Olympia Hightower and return her to her intended bridegroom.





For reasons that elude her, bookish, bespectacled Olympia is supposed to marry a gorgeous rake of a duke. The ton is flabbergasted. Her family's ecstatic. And Olympia? She's climbing out of a window, bent on a getaway. But tall, dark, and exasperating Ripley is hot on her trail, determined to bring her back to his friend. For once, the world-famous hellion is trying to do the honorable thing.





So why does Olympia have to make it so deliciously difficult for him . . . ?
A Good Day to Marry a Duke
(Sin and Sensibility #1)
by Betina Krahn
Mass Market Paperback, 336 pages
Expected publication: November 28th 2017 by Zebra
ISBN 1420143476
From award-winning New York Times bestselling author Betina Krahn comes a beguiling new romance brimming with her signature wit, timeless sensuality, and thrilling romance—as desire proves to be a great equalizer...



Daisy Bumgarten isn't thrilled to be trying to catch a duke's attention while dressed like a flower pot caught in a swarm of butterflies. But, after all, when in Rome (or in this case London society)... Since her decidedly disastrous debut among New York's privileged set, the sassy Nevada spitfire's last chance to "marry well" lies across the pond, here in England. If she must restrain her free spirit, not to mention her rib cage, so be it. She knows she owes it to her three younger sisters to succeed.





Now, under a countess's tutelage, Daisy appears the perfect duchess-in-training...Until notorious ladies' man Lord Ashton Graham, a distraction of the most dangerous kind, glimpses her mischievous smile and feisty nature—and attempts to unmask her motives. Daisy has encountered snakes on the range, but one dressed to the nines in an English drawing room is positively unnerving—and maddeningly seductive. When a veiled plot emerges to show up Daisy as unworthy of the aristocracy, will Ashton be her worst detractor? Or the nobleman she needs most of all?
It's Hard Out Here for a Duke
(Keeping Up with the Cavendishes #4)
by Maya Rodale
Mass Market Paperback, 384 pages
Expected publication: November 28th 2017 by Avon
Original TitleIt's Hard Out Here for a Duke
ISBN 0062386816
In the fourth novel of Maya Rodale's tantalizing series, a newly minted duke spends one night with his perfect woman...but can he win her for a lifetime

Some Mistakes…



When American-born James Cavendish arrives in London tomorrow, he'll become the Duke of Durham. Some might be ecstatic at the opportunity. Not James. He's a simple man, fond of simple pleasures. And right now, nothing could be more pleasurable than spending his last night of freedom with a beautiful stranger.





Are Far Too Good…





One wild night, Meredith Green, companion to the dowager Duchess of Durham, said yes to a man she thought she'd never see again. Suddenly, they're living under the same roof, where Meredith is expected to teach James how to be a duke—while trying not to surrender to temptation a second time.





To Be Forgotten





For a duke and a commoner, marriage would be pure scandal. Yet nothing has ever felt as right as having Meredith in his arms…and in his bed. Soon he must choose—between a duty he never desired, and a woman he longs for, body and soul…
Dangerously Divine
(Broken Riders #2)
by Deborah Blake
Paperback
Expected publication: November 28th 2017 by Berkley Books
ISBN 1101987189
The Riders: Three immortal brothers who kept the Baba Yagas safe, now stripped of their summons to protect. But fate is not finished with them--and their new callings are even more powerful...



Though his physical wounds have healed, Gregori Sun, the eldest of the Riders, remains in spiritual turmoil. His search for his mother, the one person able to heal his soul and save his life, is failing--until he crosses paths with a beautiful and fascinating librarian who might be the key to his salvation...





Ciera Evans's bookish ways are just a guise. The product of a difficult past, she has dedicated her life to saving lost teens--by any means necessary. She works alone, but when a dark, brooding stranger proposes they team up to solve both their problems, she is tempted--in more ways than one...

After Ciera and Sun's plans are derailed by dangerous enemies, they find themselves entangled in an ungodly affair--one that will force them to either find new strength together or be forever haunted by their pasts alone.
The Brightest Embers
(Broken Destiny #3)
by Jeaniene Frost
book
Expected publication: November 28th 2017
ISBN139781460397817
You can run from your destiny, but you can't hide



Ivy thought that she and Adrian had conquered their fates. Yet with thousands of innocents still trapped in the demon realms, she's determined to locate the final hallowed weapon and harness its unparalleled power to free them. But the last relic nearly put Ivy in the grave—there's probably no coming back from this one.





Adrian's dark lineage has made him the most powerful of his kind, yet even his incredible abilities might not be enough now. Instead, the treacherous fate he has fought so hard to escape might be the only way he can save Ivy. Their scintillating bond has been tested before, but never with so much on the line. Now fate will come head-to-head against true love, and nothing they've endured can prepare Ivy and Adrian for the unthinkable choices they'll face...



Don't miss the earth-shattering conclusion to New York Times bestselling author Jeaniene Frost's Broken Destiny series!
GIVEAWAY:
We're giving away your choice of one of this month's new book releases to one reader! To enter, just be a RBtWBC follower (We offer lots of follow options!) and fill out the Rafflecopter below. Good luck! *Book must be $7.99 or under and available on Amazon Kindle, winner's choice will be in kindle format.
a Rafflecopter giveaway