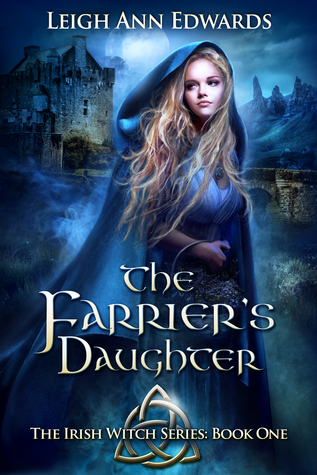 Title
: The Farrier's Daughter
Series
: The Irish Witch Series: Book 1
Author
: Leigh Ann Edwards
Format
: Kindle, 195 pages
Published
: July 7, 2016 (Tule Publishing; 2 edition)
ISBN
: ASIN: B01HST10T0
Links
:
Goodreads
|
Amazon
|
B&N
Reviewer
: Linda
Source
: NetGalley
Rating
: 4 out of 5 Wine Glasses
In 16th Century Ireland. Young and beautiful Alainn McCreary, healer in training to the powerful O'Brien Clan, is on the cusp of discovering she possesses vast and unusual supernatural powers, which she hopes will help her unlock the secrets of her past and break the curse on the O'Brien Clan.

Alainn is counseled to hide her magical abilities, but how can she when dark forces rise up to threaten not only the O'Brien Clan, but Alainn and the life of the Chieftain's beloved, but forbidden nephew, Killian O'Brien, a man Alainn has loved as long as she can remember?

Your Thoughts:
"He snorted. "He fears you? Why ever would he fear a small girl like you, and his own daughter?"
She napped her eyes back up and whispered, "Because, I know of magic."
Killian smirked. "Of course you know of magic, everyone knows of magic. We live in Ireland. Everyone knows of fairies and druids, and the like. Magic cannot be disputed, even if the priests do not take kindly to these beliefs."
"Aye, but I can do magic."
As Hurricane Irma bore down on Florida, I discovered a new magical fantasy series set in sixteenth century Ireland featuring witches, a swoony hero, an evil curse and fairies. It's planned to be a seven-book series with four books having been released so far. I inhaled all four in less than three days. The Farrier's Daughter by Leigh Ann Edwards was the series' debut and it absolutely whetted my appetite for more!
The Farrier's Daughter introduces readers to seven-year-old Alainn McCreary and Killian O'Brien. She is the farrier's daughter and a servant. He is the laird's nephew and is set to be a laird himself of his family's lands. My favorite scene is one of the first in the tale. Young Killian is near death when Alainn surprisingly heals him and engages him in an intriguing conversation which inspires a turning point in his recovery. Thus begins a deep friendship between the two. Because of their bond, she is educated and given benefits not normally afforded to those of the lower classes. As they grow up together, they share their hopes and dreams for the future. Their friendship evolves into love – but because they are from different social stations, there can be no future for them.
Alainn is a beautiful, feisty witch who has been raised to hide her gift. Killian is honorable and torn between his love for Alainn and his duty to his uncle. As Alainn's power grows, she begins to question her past and her future and she becomes aware that she may be the key to removing the old curse on the O'Brien family. I was swept away by the setting and their story…
Following please find a few of my favorite quotes from The Farrier's Daughter:
"Tis a proud battle's scar you possess, Killian O'Brien," she murmured. He sat up higher at her praise. "But you've lived through the battle and now you must live on past the battle, for that is what warriors do."
---
"He fawns over ye like flies to a dung pile."
---
"I may not have journeyed to other lands, but a trip through the fairy glade is a journey few others have taken, and fewer still have spoken of. I will look forward to taking you with me, Killian. You will see why I always feel the need to return."
He was not remotely certain he would ever share her sentiments."
It's hard to believe that this book marks the author's debut as it's very well written and edited. This series would make a fantastic movie or mini-series. It's engrossing and fun with wonderful characters. There's a cliffhanger ending, but, since the next book is already available, it's not a big deal. Just know that you will want to have the next installment ready to go! If you enjoy historical romantic fantasies with magical elements galore, I'd highly recommend that you check out The Irish Witch series!
Suggested Reading Order:
The Farrier's Daughter (Book #1)
The Witch's Daughter (Book #2)
The Chieftain's Daughter (Book #3)
A Chieftain's Wife (Book #4)
A Witch's Life (Book #5) – January 2018!
A Witch's Quest (Book #6) – Estimated March/April 2018!
A Witch's Destiny (Book #7) – The Conclusion! Estimated mid-2018!