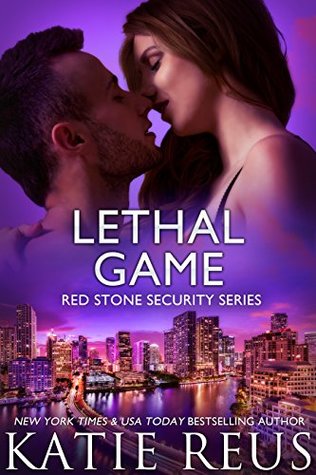 Title
: Lethal Game
Series
: Red Stone Security Series, Book 15
Author
: Katie Reus
Narrator
: Sophie Eastlake
Format
: Unabridged Audiobook, 5 hours and 35 minutes
Published
: 26 Dec 2016 (KR Press LLC)
ISBN
: ASIN: B01NALZ25V
Links
:
Goodreads
|
Amazon
|
B&N
|
Audible
Reviewer
: Linda
Source
: Author
Rating
: 4 1/2 out of 5 Wine Glasses
He broke her heart.

Graysen's betrayal nearly destroyed Isa a year ago. Now that she's working for Red Stone Security, she's managed to piece her life back together after a rough year and a broken heart. Then he appears back in her life and makes it clear he's not going anywhere until she gives them a second chance. A chance she refuses to take.

Now he's back to claim what's his.

Graysen's never gotten over Isa and he knows he never will. It's his fault she walked away, but he can't seem to let her go. He quit his job with the CIA and called in every favor he had to get hired by Red Stone Security just to be near her again. But Isa doesn't care that he's desperate to make things right between them—she wants nothing to do with him. He doesn't blame her, but he's not willing to give her up. When they're cornered by lethal terrorists, everything changes. Graysen and Isa will have to find a way to work together if they want to survive. Only then will he be able to convince her to claim the chance at happiness the past stole from them.
Linda's Thoughts:
If it was the last thing he did, he was going to make things right between them.
Lethal Game is the epic finale to the author's Red Stone Security series. Katie ends this fabulous contemporary adult romantic suspense series with a bang and a tidy bow! As an ardent fan of the series, I'm sad that the series is ending as it's been a favorite of mine - but I'm glad that she's wrapped it up so well. KUDOS!
Even though Lethal Game is the fifteenth installment in this series, it still works well as a standalone read, if that is your preference. Just know that it is a given that it will whet your appetite to indulge in the rest of the series. Each installment has been fantastic.
Lethal Game includes two romantic HEAs. Each is fleshed out perfectly. The story is told from the third person point of view, but from the perspective of several different primary characters.
This is the second-chance-at-love story of former CIA agent Graysen West and Red Stone Security computer expert Isa Harper AND the friends-to-lovers tale of Detective Carlito Duarte and RSS computer programmer/analyst Emerson Lincoln. Katie's characters always well-written and come across as being genuine – and that certainly holds true for all four main characters herein. I'm not going to go into the plot other than to say it involves terrorists and that it will keep you gripping the edge of your seat throughout. Fans of the series will be thrilled to know that several of the couples from the previous books play secondary supporting roles.
Following please find a few of my favorite quotes from Lethal Game:
"You really need better spatial awareness." A familiar, deep voice from behind her made her jump out of her skin. Feeling almost numb, she turned to find Graysen West standing there—and looking way too sexy for his own good. Or for her own good. She'd thought she was completely alone in the elevator.
She blinked once. Yep, he was still there. Well over six feet of raw masculinity, bright blue eyes she could drown in, and a disapproving frown that somehow made him look sexy.
Isa felt almost possessed as she lashed out. A year of built-up anger and hurt came bursting to the surface. Her arm was moving before she'd processed what she was doing but when her fist connected with his nose, she cursed at the pain that jolted through her hand.
"Punching someone hurt."
---
"We've got a lot of time to make up for."
I listened to the audio. Sophie did a fantastic job, as she always does. Her voice is clear, pleasant and exudes the proper emotions. She handles multiple characters with no issue – consistently differentiating between them with ease. The end product is polished and professional. Audio fans will doubtless find that her performance enhances their enjoyment of the book.
Saying good bye to this series is like saying good bye to a dear friend. It sure has been a pleasurable ride and I'm going to miss it. Every story in the series has been well-paced, sexy, suspenseful, emotional, action-packed, intoxicating and rife with danger. If you are a fan of romantic suspense and haven't checked out this series, I'd highly encourage you to do so.
Suggested Reading Order:
No One To Trust (Book #1)
Danger Next Door (Book #2)
Fatal Deception (Book #3)
Miami, Mistletoe & Murder (Book #4)
His To Protect (Book #5)
Breaking Her Rules (Book #6)
Protecting His Witness (Book #7)
Sinful Seduction (Book #8)
Under His Protection (Book #9)
Deadly Fallout (Book #10)
Sworn To Protect (Book #11)
Secret Obsession (Book #12)
Love Thy Enemy (Book #13)
Dangerous Protector (Book #14)
Lethal Game (Book #15) – Series Finale!