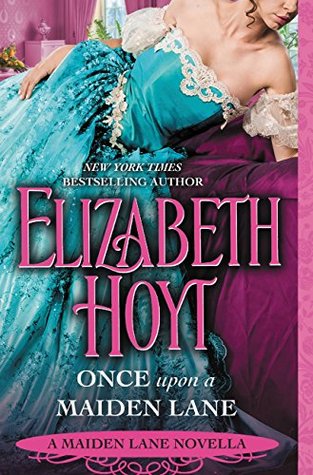 Title
: Once Upon a Maiden Lane
Series
: Maiden Lane #12.5
Author
: Elizabeth Hoyt
Format
: eBook, 100 pgs
Published
: Nov. 14, 2017 by Forever Yours
ASIN
: B01MYGCHYC
Links
:
Goodreads
|
Amazon
|
B&N
Source
: NetGalley
Reviewer
: Kimberly
Rating
: 3.5 out of 5 Wine Glasses
Miss Mary Whitsun is far too intelligent to fall for the rakish charms of a handsome aristocrat. But when the gentleman in question approaches her in a bookshop, mistaking her for his fiancée, Lady Johanna Albright, the flirtatious encounter only raises more questions. Could Mary, a servant raised in a St Giles orphanage, actually be Lady Joanna's long-lost twin sister? If so, Mary has been betrothed since birth—to the rakishly handsome artistocrat himself.

Henry Collins, Viscount Blackwell, is far too intrigued by Mary to let her go so easily. He's drawn to her sharp mind, indomitable spirit, and the fiery way in which she dismisses him—ladies simply don't dismiss Lord Blackwell. But as Mary makes her first hesitant steps into society, she can't help but wonder if she truly has a place in Henry's world—or in his heart.
Kimberly's Thoughts:
"I want to learn all of you. I want you to know me in return. When I next kiss you, I want you to welcome my lips like a lover instead of a stranger."
A novella listed as #12.5 in the Maiden Lane series, you could still read this as a standalone. Mary grew up in the orphanage featured in the series and we've seen glimpses of her and a couple other characters before but the hero and their romance is a new introduction.
With some Cinderella inspiration, nursemaid Mary is identified in a bookstore by our hero Lord Henry Blackwell to be the missing Albright twin. Twin babies stolen by their nursemaid, while Johanna was recovered Cecilia was never found. Henry is taken aback by how much Mary looks like Johanna and immediately claims she is Cecilia. Now, this is a novella, so the tempo gets pushed up. Henry's immediate claim Mary is Cecilia and the family accepting it is a bit side-eyeing but the relationship Henry and Mary have, made up for it for me.
He looked at her, at her straight black brows and the big brown eyes regarding him so seriously, and yet with a spark of humor, and it was as if something turned over in his chest. She was playing with him, this woman.
I instantly felt a spark between the two, Hoyt's skill with sexual tension was evident but the friendship and sheer compatibility between the two won the show for me. Mary's guardedness but also strength paired with Henry's charm provided a delightful give and take between them.
"And you? Did you have a pet as a child?"
"Yes, several," he replied. "Dogs and cats. Now I've got two hounds---Mole and Timberline."
"Mole?"
"His ears are very soft," he said a tad defensively.
I also thought this story was laced with skillful writing moments that a top author like Hoyt can provide; showing, instead of being told, little nuances of a character make the reading so much richer. You'll also get a pretty good feel for the times (1700s) as Hoyt focuses on the clothing through Mary being dressed as a lady for the first time.
As I mentioned, the Cinderella story, and all it's in and outs, has some forced and awkward moments and the ending was a tad rushed but there is an epilogue that works to soothe that (you'll see a lot of past characters show up here). This is a novella and if you're looking for a quick hit of romance warmth, Once Upon a Maiden Lane would provide that and a friendly return to the Maiden Lane world.
It was like a fairy tale come true.
Suggested Reading Order:
Wicked Intentions (Maiden Lane, #1)