Check out the goods in this month's new releases and then enter to win one! Which books are you most looking forward to, are they on our list?
His Possession
by Tory Richards
ebook
Published May 1st 2016 by Smashwords Edition
ISBN139781310450341
AMAZON
|
GOODREADS
Raze is a member of the Wreckers MC, sentenced to life for a crime he didn't commit, all because of the damning words of his best friend's little sister. New evidence surfaces, proving him innocent, and once he's released he's determined to find the woman responsible. It doesn't matter that they had history, doesn't matter that he's wanted her for the better part of a decade. Rosa's betrayal has cost him three years of freedom, and he wants retribution.
Mister O
by Lauren Blakely
Kindle Edition, 300 pages
Published May 2nd 2016
AMAZON
|
GOODREADS
From the NYT Bestselling author of BIG ROCK, comes a hot and hilarious new standalone...

Just call me Mister O. Because YOUR pleasure is my super power.

Making a woman feel 'oh-god-that's-good' is the name of the game, and if a man can't get the job done, he should get the hell out of the bedroom. I'm talking toe-curling, mind-blowing, sheet-grabbing ecstasy. Like I provide every time.

I suppose that makes me a superhero of pleasure, and my mission is to always deliver.

But then I'm thrown for a loop when a certain woman asks me to teach her everything about how to win a man. The only problem? She's my best friend's sister, but she's far too tempting to resist--especially when I learn that sweet, sexy Harper, has a dirty mind too and wants to put it to good use. What could possibly go wrong as I give the woman I've secretly wanted some no-strings-attached lessons in seduction?

No one will know, even if we send a few dirty sexts. Okay, a few hundred. Or if the zipper on her dress gets stuck. Not on that! Or if she gives me those f*&k-me-eyes on the train in front of her whole family.

The trouble is the more nights I spend with her in bed, the more days I want to spend with her out of bed. And for the first time ever, I'm not only thinking about how to make a woman cry out in pleasure --I'm thinking about how to keep her in my arms for a long time to come.

Looks like the real Adventures of Mister Orgasm have only just begun....
The Devil You Know
by Jo Goodman
Paperback, 416 pages
Expected publication: May 3rd 2016 by Berkley
ISBN 0425277445
AMAZON
|
GOODREADS
WHAT HE DOESN'T KNOW . . .

After a horse drags him through the countryside, Israel McKenna awakes bruised and battered in a field in Pancake Valley, Colorado. He can recall where he came from and where he was going, but the memory of how he came to be on the Pancake homestead eludes him. He's certain he did something wrong to deserve such a harsh punishment—and so is the beautiful woman who reluctantly comes to his aid.

. . . COULD HURT HER.

Wilhelmina "Willa" Pancake must focus on running her family's ranch. With Israel's hazy memory, she is unsure if she can trust him, let alone handle the budding attraction between them. And as men fight to steal her land and the truth about Israel's past rides toward them, love is a risk she cannot easily take.
Spinning Out
(The Blackhawk Boys #1)
by Lexi Ryan
Kindle Edition, First Edition
Expected publication: May 3rd 2016 by Ever After, LLC
ASINB01EW37OM2
AMAZON
|
GOODREADS
Once, the only thing that mattered to me was football—training, playing, and earning my place on the best team at every level. I had it all, and I threw it away with a semester of drugs, alcohol, and pissing off anyone who tried to stop me. Now I'm suspended from the team, on house arrest, and forced to spend a semester at home to get my shit together. The cherry on my fuckup sundae? Sleeping in the room next to mine is my best friend's girl, Mia Mendez—the only woman I've ever loved and a reminder of everything I regret.

I'm not sure if having Mia so close will be heaven or hell. She's off-limits—and not just because she's working for my dad. Her heart belongs to someone else. But since the accident that killed her brother and changed everything, she walks around like a zombie, shutting out her friends and ignoring her dreams. We're both broken, numb, and stuck in limbo.

Until I break my own rules and touch her.
Until she saves me from my nightmares by climbing into my bed.
Until the only thing I want more than having Mia for myself is to protect her from the truth.

I can't rewrite the past, but I refuse to leave her heart in the hands of fate. For this girl, I'd climb into the sky and rearrange the stars.

SPINNING OUT is a sexy, emotional novel of 100,000 words. It is first in the Blackhawk Boys, a series of standalone novels.
Title
: The Trouble with Temptation
Series
: The McKay's #2
Author
: Shiloh Walker
Format
: Paperback & eBook, 384pgs
Published
: May 3, 2016 by St. Martin's
ASIN
: B016IDMLW2
Links
:
Goodreads
|
Amazon
Love is the greatest risk of all.
After seven days in a coma, Hannah Parker remembers nothing about the accident that landed her in the hospital--or how she ended up pregnant with Brannon's baby, the man she's loved since high school. Her body and heart have burned for him for years, and when she wakes up, he's sleeping by her bedside, anxious to keep her safe at all costs. But as Hannah struggles with her amnesia, a threat looms closer--one that could have deadly consequences if she recovers her memories. She will have to trust Brannon completely if she is to keep what haunts her at bay…and their baby safe….

Brannon McKay spent the last ten years fantasizing about Hannah. In his mind, he's explored every passionate scenario he can think of while, in real life, Brannon took their budding relationship and threw it away with both hands. Hannah doesn't remember what happened but, now that she is awake, Brannon would rather die than watch her walk away again. When Hannah and his unborn child's life is threatened, Brannon must stake claim to the woman who has held his heart captive for years…or risk disaster tearing them apart…
Last Mile
(Vicious Cycle #3)
by Katie Ashley
Paperback, 336 pages
Expected publication: May 3rd 2016 by Signet
ISBN 0451474937
AMAZON
|
GOODREADS
Katie Ashley, the New York Times bestselling author of Redemption Road and Vicious Cycle, returns to the dangerous and seductive world of the Hells Raiders motorcycle club…

After her father was murdered in the line of duty, ATF agent Samantha Vargas is determined to take down the scumbags of the drug trade. When her partner takes on a case to infiltrate the Hells Raiders MC, Samantha agrees to go undercover as his old lady but is surprised to find herself drawn to the very man she is investigating.

Benjamin "Bishop" Malloy has worked hard to carve a place for himself both in and out of the MC world. Working days as a mechanic, he spends his nights rebuilding motorcycles with the hope of one day owning his own shop. After taking one of the club's new hang-arounds under his wing, Bishop is conflicted over his growing attraction for the man's girlfriend.

Even though she's determined to bring down the Raiders, Samantha discovers their world isn't as black-and-white as she thought. And as the stakes grow higher, she's in danger of losing more than her heart.
A Court of Mist and Fury
(A Court of Thorns and Roses #2)
by Sarah J. Maas
Kindle Edition, 640 pages
Expected publication: May 3rd 2016 by Bloomsbury USA Childrens
ASINB015FELXQ0
AMAZON
|
GOODREADS
Feyre survived Amarantha's clutches to return to the Spring Court--but at a steep cost. Though she now has the powers of the High Fae, her heart remains human, and it can't forget the terrible deeds she performed to save Tamlin's people.

Nor has Feyre forgotten her bargain with Rhysand, High Lord of the feared Night Court. As Feyre navigates its dark web of politics, passion, and dazzling power, a greater evil looms--and she might be key to stopping it. But only if she can harness her harrowing gifts, heal her fractured soul, and decide how she wishes to shape her future--and the future of a world cleaved in two.

With more than a million copies sold of her beloved Throne of Glass series, Sarah J. Maas's masterful storytelling brings this second book in her seductive and action-packed series to new heights.
Fly With Me
(Wild Aces #1)
by Chanel Cleeton
Kindle Edition, 320 pages
Expected publication: May 3rd 2016 by Berkley
ASINB013Q70FNK
AMAZON
|
GOODREADS
From the author of the Capital Confessions Novels comes the first in the steamy Wild Aces Romance series.

U.S. Air Force fighter pilot Noah Miller—call sign Burn—loves nothing more than flying hard and fast. When he meets a gorgeous and sassy woman while partying in Las Vegas, he immediately locks on to her.

Jordan Callahan owns a thriving clothing boutique, but her love life is far less successful. Her luck changes when six feet, two inches of sexy swagger asks her to dance and turns her world upside down.

One scorching weekend becomes an undeniable chemistry that they can't leave in Vegas. But the long distance relationship and their different lives threaten to ground their romance. And when the dangers of Noah's job become all too real, Jordan learns being with a fighter pilot means risking it all for a shot at love…
Paperback, 352 pages
Expected publication: May 3rd 2016 by Berkley
ISBN 0425280667
The desire that exploded in Mastered continues its conflagration in Dominated—from the New York Times bestselling author of the Surrender Trilogy.

To save her, he had to betray her...

In Drake's shadowy world, his enemies would exploit any weakness he had in order to bring him to his knees, and so he's never allowed himself to care about anyone...never exhibited any vulnerability, and it made him a force to be reckoned with. Until Evangeline—his angel. A woman who slipped past his defenses like no one had ever managed. She was his to protect and ultimately, to do that, he had to do the unthinkable and drive the only good thing in his world away.

But he will stop at nothing to get her back...

Devastated and destroyed, Evangeline doesn't know what made Drake turn on her in such a shocking manner. She only knows she'll never be the same. He once freed her from all her inhibitions, only now she is a prisoner to never-ending pain. But when Drake finds her again, she realizes there is more to his world than she ever imagined, and she must decide if she can once more trust—and submit—to the man who holds her wounded heart in his hands. And he must convince her of just how far he'll go to regain her love and forgiveness.
Mass Market Paperback, 384 pages
Expected publication: May 3rd 2016 by Sourcebooks Casablanca
ISBN 1492621862
Wolf shifter and park ranger Eric Silver is committed to his job policing spectacular San Isabel National Forest, and he's hot on the scent of some mysterious wolves who are up to no good. When Eric's investigation leads him to cross paths with forester Pepper Grayling, he's fascinated to learn this she-wolf is her pack's leader -- strong, independent, and definitely not looking for a mate.

With unknown dangers on the prowl, Pepper is tempted to give in to her attraction to Eric and align her pack with his. But Pepper's been pursued by many alpha males--all out to take over her pack and gain her hard-won territory--and Eric is a born leader. How does Eric earn the trust of a she-wolf who's been betrayed so often in the past?
Paperback, 300 pages
Expected publication: May 3rd 2016 by Montlake Romance
ISBN 1503935264
With her husband's dying words, "My marchioness has it," the Marchioness of Huntingdon is thrown into a nightmare of intrigue and danger. But even those who are holding her brother ransom can't force her to do the impossible—hand over a necklace she doesn't have.

Major Samuel Bennett believes the newly widowed Lady Claire Huntingdon is a traitor. He intends to get the necklace he's convinced she has, before sending her to the gallows. But when he meets the captivating widow, he discovers that nothing is as it seems.

Claire knows she can't trust anyone, but she isn't given a choice when Major Bennett arrives, demanding she give him the necklace. And it isn't until she's forced to put her life in his hands that she realizes it isn't only her life she's in danger of losing—but her heart as well.
Mass Market Paperback, 352 pages
Expected publication: May 3rd 2016 by Sourcebooks Casablanca
ISBN 1402292066
Lady Elizabeth Walsingham pined after the same man for years. When she finally realizes the brawny Highland laird doesn't return her feelings, she decides to leave for London and start anew. It seems that her prayers are answered when she catches the eye of a charming actor at the Globe Theatre - a man who is the complete opposite of the Highlander she once loved.

Laird Ian Monroe spends his time avoiding the bothersome young girl who dreams of their union. But when he travels to London and discovers that she has a new love interest with a dishonorable agenda, his perspective changes. Ian soon realizes that Elizabeth is no longer a child with a crush, but a beautiful woman in need of his help. He may have what it takes to rescue Elizabeth from her scheming beau, but does he have the courage to reclaim Elizabeth's heart as well?
Paperback, 256 pages
Expected publication: May 3rd 2016 by Forever Yours
ISBN 1455568422
TWO TICKETS TO PARADISE

After some disappointing dates, Karen Ramirez has concluded that great sex is for other people. Especially since medical school won't leave her much time for romance anyway. Then she runs into tall, dark, charming, and ridiculously wealthy Mark Lansing--and quickly reconsiders celibacy. Adding to temptation? Mark will be the best man at her sister's wedding and the nuptial destination is sultry Puerto Rico. Now this trip might just be sensory overload--or the perfect chance for Karen to find the groove she's never had.

For CEO Mark Lansing, his perfect match would be smart, sweet, and funny, with long legs and silky hair the color of dark chocolate. In short, someone a lot like Karen. But Mark's looking to settle down, while a relationship is the last thing on Karen's mind. So Mark proposes a plan: he and Karen will use their weekend in paradise to sizzling advantage--before downshifting to friendship. The only problem? Karen is all Mark can think of when he gets home. Now his most challenging negotiation will be for the one thing money can't buy . . .
Kindle Edition, 150 pages
Expected publication: May 3rd 2016 by Forever Yours
ASINB0169ATLP4
The story began with FORBIDDEN, continued with SEDUCTION, and now comes to a spell-binding CLIMAX. The final installment in a 3-part serial.
Mass Market Paperback, 352 pages
Expected publication: May 3rd 2016 by Sourcebooks Casablanca
ISBN 1492621277
Ever since his father's accident, Caleb Shaw vowed he'd mend his wild ways, and he means to keep his word. He's a changed man. A better man. And he knows he should want absolutely nothing to do with his crazy old life…or the maddening temptation that is Delia Rogers.

Because Delia? Is nothing but trouble.

Delia's been stealing her sisters away from their violent father ever since she was old enough to fight back. But now with the police on her trail and all her bridges burned, there's nowhere left to run but back into the arms of the one cowboy she knows she shouldn't need. Caleb has always been too good for her, no matter how bad he claimed to be. Yet when close quarters turn into something more, Delia and Caleb are forced to decide what really matters: mending their reputations or healing their wary hearts…
17th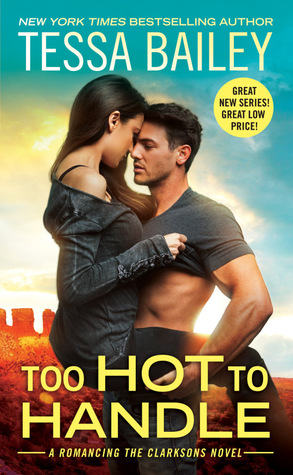 Too Hot to Handle
(Romancing the Clarksons #1)
by Tessa Bailey
Expected publication: May 17th 2016 by Forever
AMAZON
|
GOODREADS
The first book in a brand new contemporary romance series from New York Times bestselling author Tessa Bailey!
When Rita Clarkson's Suburban takes its last breath on a New Mexico roadside, rescue roars up on a Harley in the form of smooth-talking honkey tonk owner, Jasper Ellis, a man as mysterious as he is charming. Rita's cross-country journey to New York City--with her three estranged siblings in tow--is only beginning, but now that Jasper has found Rita, his plans do not include her leaving.
The Prince & The Player
(The Prince & The Player #1)
by Tia Louise
ebook
Expected publication: May 17th 2016
AMAZON
|
GOODREADS
A BRAND-NEW STAND-ALONE CONTEMPORARY ROMANCE featuring secrets, lies, royal high jinks, scams and double-crosses; breathless, swooning lust, cocky princes, dominant alpha future-kings, and crafty courtiers, who are not always what they seem…

Cinderella meets Dirty Rotten Scoundrels in this tale of power, lust, and royal deception.

Two brothers: One a crown prince; one a "playboy prince."
Two sisters: One a con artist and card shark; one a pickpocket and petty thief.
One twisted plot for revenge.

When Grand Duke Reginald Winchester is exiled in disgrace, he vows he won't go down without a fight. Crossing paths with Zee Wilder and her younger sister Ava at a gambling resort in Miami is the stroke of luck he seeks.

Zee is the counterfeit courtier in Reggie's plan to humiliate Rowan, the controlled heir who kicked him out of the kingdom. In return, the sisters get a permanent spot on Easy Street.

If only Zee didn't keep finding herself in a clutch with Cal, Rowan's playboy younger brother. Ava's no help, as she finds quiet walks in the moonlight discussing poetry and leadership with the brooding, future king irresistible. Even more irresistible is kissing his luscious lips…

The whole plan is falling apart, and neither sister is sure she wants to stop it.
Scarlet Rain
(The Escaped #2)
by Kristin Cast
Paperback, 266 pages
Expected publication: May 17th 2016 by Diversion Publishing
ISBN 1626818959
AMAZON
|
GOODREADS
The co-author of the "New York Times" bestselling House of Night series returns with the mesmerizing second book in The Escaped series.

In "Amber Smoke," Kristin Cast introduced her legions of readers to Alek and Eva. Alek, immortal son of the Furies, has been charged to save his home and recapture the souls of the damned, evil creatures who escaped Tartarus into the Mortal Realm. He can't, however, do it alone...

Eva has discovered that she has been both blessed and cursed with powers beyond her comprehension. With a destiny to fulfill, she cannot escape the beings who will stop at nothing to destroy her.

Now, in "Scarlet Rain," the Nosoi spirits of plague have been unleashed on the Mortal Realm, releasing a pandemic as clever and adaptable as it is insidious. Alek and Eva must capture and banish the Nosoi back to their Underworld prison but Eva has yet to harness the abilities needed to defeat such a powerful enemy, and Alek sustains catastrophic wounds in the attempt. They must rely on detective James Graham, and Eva s best friend Bridget, if they are to even slow down the plague. But can mere mortals come through in the face of such overwhelming peril?"
Dark Alpha's Demand
(Reaper #3)
by Donna Grant
Kindle Edition
Expected publication: May 17th 2016
AMAZON
|
GOODREADS
There is no escaping a Reaper. I am an elite assassin, part of a brotherhood that only answers to Death. And when Death says your time is up, I am coming for you...

My secret is an ancient one. I exist to exact vengeance on the Fae for their wrongs per Death's orders. When I'm sent as a spy to one of the most treacherous, deceitful places in any realm – the court of the Light Queen – things go awry. Neve captured my soul with just a look from her seductive gaze. She is who I want, who I crave…who I hunger for. But someone has set out to kill her – and expose me. I'll destroy any man – human or Fae – who brings harm to her, for she is the light my soul can't risk losing…
Discovering You
(Whiskey Creek #10)
by Brenda Novak
Paperback, 400 pages
Expected publication: May 24th 2016 by Mira
ISBN 077831880X
AMAZON
|
GOODREADS
Can she ever trust another "bad boy"?

India Sommers once had the perfect family—until an ex-boyfriend broke in and shot her husband. Not only did that cost her the man she loved, a respected heart surgeon and the father of her child, but she also feels responsible. Charlie died because of the people she hung out with before she had the strength to change her life.

Just after moving to Whiskey Creek with her little girl, Cassia, to start over, she's learned that her ex-boyfriend's trial ended in a hung jury. He's getting out of jail; he could try to find her again. And that's not all that scares her. She's extremely attracted to her next-door neighbor, but Rod Amos is the handsome "bad boy" type that's given her so much trouble in the past. If she got involved with him, her in-laws would sue for custody of Cassia.

India has to keep her distance from Rod—but the more she gets to know him, the more difficult that becomes.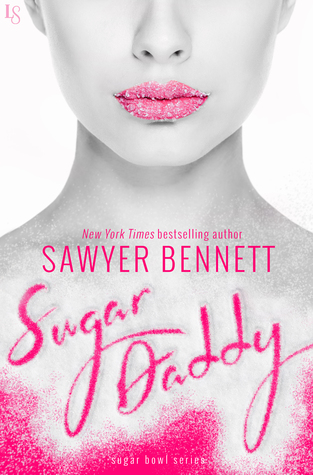 Sugar Daddy
(Sugar Bowl #1)
by Sawyer Bennett
Kindle Edition
Expected publication: May 24th 2016 by Loveswept
ASINB00XST7UBM
AMAZON
|
GOODREADS
Seduction has never been so sweet! The New York Times bestselling author of the Cold Fury series—Alex, Garrett, Zack, and Ryker—returns with the first novel in a hot new trilogy.

Sela Halstead lost her innocence in a way that no sixteen-year-old should ever have to endure. She's spent years trying to forget that night even while wondering about the identities of the monsters who brutalized her—until a telltale tattoo flashes across Sela's TV screen. The incriminating ink belongs to Jonathon Townsend, the millionaire founder of The Sugar Bowl, a website that matches rich older men with impressionable young women. Obsessed with revenge, Sela infiltrates Townsend's world, only to come face-to-face with a tantalizing complication: Beckett North, his charismatic business partner.

The tech mastermind behind The Sugar Bowl, Beck always gets what he wants, in business and in bed. And yet, for a man who's done every dirty thing imaginable, there's something about the naïve, fresh-faced Sela that sparks his hottest fantasies. Because with her, it's not just about sex. Beck opens up to her in ways he never has with other girls. So why does he get the feeling that she's hiding something? In a world of pleasure and power, the shocking truth could turn them against each other—or bind them forever.

Note: Sugar Daddy ends on a cliffhanger. Sela and Beck's story continues in Sugar Rush and Sugar Free!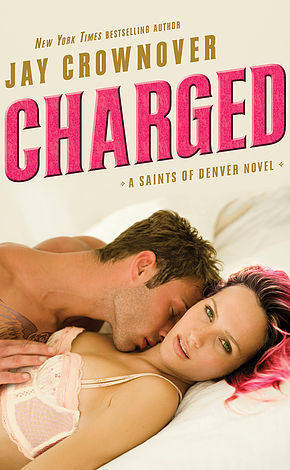 Charged
(Saints of Denver #2)
by Jay Crownover
Expected publication: May 24th 2016
From the New York Times bestselling author of the Marked Men books comes the second installment in the Saints of Denver series featuring a bad girl and a by the book attorney who could be her salvation...or her ruin.

Avett Walker and Quaid Jackson's worlds have no reason to collide. Ever. Quaid is a high powered criminal attorney as slick as he is handsome. Avett is a pink-haired troublemaker with a bad attitude and a history of picking the wrong men.

When Avett lands in a sea of hot water because of one terrible mistake, the only person who can get her out of it is the insanely sexy lawyer. The last thing on earth she wants to do is rely on the no-nonsense attorney who thinks of her as nothing more than a nuisance. He literally has her fate in his hands. Yet there is something about him that makes her want to convince him to loosen his tie and have a little fun…with her.

Quaid never takes on clients like the impulsive young woman with a Technicolor dye job. She could stand to learn a hard lesson or two, but something about her guileless hazel eyes intrigues him. Still, he's determined to keep their relationship strictly business. But doing so is becoming more impossible with each day he spends with her.

As they work side-by-side, they'll have to figure out a way to get along and keep their hands off each other—because the chemistry between them is beyond charged.
Paperback, 368 pages
Expected publication: May 24th 2016 by Mira
ISBN 0778318958
Between the evil and the deep blue sea…

A historic cruise ship, a haunted ship, the Celtic American Line's Destiny, sets sail from the Port of New Orleans—with a killer on board. He's known as the Archangel Killer because of the way he displays his victims in churches. And how he places a different saint's medallion on each body. No one knows exactly who he is or why he's doing this.

Jackson Crow—head of the FBI's Krewe of Hunters, a special unit of paranormal investigators—is assigned to the case, along with local agent Jude McCoy. Then Alexi Cromwell, who works in the ship's piano bar, is drawn into the situation when a victim's ghost appears to her—and to Jude. She and Jude share an attraction, and not just because of their mutual talent.

There are many suspects, but one by one they're ruled out… Or are they? In the end, Jude and Alexi have to rely on each other to catch the killer and escape his evil plans for Alexi.
Paperback, 368 pages
Expected publication: May 24th 2016 by Pocket Books
ISBN 1476779260
The moment detective Reed Novak steps onto the crime scene, he knows the case is going to rock his world. A beautiful young woman murdered at home. No sign of forced entry. No motive. She's obviously not the killer's first victim, and Reed's instincts tell him she won't be his last. Reed's first clue comes via a mysterious text that links to a dating profile, but even more intriguing than the clue is the person who sent it.

As a white-hat hacker in the Delphi Center's cyber investigation unit, Laney Knox sneaks into some of the deepest, darkest corners of the Internet looking for predators. Laney would prefer to stay away from Austin PD's most recent murder case, but she can't ignore the chilling similarities between that crime and her own brutal attack years ago. Laney offers to help the sexy lead detective, but he wants more from her than just a promising tip—Reed wants her trust. Laney resists, but as their relationship deepens she's tempted to reveal the closely guarded secrets that could make her a key witness…or the killer's next victim.
31st
Title
: Lana and the Highlander
Series
: Untamed Highlanders #3
Author
: Sabrina York
Format
: Paperback & eBook, 384pgs
Published
: May 31, 2016 by St. Martin's
ASIN
: B017RBWIX6
Links
:
Goodreads
|
Amazon
LOVE IS A BATTLEFIELD
Lachlan Sinclair cannot escape his accursed heritage in his Highlands homeland. Somewhat resigned to the fate that destroyed his ancestors, he is prepared to live his life without an heir, without a wife―without love. But when he meets the woman of his dreams in the flesh, the bewitching lass makes him want to throw away his cursed, restrained existence…and unleash the highlander within…
Lana Dounreay has only seen the Duke of Caithness in her dreams as a wild, rugged man, while in reality, his life has been cramped by curses and cravats. He may have forgone his kilt and lost his brogue, but Lana knows that the heart of a true Scotsman beats within his broad, muscular chest. But what plans does the mysterious, passionate Lachlan have in mind for her―and can she convince him that love is stronger than all else?
Title
: The Beast of Clan Kincaid
Series
: Clan Kincaid #1
Author
: Lily Blackwood
Format
: Paperback & eBook, 320pgs
Published
: May 31, 2016 by St. Martin's
ASIN
: B01827IPZY
Links
:
Goodreads
|
Amazon
A Highland warrior battles to reclaim his birthright in the first of a new series filled with seduction, revenge, and soul-stirring passion…

They call him the Beast—a hardened mercenary whose heart seems as cold as his icy blue gaze. They do not know his true name: Niall Braewick, son of the Laird of Kincaid. It has been years since he escaped into the forest the night his father was murdered. Now he has returned, ablaze with a vengeful hunger. He will gain the MacClaren chief's trust, gather his clan, and take back his lands. And take the MacClaren's daughter as well…

Though he pulled her from the river, saving her life, Elspeth has been warned to keep her distance from her father's hired warrior. He is a barbarian—a shame, as he is far more compelling than the lechers and fools competing for her dowry. Little does she know that, like the castle itself, she is a prize Niall intends to claim…but will he extract blood for blood and possess what is his, or will his enemy's beautiful, innocent daughter tempt him to forsake his dream of conquest?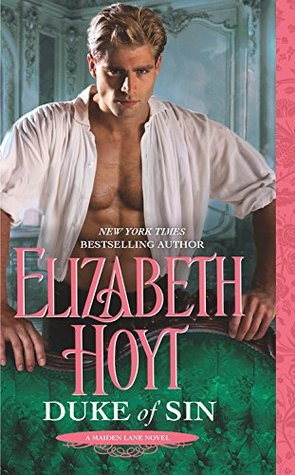 Title
: Duke of Sin
Series
: Maiden Lane #10
Author
: Elizabeth Hoyt
Format
: Paperback & eBook, 368pgs
Published
: May 31, 2016 by Grand Central
ASIN
: B015NRKJRI
Links
:
Goodreads
|
Amazon
A MAN OF SIN

Devastatingly handsome. Vain. Unscrupulous. Valentine Napier, the Duke of Montgomery, is the man London whispers about in boudoirs and back alleys. A notorious rake and blackmailer, Montgomery has returned from exile, intent on seeking revenge on those who have wronged him. But what he finds in his own bedroom may lay waste to all his plans.

A WOMAN OF HONOR

Born a bastard, housekeeper Bridget Crumb is clever, bold, and fiercely loyal. When her aristocratic mother becomes the target of extortion, Bridget joins the Duke of Montgomery's household to search for the incriminating evidence-and uncovers something far more dangerous.

A SECRET THAT THREATENS TO DESTROY THEM BOTH

Astonished by the deceptively prim-and surprisingly witty-domestic spy in his chambers, Montgomery is intrigued. And try as she might, Bridget can't resist the slyly charming duke. Now as the two begin their treacherous game of cat and mouse, they soon realize that they both have secrets-and neither may be as nefarious-or as innocent-as they appear . . .
Title
: Hot in Hellcat Canyon
Series
: Hellcat Canyon #1
Author
: Julie Anne Long
Format
: Paperback & eBook, 384pgs
Published
: May 31, 2016 by Avon
ASIN
: B0151VE6FW
Links
:
Goodreads
|
Amazon
A broken truck, a broken career and a breakup heard around world lands superstar John Tennessee McCord in Hellcat Canyon. Legend has it hearts come in two colors there: gold or black. And that you can find whatever you're looking for, whether it's love... or trouble. JT McCord may have found both in waitress Britt Langley.

Britt sees right through JT's hard edge and soft drawl to a person a lot like her: someone in need of comfort and the kind of healing best given hot and quick, with clothes off and the lights out.

Her wit is sharp but her eyes and heart - not to mention the rest of her - are soft, and JT is falling hard. But Britt is hiding a few secrets as dark as the hills, and JT's past looks set to invade their present. It's up to the people of Hellcat Canyon to help make sure their future includes a happily ever after.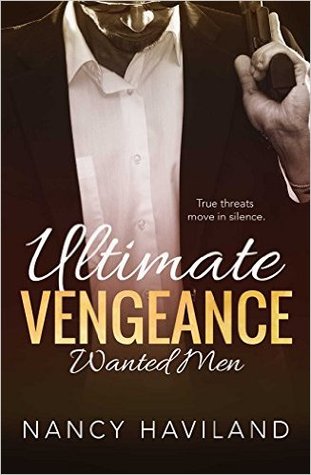 Title
: Ultimate Vengeance
Series
: Wanted Men #4
Author
: Nancy Haviland
Format
: eBook, 349pgs
Published
: May 31, 2016 by Nancy Haviland
ASIN
: B01D5HMHLY
Links
:
Goodreads
|
Amazon
To a young Russian girl raised to respect and fear the Bratva, gaining the attention of the impressive Sovietnik from a ruling organization was a terrifying thing. Alekzander was a dangerous temptation Sacha Urusski had no hope of resisting. Predictably, her heart was decimated and she was left bleeding…with a precious reason to go on. But when Alekzander bullies his way back into her quiet life and offers a confession that absolves him of his sins, rather than celebrate, Sacha is forced to acknowledge an alarming truth; she has now become the villain in their story. Or so she thinks. When the most damaging secret of all is revealed, her final hope dies and she's left with no other recourse. She must run.

Sixteen months ago, Alekzander Tarasov made the mistake of his life when he annihilated his relationship with his soulmate. At the time, protecting her was his only thought. Now, after attempting to live without her, his focus has changed. He wants her back where she belongs. And he'll stop at nothing to drag his curvy angel away from her new life and so deep into his world of violence and uncertainty she'll never find her way out again.

Through a deluge of secrets and lies, disillusionment and broken faith enters a world where loyalty and trust reign. Will Alek and Sacha's battered love be strong enough to survive? Or will it be a sense of duty that inexorably binds them together in the end?
Torn
(LOST #4)
by Cynthia Eden
ebook, 384 pages
Expected publication: May 31st 2016 by Avon
ISBN 0062437461
AMAZON
|
GOODREADS
In New York Times bestselling author Cynthia Eden's latest novel featuring the Last Option Search Team (LOST), one agent's investigation entices a killer into making her his prey.

PARTNERS . . . FRIENDS . . .

Forensic anthropologist Victoria Palmer has always been better with the dead than the living. Shutting down her emotions, she lets few people in. But then Victoria's latest investigation takes her and agent Wade Monroe to Savannah, Georgia. Handsome, dangerous, and more than ready to play dirty on any case, Wade weakens Victoria's aloofness with just one glance.

. . . LOVERS

Wade knows their recent cases have pushed Victoria beyond her limits. But her skills are crucial to finding a college student who went missing five years ago. Victoria is able to determine she was murdered, and that the killer is still on the loose.

And when the vicious murderer targets Victoria, Wade must do everything in his power to protect her . . . because he refuses to let a woman he loves be torn from him . . . again.
Primal Instinct
(Bodyguard #2)
by Tara Wyatt
Paperback, 352 pages
Expected publication: May 31st 2016 by Forever
ISBN 1455590282
AMAZON
|
GOODREADS
ROCK YOU ALL NIGHT LONG

The first time he lays eyes on Taylor Ross in a bar, Colt Priestley does something few men would dare to do. He approaches the world-famous singer, shamelessly flirts with her, and gives her a night in his bed that neither of them will soon forget.

When Taylor's record label hires a bodyguard to keep tabs on the out-of-control rocker, she's less than thrilled to find it's her off-the-charts one-night stand who shows up for the job. She's terrified of letting herself fall for the damaged ex-Army Ranger, and she's determined to push him away. Yet every moment they're together simmers with tension. As the danger from an obsessed stalker mounts, Taylor and Colt are tempted to cross that line again-baring their hearts and souls as well as their bodies-and there's no telling how hot this song will get.
Demand
(Careless Whispers #2)
by Lisa Renee Jones
Kindle Edition, 320 pages
Expected publication: May 31st 2016 by Gallery Books
ASINB010MH1DE2
AMAZON
|
GOODREADS
The sexy, breathtaking mystery continues in New York Times and USA TODAY bestselling author Lisa Renee Jones's stunning second novel in the suspenseful Careless Whispers series—where shocking revelations will reveal themselves and nothing, and no one, will ever be the same.

Still struggling with amnesia, Ella questions everything she's known about Kayden Wilkens—the alluring stranger who claims to have found her unconscious in an alleyway a month earlier. But was he truly a stranger—or did Kayden know her before his supposed rescue? Tormented by the potential betrayal he denies, with fleeting memories of a bombshell in her recent past, Ella must face a hard reality. Every action has consequences . . . and trusting Kayden, the one thing she most desires, might result in the direst consequences of all.
Everywhere and Every Way
(Billionaire Builders #1)
by Jennifer Probst
Paperback, 384 pages
Expected publication: May 31st 2016 by Gallery Books
ISBN 1501124234
AMAZON
|
GOODREADS
Hot on the heels of her beloved Marriage to a Billionaire novels, New York Times bestselling author Jennifer Probst nails it with the first in an all-new sexy romance series featuring red-hot contractor siblings who give the Property Brothers a run for their money!

Ever the responsible eldest brother, Caleb Pierce started working for his father's luxury contracting business at a young age, dreaming of one day sitting in the boss's chair. But his father's will throws a wrench in his plans by stipulating that Caleb share control of the family business with his two estranged brothers.

Things only get more complicated when demanding high-end home designer Morgan hires Caleb to build her a customized dream house that matches her specifications to a T—or she'll use her powerful connections to poison the Pierce brothers' reputation. Not one to ignore a challenge, Caleb vows to get the job done—if only he can stop getting distracted by his new client's perfect…amenities.

But there's more to icy Morgan than meets the eye. And Caleb's not the only one who knows how to use a stud-finder. In fact, Morgan is pretty sure she's found hers—and he looks quite enticing in a hard hat. As sparks fly between Morgan and Caleb despite his best intentions not to mix business and pleasure, will she finally warm up and help him lay the foundation for everlasting love?
Empire
(Eagle Elite #7)
by Rachel Van Dyken
Expected publication: May 31st 2016
AMAZON
|
GOODREADS
I have lost everything.
My purpose.
My love.
My soul.
Death knocks on my door, I want to answer, but every time I reach for the handle--the promise I made her, brings me back.
So I breathe.
I live.
I hate.
And I allow the anger to boil beneath the surface of a perfectly indifferent facade.
I am broken, I dont want to be fixed.
One last trip to New York, one last chance to redeem a lost part of the mafia family. The Empire is crumbling and it's my job to fix it, my job to mend the pieces that were scattered over thirty years ago.
The only issue is, the only way to fix, is to do something I swore I'd never do again.
An arranged marriage.
Only this time.
I won't fall.
Or so help me God, I'll kill her myself.
My name is Sergio Abandanoto, you think you know my pain, my suffering, my anger, my hate--you have no idea.
I am the mafia.
I am the darkness.
Blood in. No out.
Stacked Up
(Worth the Fight #6)
by Sidney Halston
ebook, 265 pages
Expected publication: May 31st 2016 by Loveswept (first published March 29th 2016)
ISBN 1101886315
AMAZON
|
GOODREADS
Opposites attract in this seductive novel from the author of Against the Cage ("Funny, steamy, scorching."—Toni Aleo), with a chiseled MMA fighter falling for a single mom who could use a real man in her corner.

Working two jobs to support her infant daughter is harder than anything Penny Richards has ever done, but it sure beats living under the rules of her stepfather, a television preacher who demands a picture-perfect family. And if Penny hadn't struck out on her own, she never would have met Travis Calhoun. The intensely physical heavyweight brawler has a way of drawing out her wild side. But Travis lives fast, with no responsibilities—and that just isn't for Penny.

Most of the women in Travis's circle wear tight clothes, high heels, and tons of makeup—not pearls or plaid headbands. But once he works past Penny's inhibitions, Travis discovers a kindred spirit who longs to trust someone with her body, and her secrets. Still, Travis can't help but wonder if this rich girl is just slumming it before she returns to her privileged life. Now it's up to Penny to prove that she wants her hard-edged, hard-loving fighter just the way he is.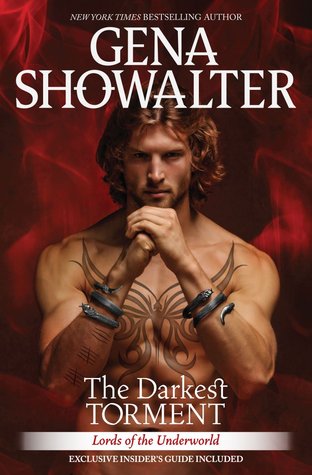 The Darkest Torment
(Lords of the Underworld #12)
by Gena Showalter
Hardcover, 448 pages
Expected publication: May 31st 2016 by Harlequin HQN
AMAZON
|
GOODREADS
Driven to his death by the demon of Distrust, Baden spent centuries in purgatory. Now he's back, but at what cost? Bound to the king of the underworld, an even darker force, he's unable to withstand the touch of another...and he's quickly devolving into a heartless assassin with an uncontrollable temper. Things only get worse when a mission goes awry and he finds himself saddled with a bride—just not his own.

Famed dog trainer Katarina Joelle is forced to marry a monster to protect her loved ones. When she's taken hostage by the ruthless, beautiful Baden immediately after the ceremony, she's plunged into a war between two evils—with a protector more dangerous than the monsters he hunts. They are meant to be enemies, but neither can resist the passion burning between them...and all too soon the biggest threat is to her heart.

But as Baden slips deeper into the abyss, she'll have to teach him to love...or lose him forever.
Blood Lust
(The Sentinels #3)
by Alexandra Ivy
Paperback, 352 pages
Expected publication: May 31st 2016 by Zebra
ISBN 142013759X
AMAZON
|
GOODREADS
Blessed and cursed by their hidden abilities, the Sentinels have no choice but to live, and love, on the edge of humanity…

The Sentinel assassin, Bas, is facing the greatest challenge of his outcast existence. His young daughter, Molly, has been kidnapped. But her disappearance has brought the return of her mother, Myst, whom Bas has never forgotten--or forgiven.

Haunted by a vision that she's destined to create a weapon that will destroy thousands, Myst was never impulsive--until she met the irresistibly handsome Bas. But with the Brotherhood, the enemy of the high-bloods hunting for her, Myst had to stay on the run, to keep her child, and the world, safe. Now, with the most important thing in both their lives at stake, she and Bas must embark on a treacherous journey to save Molly, to confront the truth of Myst's fate--and to face their fierce desire for one another.
The Ghost
(Highland Guard #12)
by Monica McCarty
Expected publication: May 31st 2016 by Ballantine Books
Joan Comyn swore allegiance to Robert the Bruce the day she witnessed England's barbarous king torturing her famous mother, Scot patriot Bella MacDuff. Now the mysterious beauty slips into men's hearts like a specter and entices England's most illustrious barons to unwittingly divulge their secrets, then shares them with her king. Known only as the Ghost even among her Highland Guard brethren, Joan has become the most wanted spy in England.

The man determined to uncover her identity poses her biggest threat yet. Alex Seton once stood with Bruce but now fights for the enemy. Though Joan knows she must avoid the handsome warrior or risk discovery, his knightly chivalry touches a place in her long since buried. When his suspicions grow apparent, Joan realizes she must do everything in her power to stop Alex from revealing her mission and convince the powerful fighter to join forces with the Highland Guard once more. But as the ultimate battle in the great war approaches, will Alex chose love or honor?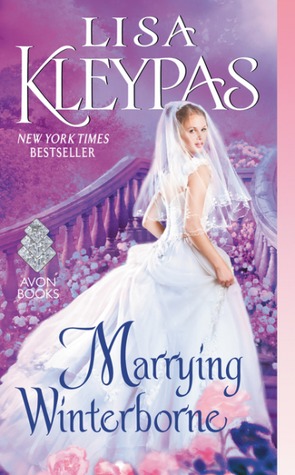 Marrying Winterborne
(The Ravenels #2)
by Lisa Kleypas
ebook, 416 pages
Expected publication: May 31st 2016 by Avon
ISBN 0062371843
AMAZON
|
GOODREADS
A ruthless tycoon
Savage ambition has brought common-born Rhys Winterborne vast wealth and success. In business and beyond, Rhys gets exactly what he wants. And from the moment he meets the shy, aristocratic Lady Helen Ravenel, he is determined to possess her. If he must take her virtue to ensure she marries him, so much the better…

A sheltered beauty
Helen has had little contact with the glittering, cynical world of London society. Yet Rhys's determined seduction awakens an intense mutual passion. Helen's gentle upbringing belies a stubborn conviction that only she can tame her unruly husband. As Rhys's enemies conspire against them, Helen must trust him with her darkest secret. The risks are unthinkable…the reward, a lifetime of incomparable bliss. And it all begins with…

Marrying Mr. Winterborne
The Wicked Duke
(Wicked Trilogy #3)
by Madeline Hunter
Paperback, 400 pages
Expected publication: May 31st 2016 by Jove
ISBN 0515155187
AMAZON
|
GOODREADS
Third in the roguishly intriguing series by the New York Times bestselling author of Tall, Dark, and Wicked and His Wicked Reputation…
She appeals to his wicked inclinations, but he never expects she might snare his heart…

Suspected of his brother's murder, Lancelot Hemingford, Duke of Aylesbury, was forced to give up his hell-raising habits in London for the anonymity of quiet country living. So, when an opportunity arises to clear his name in exchange for proposing to the niece of a neighbor, he sees no choice but to accept. Plus, seducing the reluctant maiden will be a most intriguing challenge…

As Marianne Radley is dependent on her uncle, she must accept the Duke's marriage proposal at her family's request, despite her belief he is irredeemably wicked. But along with marrying him, she intends to sniff out the duke's unsavory secrets and expose them to the world: a plan that would be flawless were it not for one minor detail—even she, with all her determination, is not immune to the charms of a rakish duke…
The Fairest of Them All
(Marrying the Duke #2)
by Cathy Maxwell
ebook, 384 pages
Expected publication: May 31st 2016 by Avon
ISBN 0062388649
AMAZON
|
GOODREADS
In New York Times bestselling author Cathy Maxwell's glittering new series, wedding bells are ringing…but which Whitridge twin is the right groom?
The penniless orphan of a disreputable earl, Lady Charlene Blanchard thrives on the adventure of picking the pockets of unsavory gentlemen to survive. But due to her extraordinary beauty and prized bloodlines, she is hand-chosen as a potential bride for the Duke of Baynton, who is on the hunt for a suitable wife to provide heirs. All Char has to do is act the part she was born to play and charm a duke she's never laid eyes on into proposing. Except the duke turns out to be the tall, dark and sexy stranger who just caught her red-handed as a thief!

Or is he? Jack Whitridge is the duke's twin who had "gone missing" over ten years ago. Now back in England, he knows that the supposed Lady who has his brother's love is hardly duchess material—except he needs her to save his adopted country from war. He is willing to bargain with her heart, until he finds himself falling for Char . . .
Wicked Love
(Wicked White #3)
by Michelle A. Valentine
Kindle Edition, 210 pages
Expected publication: May 31st 2016 by Montlake Romance
ASINB019GWOP2G
AMAZON
|
GOODREADS
All Tyler Mercer wanted was to make music—until he met Avery Jenson. The beautiful new girl in town turned his head and struck a chord in his heart. But when their one night of passion results in devastating tragedy, Tyler hits the road, leaving behind his dead-end hometown and the girl he knows he'll never forget.

After her father was caught embezzling, Avery's comfortable life in the city was blown to bits. But meeting Tyler helped to pick up the pieces and eased her into country living. She just never expected the handsome musician would add to her heartbreak by walking away without a backward glance.

Now, three years later, rock star Tyler's come back, hat in hand. He's found fame and fortune as a member of Wicked White, but it's all worth nothing without Avery's love. Can she forgive him for leaving when she needed him most? Or will the ghost of their past keep them apart?
Hot Cowboy Nights
(Lucky Penny Ranch #2)
by Carolyn Brown
Paperback, 400 pages
Expected publication: May 31st 2016 by Forever
ISBN 1455534900
AMAZON
|
GOODREADS
LET'S GIVE 'EM SOMETHING TO TALK ABOUT . . .

If gossip is the lifeblood of a small town, then Lizzy Logan has been its beating heart. After being dumped by her fiancé for another woman, she could have decided to crawl under a rock. But no, she'd rather really set tongues wagging by "moving on" with one of the hottest cowboys in Texas, who happens to live next door at the Lucky Penny Ranch. Those busybodies don't have to know it's actually all pretend. And just because Lizzy has no aim to tame her wild, blue-eyed neighbor doesn't mean she can't enjoy the ride of her life. Toby Dawson never was and never will be the settling-down type. But what harm could there be in agreeing to be Lizzy's pretend boyfriend? They'll put on a show for a few weeks and be done. Yet the more he gets to know Lizzy-really know her-the harder it is for him to keep his hands off of her in private. Soon this rough-and-ready cowboy is hoping to heal Lizzy's bruised heart and turn their fake affair into a true romance . . .
Under the Surface
(Alpha Ops #4)
by Anne Calhoun
Mass Market Paperback, 350 pages
Expected publication: May 31st 2016 by St. Martin's Paperbacks
ISBN 1250084601
AMAZON
|
GOODREADS
Welcome to Eye Candy, the East Side's hottest nightclub where the bartenders are hot, the cocktails are fancy, and danger lurks just under the surface…

Eve Webber, the gorgeous and savvy owner of Eye Candy, knows better than anyone that growing up on the wrong side of the tracks comes with certain complications. Determined to run a clean business and fix up the East Side, Eve's plans get temporarily stalled when a potential new hire walks into her bar. The sexual chemistry crackling between them is a potent distraction…even if she refuses to mix business with the promise of pleasure.

Detective Matt Dorchester lives by strict rules that have kept him alive in impossible situations. When his latest undercover assignment has him playing a bartender, his desire for the passionate owner has him breaking every single one. Eve is in danger and her life depends on his secrecy. But once their attraction reaches a climactic conclusion, Matt must make a desperate choice: Tell her the truth about who he really is―or risk a once-in-a-lifetime love to save her life?
Into the Whirlwind
(BOSS, Inc. #2)
by Kat Martin
Paperback, 400 pages
Expected publication: May 31st 2016 by Zebra
ISBN 1420139029
AMAZON
|
GOODREADS
A bodyguard, a bounty hunter, a private investigator, no one can handle the heat like the men of BOSS, Inc.

Megan O'Brien is at her wit's end. Her three-year-old son has been kidnapped. No police, says the ransom demand. Fearing for her son's life, Meg has no choice but to turn to her former bodyguard, Dirk Reynolds.

Dirk's never forgiven Meg for the way she left him after their brief affair. But with bounty hunter Luke Brodie on his side, Dirk knows he's got to help Meg rescue her son.

The few clues they've gathered send them spiraling into a murky world of big banking and international crime. Meg may be way out of her depths, but she's seeing a side of Dirk she never suspected—one no woman could possibly resist.
GIVEAWAY:
We're giving away your choice of one of May's new book releases to one reader! To enter, just be a RBtWBC follower (We offer lots of follow options!) and fill out the Rafflecopter below. Good luck! *Book must be $7.99 or under and available on Amazon Kindle, winner's choice will be in kindle format.
a Rafflecopter giveaway