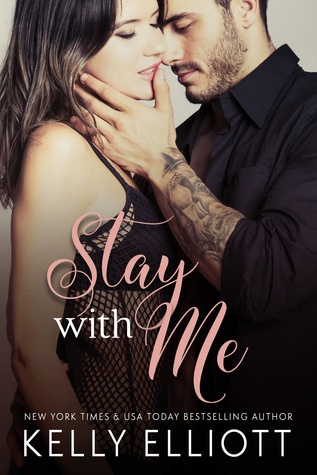 Stay With Me
by Kelly Elliott
Published May 12th 2016
Life moves on.

Only people who have never lost anyone they loved with all their heart can blindly believe those words.

What if I didn't want to move on? What if I wanted to wake up every morning with that familiar ache in my chest, knowing I'd never see her again?

But, life can change in a moment.

I knew that better than anyone … So, when I couldn't get those mesmerizing green eyes out of my head, I decided to do something about it.

Would one night with her be enough, or would my heart decide it was finally time to move on from the past?
EXCERPT :


"Kilyn, you make me feel something I haven't felt in a long time. It both excites and scares me. We keep running into each other and Gus would say it was a sign and, fuck I don't know, maybe it is. All I really know is I want to get to know you better."
My brow lifted. "Get to know me better how?"
His eyes turned dark while he quickly swept them over me. My body responded with a shudder. When he took a step closer to me, my heart was pounding so loudly I couldn't hear my own thoughts.
His hand slipped around the back of my neck, pulling me closer.
My knees shook as I reached up and grabbed onto his arms to keep myself from falling. Thano softly ran his lips along my neck and a small moan slipped from my mouth.
I could feel his hot breath on my skin as he talked in a low voice. "I want to know what I do that makes the pulse in your neck beat like this."
My breath caught when he pressed his lips to my neck and whispered, "Eísai tósi ómorfos."
The foreign words swam around in my mind so beautifully. With my breathing labored, I panted out, "I have no idea . . . what you . . . just said. But you can get to know me in any way you'd like."
It might have made me sound like a cheap whore, but in that moment I didn't care. All I cared about was this man was able to bring back feelings I had buried long ago.
ABOUT KELLY ELLIOTT
Kelly Elliott is married to a wonderful Texas cowboy who has a knack for making her laugh almost daily and supports her crazy ideas and dreams for some unknown reason...he claims it's because he loves her!

She's also a mom to an amazing daughter who is constantly asking for something to eat while her fingers move like mad on her cell phone sending out what is sure to be another very important text message.

In her spare time she loves to sit in her small corner overlooking the Texas hill country and write.
One of her favorite things to do is go for hikes around her property with Gus....her chocolate lab and the other man in her life, and Rose, her golden retriever. When Kelly is not outside helping the hubby haul brush, move rocks or whatever fun chore he has in store for her that day, you'll find her inside reading, writing or watching HGTV. http://www.kellyelliottauthor.com/