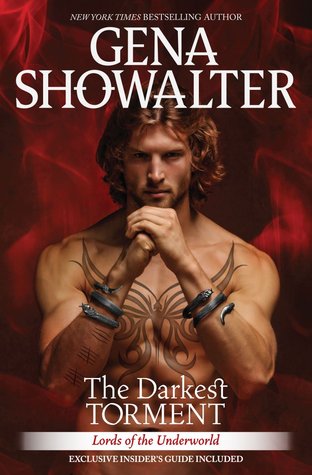 The Darkest Torment
(Lords of the Underworld #12)
by Gena Showalter
Hardcover, 448 pages
Expected publication: May 31st 2016 by Harlequin HQN
Driven to his death by the demon of Distrust, Baden spent centuries in purgatory. Now he's back, but at what cost? Bound to the king of the underworld, an even darker force, he's unable to withstand the touch of another...and he's quickly devolving into a heartless assassin with an uncontrollable temper. Things only get worse when a mission goes awry and he finds himself saddled with a bride—just not his own.

Famed dog trainer Katarina Joelle is forced to marry a monster to protect her loved ones. When she's taken hostage by the ruthless, beautiful Baden immediately after the ceremony, she's plunged into a war between two evils—with a protector more dangerous than the monsters he hunts. They are meant to be enemies, but neither can resist the passion burning between them...and all too soon the biggest threat is to her heart.

But as Baden slips deeper into the abyss, she'll have to teach him to love...or lose him forever.
EXCERPT
Katarina wasn't afraid of Baden. Not anymore.
He took a step to the side, intending to move around her. Oh, no. She flattened her hands on his shoulders, keeping him in place.
"I want to know what's wrong with you." She said. "Tell me."
He snapped his teeth at her in a show of dominance. "You think you want to know my problem. You're wrong."
Her tone dry, she said, "I'm so glad you know my mind better than I do."
"Very well. I need sex." He threw the words at her as if they were weapons. "Badly."
Heart pounding, she jerked her hands away from him. "Sex...from me?"
"Yesss." A hiss. "Only from you."
Only. Amazing how one little word could send pleasure soaring through her, warming her. "You told me never to touch you." Which she'd just done, she realized. My bad.
"I've changed my mind." His gaze dropped, lingered on her lips.
Burning her... "But you and I...we're a different species." As if that mattered to her body. Gimme!

He took a step closer, invading her personal space. "We'll fit, I promise you."

Tristo hrmenych! The raspy quality of his voice, all smoke and gravel...she shivered with longing. Must resist his allure.
But...but...why? Before she'd committed to Peter, she'd dated around, had made out in movie theaters, cars and on couches. She'd liked kissing and touching and "riding the belt buckle," as her friends had called it. Then, after committing to Peter, she'd gifted him with her virginity. At first, he hadn't known what to do with her—he'd been just as inexperienced—and she'd left each encounter disappointed. When finally she'd gathered the courage to tell him what she wanted, he'd satisfied her well.
She missed sex. But connection...intimacy...she thought she missed those more.
The dogs barked, jolting her from her thoughts. They'd cleaned their food bowls, and now wanted to play. She clasped Baden's hand to lead him out of the kennel. He jerked away, severing contact.
One action. Tons of hurt.
"I'm allowed to touch you and you want to have sex with me, but you're still disgusted by me." She stomped outside the kennel, done with him. "Well, I'm leaving. Good riddance! Your do-what-I-say-or-else attitude was annoying, anyway."
He darted in front of her, stopping her. Breath caught in her throat as sunlight streamed over him, paying his chiseled features absolute tribute, making his bronzed skin glimmer.
So beautiful. Too beautiful.
"I'm not disgusted by you. You need me. I've come to accept it," he admitted, looking away from her. "But being skin-to-skin with another is painful for me. We'll have to proceed carefully. And you'll get over your annoyance."
Another order! She would show him the error of his ways.
The Lords of the Underworld
About Gena Showalter:
Gena Showalter is the New York Times and USA TODAY bestselling author of the spellbinding Lords of the Underworld and Angels of the Dark series, two young adult series--Everlife and the White Rabbit Chronicles--and the highly addictive Original Heartbreakers series. In addition to being a National Reader's Choice and two time RITA nominee, her romance novels have appeared in Cosmopolitan (Red Hot Read) and Seventeen magazine, she's appeared on Nightline and been mentioned in Orange is the New Black--if you ask her about it, she'll talk for hours…hours! Her books have been translated in multiple languages.

She's hard at work on her next novel, a tale featuring an alpha male with a dark side and the strong woman who brings him to his knees. You can learn more about Gena, her menagerie of rescue dogs, and all her upcoming books at genashowalter.com or Facebook.com/genashowalterfan
a Rafflecopter giveaway