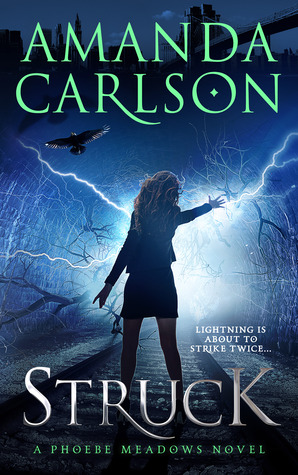 Title
: STRUCK
Series
: Phoebe Meadows #1
Author
: Amanda Carlson
Format
: Kindle, 271 Pages
Published
: Amazon Digital Services LLC (May 24, 2016)
ISBN
: ASIN: B01FXXDQS6
Links
:
Goodreads
|
Amazon
|
B&N
Reviewer
: Linda
Source
: Author
Rating
: 4 out of 5 Wine Glasses
When Phoebe Meadows gets struck by a strange light in the stockroom of Macy's, life as she knows it flies out the window. As if being hit by lightning isn't bad enough, she's accosted in the subway by a man with a missing hand, arrives home to find a raven on her kitchen counter, and her neighbor, Ingrid, shows up dressed like a gladiator hell-bent on protecting her.

Before Ingrid can shuttle her to safety, Phoebe is kidnapped and tossed into one of the Nine Worlds where she's quickly forced to come to terms with what she is: A valkyrie. The only problem is, she has no idea what that means.

After a narrow escape, she finds an unlikely ally in Loki's son, Fenrir. Together the valkyrie and the wolf must battle their way back to New York City and reach the valkyrie stronghold where Ingrid is waiting for her. But with danger and obstacles at every turn, she might not live long enough to learn the full truth about who and what she really is…
Linda's Thoughts:

"Let me get this straight," I said once I was settled securely on the rock. "I was struck by some kind of magical energy sent from Odin that shot out of the lights in the storeroom at Macy's, hitting me and knocking me into a pile of shoes? And because of that, I'm now immortal?"

STRUCK by Amanda Carlson marks the debut of her new Phoebe Meadows paranormal urban fantasy series. It is an intense, high-stakes, roller-coaster ride the first half as Phoebe, our heroine, hits high danger notes one after another without any semblance of a pause. You will definitely want to hold on to your seat once you start reading as the story is ultra fast-paced with a plethora of twists and turns as Phoebe is thrown into one dangerous scenario after another. The second half of the book is still action-packed, but not wall-to-wall as in the first half, allowing for more fascinating plot and character development. This is not a book to pick up if you want to lull yourself to sleep; It's almost guaranteed to do the opposite.

STRUCK is the story of kick-ass heroine Phoebe Meadows with Fenrir "Fen" the Wolf playing a major supporting role. As the story begins, Phoebe is having an OFF day after being lightning-struck in the Macy's shoe storeroom. She is accosted by a disfigured man on her way home from work. She enters her apartment to find a colossal raven ensconced there. Ingrid, her neighbor across the hallway, comes to her rescue wearing armor and claiming to be Phoebe's protector. Things only get worse from there as Phoebe learns that she's the daughter of Odin and a Valkyrie. Phoebe is very fortunate to have Fen on her side.

Indeed, if you are a fan of stories featuring Norse mythology, you'll find that you've hit the mother lode herein. Tyr, the god of war, Odin, Loki, Thor and other familiar deities figure in the tale.

Following please find a few of my favorite quotes from this extremely exciting read:

"Who are you?" I asked as he turned and headed deeper into the cavern.

"I am Fenrir the Wolf."

"I'm sorry, did you say you're a wolf?" ---


"As a demigod - Fen cleared his throat - "I am flush with power. My power can be transformed into the kind of energy you need to feed." As he spoke, his eyes sparked with something feral that sent shivers racing down my spine. "It can happen from touch, kissing, but the greatest source is during the act of..."

Ohmygodsinheaven.

"Sex? Are you referring to sex?"...

"My power becomes concentrated for... a very brief moment. It's all about the transfer of energy from one body to another." He looked wildly uncomfortable. "All who live in Asgard know this already. I've never had to explain it to someone."

His semen packs a punch? ---


I sighed. "Would it be too much to ask that Asgard be peaceful? Made up of big, fluffy clouds, serenity, and lots of hot yoga?"

I became a fan of this author after I became addicted to her Jessica McClain series. I have also obsessed over her Sin City books. Needless to say, I absolutely had to read her new Phoebe Meadows series. With exceptional characters, alternate reality storytelling, steamy chemistry between Phoebe and Fen and plenty of sarcastic humor, this is veritably a thrilling series opener. Be aware that there's some pretty explicit torture scenes - I found myself cringing and almost hating to turn the page at parts; But, of course, I had to turn those pages, as I had to read how Phoebe would narrowly escape. (Have not fear, she survives!) The ending is, thankfully, not a cliffhanger, but it will make you crave the next book, FREED, coming Fall 2016. I would highly recommend STRUCK to anyone who enjoys sexy, action-packed paranormal reads!

Suggested Reading Order: Struck (Book #1)

Freed (Book #2) - Coming Fall 2016



The author is giving away one digital copy of this title to one reader! To enter, just fill out the rafflecopter below. Good luck!
a Rafflecopter giveaway