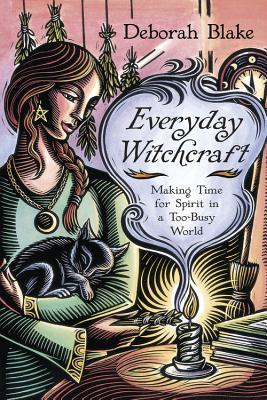 Title
: EVERYDAY WITCHCRAFT: MAKING TIME FOR SPIRIT IN A TOO-BUSY WORLD
Author
: Deborah Blake
Format
: Kindle,
Published
: Llewellyn Publications (March 8, 2015)
ISBN
: ASIN:B00TONI4IO
Links
:
Goodreads
|
Amazon
|
B&N
Reviewer
: Linda
Source
: NetGalley
Rating
: 4 out of 5 Wine Glasses
Walk your personal Pagan path with grace and wisdom, integrating a spiritual practice into your life in just a few minutes per week. Simple, fun, and easy to follow, Everyday Witchcraft shows that, no matter how busy or hectic life is, even small acts can add meaning and depth to your life.

This remarkable book is filled with creative ideas and a variety of quick yet significant ways to connect with the rhythms of nature each day, not just on sabbats or the full moon. Make your home into a magickal place, work with the God and Goddess on a regular basis, and discover the magickal power of animals. From five-minute rituals and "hibernation vacations" to mini daily divinations, you can easily make the wisdom and practice of Witchcraft an enriching part of everyday life.
Linda's Thoughts:

The renowned astronomer Carl Sagan once said, "We are made of star stuff." And it is true. The same elements that make up the stars are also inside us. We are a part of a huge, amazing universe, a tiny speck of magick amidst a world full of marvels. So every once in a while, take the time to look at the stars and remember that you have star stuff (and goddess stuff and god stuff) inside you.

EVERYDAY WITCHCRAFT: MAKING TIME FOR SPIRIT IN A TOO BUSY WORLD by Deborah Blake is a book that I've had on my kindle for a while but, regretfully, despite my best intentions, never seemed to have time to read. After meeting the author at the Coastal Magic

Convention this past February in Daytona Beach, and falling in love with her fabulous bewitching Baba Yaga series (a fractured retelling of a Russian witchy folk tale), I started researching her other books and discovered that I had this non-fiction book just waiting for me on my kindle. WooHoo! I started reading it and couldn't put it down. It's a very informative primer on how to further connect with the earth and my inner being no matter how harried I was.

Within these pages, readers will find a treasury of tips for incorporating spiritual practice into our too-busy lives. For example, there's a multitude of mini-rituals that can literally be done in five minutes or less. The author shares grounding tips along with some quick protection work and a few handy 'welcome home' cleansing suggestions. I was happily impressed that she included a section on how to include special-needs children in rituals. AND much, much more...

In addition, other Pagan authors contributed to the book with their fun, inspiring stories casting light on different approaches to reach our individual goals - whatever they may be and wherever we are in our life's journey.

Following please find a few quotes and spells you will find in this wonderfully useful book:

The main thing these books have in common is their intent to help you live your best possible magickal and mundane life. We all walk very different paths as Pagans and Witches, and what is right for one person won't be right for the next. But my aim is to make it easier for you to find and follow the path that is right for you, integrating spirit and magick and heart into your everyday tasks as you walk it. ---


As you wash, say: Stress and pain go down the drain. Leave me feeling good again OR I wash away negativity, opening myself up to light and love and all things good and beneficial. ---


I cook this food with love and affection, for those I serve, I ask protection. ---


Forgive yourself for being an imperfect human being. The goddess doesn't expect perfection, although she does expect you to try and do better. Allow yourself to be happy. Live the life you want, and follow the path of your heart.

In the future, I plan to refer to this book often now that I've read it for inspiration and focus. I would highly recommend this book to anyone who desires a closer connection with the natural world around us. It was informational and entertaining. If you feel that you're stretched too thin to connect to spirit, this book will give you ideas that you can incorporate in your life - no matter how busy you are. I hope to check out her other non-fiction books soon!