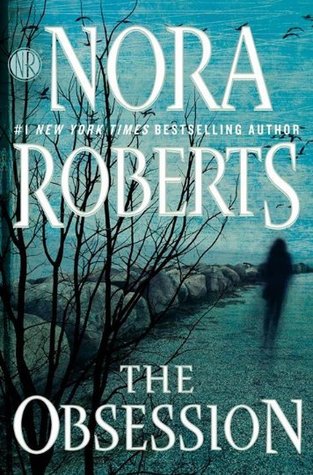 Title:
The Obsession
Author:
Nora Roberts
Format:
Hardcover, 464 pages
Publication:
April 12th 2016 by Berkley
ISBN :
0399175164
Links:
Goodreads
|
Amazon
|
B&N
Reviewer:
Becky
Source:
Netgalley
Rating:
5 out of 5 Wine Glasses
The riveting new novel from the #1 New York Times bestselling author of The Liar.

Naomi Bowes lost her innocence the night she followed her father into the woods. In freeing the girl trapped in the root cellar, Naomi revealed the horrible extent of her father's crimes and made him infamous.

Now a successful photographer living under the name Naomi Carson, she has found a place that calls to her, thousands of miles away from everything she's ever known. Naomi wants to embrace the solitude, but the residents of Sunrise Cove keep forcing her to open up—especially the determined Xander Keaton.

Naomi can feel her defenses failing, and knows that the connection her new life offers is something she's always secretly craved. But as she's learned time and again, her past is never more than a nightmare away.
Becky's Thoughts:
I've always thought that Nora Roberts is a masterful story teller, this latest book has just cemented that in my mind, now more that ever. I also enjoy her In Death series she writes as J D Robb, but you can not beat these one off stories of hers that she packs so much of a punch into.
As the story begins, you are immediately drawn to the young Naomi, who is just twelve years old when she discovers just what a monster her father is. As the story continues, and we see Naomi learning to live with the fallout of her father's depravity, you come to truly care how that once young girl has grown into a woman still trying to outrun her nightmares, literally and figuratively.
Naomi lands in Sunrise Cove, Washington State after seventeen years of out running her nightmares, where her car breaks down just outside of town...there she meets the local mechanic, Xander, who stops to help her. Never having settle in one place for only a couple of months at a time, she also finds herself buying a huge, dilapidated and basically ignored old home full of more bedrooms and bathrooms than she'll ever need. No sooner than she hires a local contractor to begin renovations on the house, she finds a stray dog, near death who she finds on the side of the road and running into Xander once again when he stops to help her with the stray. Now she has a home, a dog and the beginnings of a relationship, things she's never wanted in the past.
As Naomi grows to love Sunrise Cove and the friends she is making for the first time in her life, she continues to feel that she doesn't deserve to be "this happy" because of who her father is. Regardless that she, her brother and mother were taken in and raised by her mother's brother and his partner, changed their last names, Naomi is still haunted by her father's depravity.
While reading, one moment I would find myself in tears while Naomi was struggling to outrun the memories of father's past deeds, then sighing a few pages later with the love that was growing between Naomi and Xander. Then to make the story more perfect, laughing out loud, such as when Xander was aghast that Naomi thought she would order a grill online:
"Have you thought about getting a grill? I can grill—you know, steaks, chops, even fish." He shrugged when she stopped at the opening. "Give you a hand with meals some time."
"As a matter of fact, I've been looking at grills online."
"You can't buy a grill online." Sincerely appalled, he stared at her—with some pity.
"You have to see it, and—"
"Stroke it?" She offered a bright smile. "Speak to it?"
Appalled pity turned on a dime to a cool disdain that made her want to laugh.
"You have to see it," he repeated. She made a humming sound, then went in to check her supplies and formulate a menu. Moments later, he came in, sat at the counter.
"I'm buying the grill."
"What?"
"I said I'm buying the grill."
In my mind's eye, I could see so many if the men I've known throughout my life who worshipped at the alter of the all mighty grill the same way!
I truly enjoyed how the story was tied up, not drawn out just for the sake of suspense. I like an author who gets to the point, no one does it nearly as well as Nora Roberts. She never leaves her readers hanging...she ends her stories leaving the reader with a clear sense of the lives the characters will continue to lead. I now look forward to what is next in the Nora Roberts repertoire of storytelling.