Let's see if we can get you to try something new today. We know you're going to love it because who doesn't enjoy more of a good thing. Ready? Then let's welcome our guest today, Beth Kery!
Lexi: This is exciting so I have to get right to it. You have a new serial coming out titled MAKE ME! For those who haven't tried a serial before what is your favorite thing about them and what is your favorite thing about writing them.
Hi Lexi. Thank you for having me!
My favorite thing about serials is that it's a different reading experience. It's like watching a television show one time a week for 8 weeks. You don't have long to wait for each 'episode'. The serial is great for the traditional reader, but also reaches out to the non-traditional reader: the on the go professional who reads on the train, the mom who reads in the waiting room while her child is at the doctor's office, etc. I've also heard quite a bit from people who haven't read in a while, or maybe were never big readers. They write me and say the serial got them reading because the weekly episodes weren't too intimidating. Many say finishing the title and anticipating the next is very positively reinforcing and fun. That kind of feedback is always amazing and prized by me.
My favorite thing about writing the serial is the challenge. It's a good deal more complicated for me than creating a traditionally published book, giving each installment a mini-arc, and yet keeping the entire plot in mind. It makes for some tearing-at-my-hair moments, but when it's done, it's a wonderful feeling of accomplishment.
Lexi: I love anticipation and having to wait for the next installment is part of the draw to reading a serial. In MAKE ME you really take advantage of what makes a serial to jump back and forth in time; quite genius really. How did you decide you wanted to do both past and present with Jacob and Harper?
One of the nice things about the serial is that I can tell a story in more detail. Instead of just having Jacob think about the charged, traumatic, and sweet moments with Harper when they were children, I could actually take the reader back in full flashback. I'm a clinical psychologist by training, and I know how crucial childhood moments can be to a person's development, especially ones that occur during a traumatic experience. The serial format of Make Me allowed me to really peel back the layers of these characters and give the readers a glimpse of why they became what they are, as well as what draws Jacob and Harper together so irrevocably. One thing I like about how the story unfolds is that there are constant echoes in the present from the past, and many times, the echo is 'heard' by the reader, and then illuminated in Harper and Jacob's past. It makes the weave of Jacob and Harper's bond even more intricate and beautiful.
Lexi: Having characters with a history is a bonus because there is already chemistry or a connection. At which point, or which installment, do you feel Jacob and Harper's connection flares the strongest? How long into MAKE ME will you make us wait?!
I would have to say the scene in Make Me Feel, when they are children in the cave and the mountain lion is stalking them. To keep her panic and fear at bay, Jake has Harper describe to him one of her favorite books, The Lord of the Rings. It's an incredibly sweet scene, and highlights Jake's courage and compassion even as a child, as well as Harper's absolute trust in him. That sweetness is always in their connection, even as adults, when an intense passion and sexual hunger has entered the mix. In the present, the scene is paralleled with moments where Harper has to trust Jacob on a deeper, more intimate level in bed. Again, knowing about their history helps to illuminate and enrich their present connection.
Lexi: Anticipation I'm telling you! Thankfully we won't have to wait too long for each release, you have them timed nicely. And I love the titles. Each seems to really tie into what is going on in that part. Do you have a favorite title? How about a favorite scene?
The concept of remembering and forgetting--why we recall what we do, why we forget what we do--is crucial to Harper and Jacob's romance. So I'd say Make Me Forget and Make Me Remember, as far as favorite titles. Can I add Make Me Forever, too, because forever is a concept that was so elusive for Jacob when it came to Harper.
I have a lot of favorite scenes from this serial. Most of it takes place in Lake Tahoe, which is one of my favorite places on earth, so I guess that's a given. I love the scene I mentioned above, with the mountain lion. I also am very fond of the scene where they paddleboard together, and it's Harper's first time. There are a couple scenes, like this one, where their childhood selves surface a bit, and you get an echo of them playing together as children. Harper is determined to stand on the board and is irked by the fact Jacob can do it so effortlessly. At one point, he's looking down at her and she's crawling back up onto the board after falling, and he says something like: there it is, under his breath. He's referring to her stubborn expression, her determination and strength, something he knows is inside her because of their childhood connection. Later, they glide around the lake together on one board, and their attunement to one another, sexually and spiritually, is so tangible and vibrant.
Lexi: We'll have to get each release of and read it for ourselves! Thank you so much for stopping by, Beth. Congratulations on the recent and upcoming releases for MAKE ME!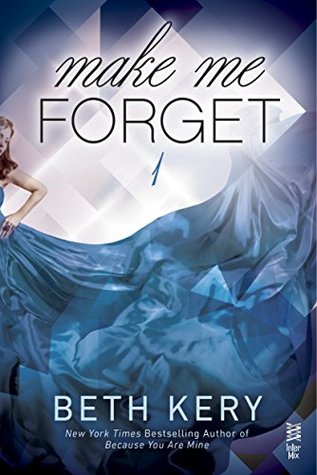 Make Me Forget
(Make Me #1)
by Beth Kery
Kindle Edition
Published April 5th 2016 by InterMix
ASINB01AHKY3J6
Part One of the Make Me Serial




The New York Times bestselling author of Because You Are Mine, The Affair, and Glow is back with a tantalizing new serial novel about hidden pasts, dangerous obsessions, and uncontrollable passion...





Harper McFaddan has made her name as an investigative journalist by being both compassionate and fearless. After tragedy strikes her family, she moves to the shores of Lake Tahoe to find some peace. But when mysterious software mogul Jacob Latimer comes into her life, her thoughts turn from her own healing to an urgent need to get closer to him...





Jacob Latimer is the definition of a self-made man. The software entrepreneur built his corporation from nothing, but rumors abound about the shadiness of his rise to power and no one knows what secrets lurk in his past. Harper is the last person he should let into his life. As an investigative journalist, she's the one person who could expose his hidden origins. But Jacob knows things about Harper's past that make him irresistibly drawn to her. He wants nothing more than to make her his—and Jacob is a man who always gets what he wants...