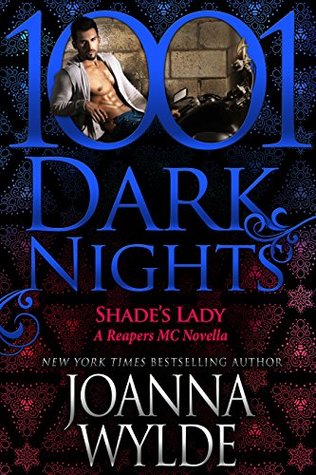 Shade's Lady
(Reapers MC #6.5)
by Joanna Wylde
Kindle Edition, 120 pages
Published March 14th 2017 by Evil Eye Concepts, Incorporated
ASINB01N1PJY8E
New York Times bestselling author Joanna Wylde returns to the world of the Reapers Motorcycle Club…

Looking back, none of this would've happened if I hadn't dropped my phone in the toilet. I mean, I could've walked away from him if I'd had it with me.

Or maybe not.

Maybe it was all over the first time he saw me, and he would've found another way. Probably—if there's one thing I've learned, it's that Shade always gets what he wants, and apparently he wanted me.

Right from the first.
Excerpt:
"You get to travel," I told him, frustrated. "In a few weeks or a month or whatever you'll leave this place. You'll go see things and do things, and for some reason you seem to have enough money to live on without taking a shitty job waiting tables."
Shade snorted. "Mandy, you don't wanna know how I get my money."
"Let me guess—it's bad?" I asked, rolling my eyes. "I'm starting to think I'm genetically incapable of being attracted to a good guy. No offense."
"None taken," he replied, offering a slow smile. "I'm not a good man. But I'm not a man who'll drag you down into the dirt, either. Or let you get caught up in club business. The Reapers have been around for a long time and we're real good at taking care of our people. I'm not sayin' I'll never need a getaway car, but if I do, I sure as shit won't trick my woman into driving it."
God, how was he so sexy when he was saying such terrible things? And that knowing, naughty look in his eyes...it wasn't fair.
"This is crazy," I said, trying hard not to smile back at him. "I need to get to work and you need to go do whatever it is that you do that may or may not involve getaway cars"
About Joanna Wylde:
Joanna Wylde started her writing career in journalism, working in two daily newspapers as both a reporter and editor. Her career has included many different jobs, from managing a homeless shelter to running her own freelance writing business, where she took on projects ranging from fundraising to ghostwriting for academics. During 2012 she got her first Kindle reader as a gift and discovered the indie writing revolution taking place online. Not long afterward she started cutting back her client list to work on Reaper's Property, her breakout book. It was published in January 2013, marking the beginning of a new career writing fiction.

Joanna lives in the mountains of northern Idaho with her family.