1st
Running Mate
by Katie Ashley
Published March 1st 2017 by Katie Ashley Productions
7th
Live Wire
(Nashville's Finest #1)
by Caisey Quinn
ebook
Expected publication: March 7th 2017 by InterMix
ISBN139780399585418
Caisey Quinn—author of the Neon Dreams romances—delivers the debut novel in an explosive new romantic suspense series...

HE'S NOT AFRAID OF ANYTHING…

Explosive ordinance disposal specialist Chase Fisk never breaks a sweat defusing even the most complicated of explosives. So when a homicidal maniac threatens to set off military-grade IEDs during Nashville's largest music festival, Chase is the man to take him down. But with the reappearance of a woman he thought was long dead, everything he thought he knew is blown away.

EXCEPT LOSING HER AGAIN.

FBI operative Vivien Montgomery is an enigma to everyone around her. So when a deadly threat lands her in Nashville and paired up with the only man she's ever loved, she isn't looking forward to an emotional reunion. She's only here to get the job done and get out. But when the madman behind the chaos targets her for death, the one man she left behind might be the only person she can count on to save her life...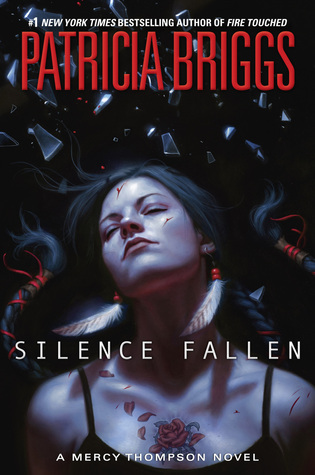 Silence Fallen
(Mercy Thompson #10)
by Patricia Briggs
Hardcover, 371 pages
Expected publication: March 7th 2017 by Ace Books
ISBN 0425281272
In the #1 New York Times bestselling Mercy Thompson novels, the coyote shapeshifter has found her voice in the werewolf pack. But when Mercy's bond with the pack and her mate is broken, she'll learn what it truly means to be alone...

Attacked and abducted in her home territory, Mercy finds herself in the clutches of the most powerful vampire in the world, taken as a weapon to use against alpha werewolf Adam and the ruler of the Tri-Cities vampires. In coyote form, Mercy escapes only to find herself without money, without clothing, and alone in the heart of Europe...

Unable to contact Adam and the rest of the pack, Mercy has allies to find and enemies to fight, and she needs to figure out which is which. Ancient powers stir, and Mercy must be her agile best to avoid causing a war between vampires and werewolves, and between werewolves and werewolves. And in the heart of the ancient city of Prague, old ghosts rise...
Flash of Fury
(Endgame Ops #1)
by Lea Griffith
Mass Market Paperback, 384 pages
Expected publication: March 7th 2017 by Sourcebooks Casablanca
ISBN 1492621714
Their spark is immediate

Kingston McNally lost men when someone betrayed his team, and now he's out for retribution. His quest for the enemy's courier leads him to Cameroon and Allie Redding, a petite Peace Corps volunteer as stubborn as she is brave. Their attraction is immediate, but Allie has secrets of her own...and she's not giving them up easily.

But their secrets could burn them both

Allie's life has been spent hiding in plain sight, but she's had enough of her cloak-and-dagger existence. On her way home, her plane is hijacked-and King saves her life. But that doesn't mean she owes him anything...even if he is the most damnably sexy man she's ever laid eyes on. He's got black ops and secrets written all over him, and trust is a two-way street.
ebook, 400 pages
Expected publication: March 7th 2017 by Entangled: Teen
ISBN 1633756076
Some secrets are best kept hidden…

Anastasia Phoenix has always been the odd girl out, whether moving from city to international city with her scientist parents or being the black belt who speaks four languages.

And most definitely as the orphan whose sister is missing, presumed dead.

She's the only one who believes Keira is still alive, and when new evidence surfaces, Anastasia sets out to follow the trail—and lands in the middle of a massive conspiracy. Now she isn't sure who she can trust. At her side is Marcus, the bad boy with a sexy accent who's as secretive as she is. He may have followed her to Rome to help, but something about him seems too good to be true.

Nothing is as it appears, and when everything she's ever known is revealed to be a lie, Anastasia has to believe in one impossibility.

She will find her sister.
How to Tame a Beast in Seven Days
(The Embraced #1)
by Kerrelyn Sparks
Mass Market Paperback, 416 pages
Expected publication: March 7th 2017 by St. Martin's Press
ISBN 1250108217
Luciana grew up on the Isle of Moon, hidden away because of her magical powers. But when her father arrives, he offers her a choice: remain on the island or return with him and marry the Beast of Benwick in order to save their legacy—and her father's life.

Lord Leofric, the Beast of Benwick, has not been touched since he was a child. Born with the power to harness lightning, he is a danger to everyone he touches. When he meets his betrothed, he expects a loveless, lonely marriage...until he discovers she's vastly more powerful than he realized. But is she strong enough to withstand his touch?

If they can survive, their love will alter the future of the kingdom. But will their extraordinary powers cost them everything?
Title
: Long Road Home
Author
: Marie Meyer
Format
: Paperback & eBook, 320 pgs
Published
: Mar. 7, 2017 by Forever Your's
Sometimes getting lost is the only way to find your way home . . .

I'm grateful for many things-my work, my apartment, my amazing friends. But after that night years ago, I'm left with an aching weight I can't escape. And it's keeping me from living and loving the way I desperately want. So when a ruggedly handsome cop pulls me over, I'm shocked by what just the sight of him does to me-stirring up feelings I didn't think were possible again.

Cayden Sinclair is undoubtedly one of the good guys. A former Marine who's so sexy I can't seem to keep my hands to myself. But there are things I'm not ready to share, things that could change everything between us. Cayden deserves to have the life he's always wanted-which means walking away from him. But I don't know if I'll ever find the strength to let him go . . .
Title
: Last Night with the Duke
Series
: The Rakes of St. James #1
Author
: Amelia Grey
Format
: Paperback & eBook, 304pgs
Published
: Mar. 7, 2017 by St. Martin's
ASIN
: B01KFWX6XU
Could finding love be his greatest scandal of all?

The Duke of Griffin has never lived down his reputation as one of the Rakes of St. James. Now rumors are swirling that his twin sisters may bear the brunt of his past follies. Hiring a competent chaperone is the only thing Griffin has on his mind--until he meets the lovely and intriguing Miss Esmeralda Swift. In ways he could never have expected, she arouses more than just his curiosity.

Esmeralda Swift considered herself too sensible to ever fall for a scoundrel, but that was before she met the irresistibly seductive Duke of Griffin. His employment offer proves too tempting for her to resist. She can't afford to be distracted by his devilish charms because the stakes are so high for his sisters' debut Season. . .unless one of London's most notorious rakes has had a change of heart and is ready to make Esmeralda his bride?
Title
: Deep Into Trouble
Series
: Unbroken Heroes #3
Author
: Dawn Ryder
Format
: Paperback & eBook 301pgs
Published
: Mar. 7, 2017 by St. Martin's
ASIN
: B01KFWOKNK
Desire is more dangerous than anything in Deep Into Trouble, the next Unbroken Heroes novel from Dawn Ryder.

Saxon Hale lives for the hunt--taking down the bad guys, stopping them dead in their tracks. His latest mission has him in New Orleans, where people go for the party that never ends. But fun is the last thing on Saxon's mind now that he's a breath away from closing in on a vicious overlord known only as the Raven. Until an innocent young woman unknowingly enters the very deadly game...

Ginger Boyce is a librarian who's growing tired of being so buttoned-up on the job, and when she attends a conference in the Big Easy, she decides to taste the wild side of life. But when her dance with darkness becomes lethal, she's in dire need of protection--and ends up in the embrace of a man who radiates danger and desire. Soon Saxon finds himself Ginger's shield against an enemy whose power they haven't yet begun to face. But will he be able to keep his mind on his mission while the very woman under his care drives him beyond distraction?
Title
: Traitor to the Throne
Series
: Rebel of the Sands #2
Author
: Alwyn Hamilton
Format
: eBook & Paperback 523pgs
Published
: Mar. 7, 2017 by Viking Books for Young Readers
ASIN
: B01H17UAFO
The sizzling, un-put-downable sequel to the bestselling Rebel of the Sands!

Mere months ago, gunslinger Amani al'Hiza fled her dead-end hometown on the back of a mythical horse with the mysterious foreigner Jin, seeking only her own freedom. Now she's fighting to liberate the entire desert nation of Miraji from a bloodthirsty sultan who slew his own father to capture the throne.

When Amani finds herself thrust into the epicenter of the regime—the Sultan's palace—she's determined to bring the tyrant down. Desperate to uncover the Sultan's secrets by spying on his court, she tries to forget that Jin disappeared just as she was getting closest to him, and that she's a prisoner of the enemy. But the longer she remains, the more she questions whether the Sultan is really the villain she's been told he is, and who's the real traitor to her sun-bleached, magic-filled homeland.

Forget everything you thought you knew about Miraji, about the rebellion, about djinni and Jin and the Blue-Eyed Bandit. In Traitor to the Throne, the only certainty is that everything will change.
Souljacker
(Lily Bound #1)
by Yasmine Galenorn
Paperback, 292 pages
Expected publication: March 7th 2017 by Diversion Publishing
ISBN 1682307018
Lily O'Connell, a succubus, has put her unique talents to work. She owns Lily Bound, an elite sex salon in the Blood Night District of Seattle. When a client turns up dead in her club, and she hears the news that the Souljacker--an old tattoo-artist friend-turned-vampire, who was institutionalized years before--has escaped to reclaim his "artwork," Lily knows she's next on his list. With one of his tattoos on her thigh and nowhere else to turn, Lily hires Archer Desmond, a chaos demon and PI, to track the vampire down before he tracks her. But she didn't expect to fall for Archer-and they say a succubus who falls in love will destroy the heart of the one she seeks to claim...
Her True Match
(X-Ops #6)
by Paige Tyler
Mass Market Paperback, 352 pages
Expected publication: March 7th 2017 by Sourcebooks Casablanca
ISBN 1492625922
After a long game of cat-and-mouse

Feline shifter Dreya Clark picks the wrong penthouse to rob and ends up arrested by sexy detective Braden Hayes. But Braden isn't the only one who's been watching the cat burglar. Agents from the Department of Covert Operations swoop in to offer her a deal. If she wants to stay out of jail, she'll have to work with them—and pair up with the hot cop. Great.

Danger throws this unlikely pair together

Braden isn't thrilled about the DCO meddling in his investigation. He's been chasing Dreya for years. Thrown together on a dangerous covert mission, fur flies and temperatures flare. But when danger closes in on them, their game of cat and mouse turns deadly-serious, and they'll have to rely on each other to make it out alive.
Ashwin
(Gideon's Riders #1)
by Kit Rocha
Expected publication: March 7th 2017
14th
Title
: Madly
Series
: New York #2
Author
: Ruthie Knox
Format
: eBook 274pgs
Published
: Mar. 14, 2017 by Loveswept
ASIN
: B00JNQKR8W
An impulsive trip to New York City, a heartthrob from London, and a scandalous to-do list turn a small-town girl's life upside down in this sultry romance from the New York Times bestselling author of Truly and About Last Night.

Allie Fredericks isn't supposed to be in Manhattan, hiding in the darkest corner of a hip bar, spying on her own mother—who's flirting with a man who's definitely not Allie's father. Allie's supposed to be in Wisconsin, planning her parents' milestone anniversary party. Then Winston Chamberlain walks through the door, with his tailored suit, British accent, and gorgeous eyes, and Allie's strange mission goes truly sideways.

Winston doesn't do messy. But after a pretty stranger ropes him into her ridiculous family drama with a fake kiss that gets a little too real, he finds out that messy can be fun. Maybe even a little addicting. And as the night grows longer, Allie and Winston make a list of other wild things they could do together—and what seems like a mismatch leads to a genuine connection. But can their relationship survive as their real lives implode just outside the bedroom door?
When the Marquess Falls
(The Hellions of Havisham #3.5)
by Lorraine Heath
ebook, 128 pages
Expected publication: March 14th 2017 by Avon Impulse
ISBN 0062496875
The long-anticipated and utterly extraordinary tale of the Mad Marquess that proves love truly does last forever

The Marquess of Marsden always follows the rules. Expected from birth to adhere to decades of tradition, he plans to marry a proper young woman from a good family. But when a beautiful, and completely unsuitable, woman snags his heart, he begins to realize that to get what you want, sometimes you have to break the rules.

Linnie Connor dreams of the independence of running her very own bakery. And while she may be allowed to be a marquess' childhood companion, the baker's daughter never ends up with the handsome nobleman. Determined to achieve at least one of her dreams, Linnie makes plans to leave her sleepy village for London, intent on purging him from her heart. And yet, when an invitation to the Marsden annual ball arrives, she can't refuse her one chance to waltz in his arms.

It will be a night that stirs the flames of forbidden desires and changes their lives forever.
Break Me
(Corrupted Hearts #2)
by Tiffany Snow
Kindle Edition, 316 pages
Expected publication: March 14th 2017 by Montlake Romance
ASINB01M7S793A
Just a few weeks ago, computer prodigy China Mack's typical night in involved Endor Star Wars pajamas and a sensible bedtime. Now she's dating gorgeous tech guru Jackson Cooper—one of Forbes's Top Ten Eligible Billionaires—much to the Twitterverse's delight.

Turns out, going from socially inept hermit to poster girl for geek chic has its challenges. China's relationship gets even more complicated because her role heading the top-secret Vigilance program—where she's partnered with Superman clone Clark Slattery—makes her a target. And when ruthless businessman Simon Lu plans to co-opt Vigilance software to blackmail government and military employees, he'll need China's cooperation—willing or otherwise.

But not every enemy is so easily identified. Some hide in plain sight, in very high places, and mistaking foe for friend could be the last mistake China ever makes…
15th
Beauty of the Beast
(Fairy Tale Retellings #1)
by Rachel L. Demeter
Kindle Edition, First Edition, 361 pages
Expected publication: March 15th 2017
ASINB01MUGRH44
Experience the world's most enchanting and timeless love story—retold with a dark and realistic twist.

A BEAST LIVING IN THE SHADOW OF HIS PAST

Reclusive and severely scarred Prince Adam Delacroix has remained hidden inside a secluded, decrepit castle ever since he witnessed his family's brutal massacre. Cloaked in shadow, with only the lamentations of past ghosts for company, he has abandoned all hope, allowing the world to believe he died on that tragic eve twenty-five years ago.

A BEAUTY IN PURSUIT OF A BETTER FUTURE

Caught in a fierce snowstorm, beautiful and strong-willed Isabelle Rose seeks shelter at a castle—unaware that its beastly and disfigured master is much more than he appears to be. When he imprisons her gravely ill and blind father, she bravely offers herself in his place.

BEAUTY AND THE BEAST

Stripped of his emotional defenses, Adam's humanity reawakens as he encounters a kindred soul in Isabelle. Together they will wade through darkness and discover beauty and passion in the most unlikely of places. But when a monster from Isabelle's former life threatens their new love, Demrov's forgotten prince must emerge from his shadows and face the world once more…

Perfect for fans of Beauty and the Beast and The Phantom of the Opera, Beauty of the Beast brings a familiar and well-loved fairy tale to life with a rich setting in the kingdom of Demrov and a captivating, Gothic voice.

Beauty of the Beast is the first standalone installment in a series of classic fairy tales reimagined with a dark and realistic twist.
Wild Surrender
by Tory Richards
ebook
Published March 15th 2017 by Smashwords Edition
ISBN139781370176151
Thomas shook his head to try to clear the sexual fog that he'd been in since meeting Julie. He opened the fridge, and reached for a beer. Then pulled the tab and took a long swig. The storm had stopped and he'd taken a quick shower before eating dinner. He'd turn in soon. He went to the window facing Julie's house and peered out, noticing the lights were on in her bedroom. And the window was open.

He started to turn away, until she came into full view of the window. What was she doing? Thomas got his answer when she began to shimmy out of her shorts. He sucked in his breath when he caught a glimpse of her lacy G-string. Jesus! His body was encased with instant heat. When her hands went to the hem of her T-shirt he all but held his breath. In slow motion, Julie lifted her shirt, exposing inch by inch of satiny skin until her breasts were bare. Thomas almost swallowed his tongue at the sight of those perfect, mouth-watering globes.

Dropping her shirt to the floor, she then ran her hands up her ribcage in a smooth caress, closing her eyes when she cupped her breasts before massaging them. His heart stopped. He glanced up to find she was looking in his direction. F**k. Me. With a half-smile on her pretty face. She knew he was watching. He smiled back before reaching to turn off the lamp.

Two can play at this game, honey.

Only when he played he planned on having her at his mercy.
20th
Title
: Hard to Protect
Series
: Hard to… #3
Author
: Incy Black
Format
: eBook, 259pgs
Published
: Mar. 20, 2017 by Entangled: Ignite
ASIN
: B06XC52RPT
Volcanic hot and ambitious Special Agent Will Berwick doesn't give a damn what his orders are; he's not taking the enemy—the lovely but arctic Dr. Angel Treherne—to bed. Oh, he'll root out her secrets, but on his own terms.

Caught up in a tangled web of deceit and betrayal, Angel trusts no one—certainly not alpha-cocky, cunning Will Berwick. First he's hostile, then he's charming. Why? What's he hiding? With her life on the line, she needs to know. Preferably without losing her heart in the process.
20th
A Moment of Madness
(Boston Alibi #2)
by Brooklyn Skye
ebook
Expected publication: March 20th 2017 by Entangled Publishing LLC
ISBN139781633758681
Sailor Carlson comes back to Boston to make amends with her dad, only to find he passed away, and his bar, the Alibi, now belongs to a bearded, grumpy hottie. Mr. Hottie liked her enough for a night of nameless sex on the kitchen counter, but he wants nothing to do with her now he knows who she is.

Ryan Edwards has been running the Alibi for seven years. Being in a bar night after night means he's no stranger to one-night stands. But when the quirky, beautiful blonde he spent a hot night with shows up at his bar claiming it used to belong to her father, his guard goes right up.

Ryan's desperate for a waitress, and Sailor wants a chance to work in the place that meant so much to her dad. If only the tenuous trust they establish were as strong as the pesky attraction simmering between them.
Make Me Beg
(Men of Gold Mountain #2)
by Rebecca Brooks
ebook, 249 pages
Expected publication: March 20th 2017 by Entangled Publishing: Brazen
ISBN139781633759053
Bartender Mackenzie Ellinsworth has always gone it alone. So when she has a chance to open her own bar and restaurant, she's got a plan for how it should go. Not in that plan: a ripped and rugged playboy stepping in to take over. Mack doesn't do players, and she doesn't do one-night stands. If Connor wants to work with Mack, he's going to have to keep his strong, sexy hands to himself.
Connor Branding is determined to prove he's not the directionless playboy Mack thinks. But opening a place together causes more problems than it solves. The two of them can't agree on anything—except how scorching hot their chemistry is. Connor may be ready to indulge every desire Mack's been denying herself...but turning business into pleasure is likely to get him burned.
21st
Title
: Hard Justice
Series
: Body Armor #2
Author
: Lori Foster
Format
: Paperback & eBook, 384pgs
Published
: Mar. 21, 2017 by HQN
ASIN
: B01GZUC754
Playing it safe has never felt so dangerous

Justice Wallington knows how to harness his strength and intimidating sizeskills he put to good use first in the MMA cage and now as a bodyguard at the Body Armor agency. But no opponent has ever left him feeling as off balance as his new client, heiress Fallon Wade. Far from a spoiled princess, she's sweet and intriguingly innocent. It's a risk-free assignment, until he's required to fake a relationship with her in order to blend in.

Sheltered from the world after a family tragedy, Fallon longs to experience lifegoing to bars, dancing, talking to strangers. Not easy with a huge, lethal-looking bodyguard shadowing her every move. Justice seems like her polar opposite, but pretending to be a couple stirs undeniable heat. And when danger strikes again, it's not just her safety in jeopardy, but a passion that's real, raw and absolutely against the rules
Bound Together
(Sea Haven/Sisters of the Heart #6)
by Christine Feehan
Mass Market Paperback, 1st edition
Expected publication: March 21st 2017 by Jove
ISBN 0399583939
For five years, Viktor Prakenskii has put his life on hold in order to take down the world's most feared motorcycle club from the inside. But carrying out the insane violence and seeing the club's exploitation of the innocent has brought his traumatic past roaring back. And there's only one cure: to see the wife he left behind...

Blythe Daniels thought she'd never see Viktor again after he murdered her stepfather and left without a word. She rebuilt her life without him, becoming a personal trainer and physical therapist...becoming strong enough for others to lean on. But when Viktor comes back to Sea Haven, he'll make Blythe question everything she thought she knew about good and evil—and the dark desires of the heart...
Wake A Sleeping Tiger
(Breeds #31)
by Lora Leigh
ebook, 352 pages
Expected publication: March 21st 2017 by Berkley
ISBN 1101612517
On a moonless Navajo night, the recessed Bengal Breed known only as Judd became Cullen Maverick, grandson to one of the Chiefs of the Six Tribes of the Native Americans.

Bengal genetics, usually so fierce as to be labeled primal, was recessed so deep inside Judd that no hint of it can be found. A phenomena so rare it's been notated only a few times. And there's no way, it's believed, to force those genetics free once they've disappeared past the genetic level.

Now, as commander of the Navajo Covert Law Enforcement Division in Window Rock, New Mexico, Cullen leads his six agents in protecting the treasures of the Navajo Tribes by ensuring they remain safely in Navajo possession.

Added to this mix is none other than the delicate Window Rock police detective determined to stick her pretty little nose in his business.

And once Cullen realized the animosity that keeps flaming between them is far more than he imagined, then the Primal Breed that's lurked inside him comes out to play. And when that beast decides to make itself known, Cullen suddenly remembers all the reasons it was better off sleeping.
27th
Hot for the Fireman
by Gina L. Maxwell
Kindle Edition
Expected publication: March 27th 2017 by Entangled: Select Contemporary
ASINB01MUG3CGR
Ex-Army Ranger Erik Grady lives for the job. So when his chief at the Boston Fire Department offers him two choices—mandated therapy for supposed PTSD or a permanent desk job at the station, he reluctantly agrees to see a shrink. Only this doctor is unlike anything he expected. Female and curved in all the right places? Check. Hotter than a four-alarm fire? Check. The kind of woman that can heat his blood in and out of bed? Check, check. And oh, yeah, he just happens to have first hand experience...

Of all the men to walk into psychologist Olivia Jones' office, why did it have to be him? Her one-night stand isn't playing by the rules of just. One. Night. She's had her heart broken in the past, and no way is she going there again. And now he's blackmailing her into three dates? Well, if that's what it takes to make him see a different therapist, fine. She can handle it. So what if the chemistry between them is combustible? She's a professional, damn it. She'll date Mr. I'm Too Sexy For My Bunker Pants. But it won't end in the fun he expects.

It's time to see how much heat this fireman can take...
28th
Kiss Marry Kill
(Iron Clad Security #1)
by Sidney Halston
Kindle Edition
Expected publication: March 28th 2017 by Swerve
ASINB01N02I98E
He's been chasing a memory . . .
It was just supposed to be a regular Thursday afternoon…and then he saw her. Sitting in seat L214, one seat over from his at the baseball game, right next to her douche of a soon-to-be-ex-boyfriend. An impromptu kiss for the kiss cam, and Jax knew his life would never be the same. Five years and a tour in Afghanistan later, Jax is back stateside running his own private security firm, Iron-Clad, with his best friend. He isn't the man he used to be... but Megan isn't the sexy and sweet, though sheltered, twenty-two-year-old he left behind, either. And she's in trouble.

...but now they're on the run.
Megan Cruz has made something of herself. She's turned her dreams of pop stardom into a reality. But when a deadly stalker breaks into her home claiming to be her number-one fan, the only person she can turn to is the boy who got away. But Jax isn't the same carefree charmer who stole her heart, then broke it when he joined the military. This man is seductive, hard, guarded. And he'll do anything to protect what's his.
After the Dark
(Killer Instinct #1)
by Cynthia Eden
Kindle Edition, 1st edition, 384 pages
Expected publication: March 28th 2017 by HQN Books
ASINB01GZTYPN2
In New York Times bestselling author Cynthia Eden's gripping new series, a disgraced FBI profiler must save her reputation by stopping a sadistic killer she knows all too well.

Former FBI agent Samantha Dark was one of the most respected profilers in the bureau, an expert on the twisted minds and dark hearts of the most depraved criminals. But when her own former lover turned out to be the serial killer she was hunting, Samantha's career was destroyed. Blamed for the FBI's failure on the complex case, Samantha fled Washington, DC, for the quiet anonymity of Alabama.

Now an all-too-familiar killer is hunting once again. She can catch the sadistic assassin, but that means putting her trust in her former partner, Blake Gamble. Ex-military, Blake is tough, protective, precise. With her entire life on the brink, she knows he wants her back in the FBI…and possibly more.

But someone else wants her, too. A threat is waiting in the dark, a killer who has set his sights on the ultimate trophy victim—Samantha.
Title
: An Extraordinary Union
Author
: Alyssa Cole
Format
: Paperback & eBook, 320pgs
Published
: Mar. 28, 2017 by Kensington
ASIN
: B01HWKM6H0
As the Civil War rages between the states, a courageous pair of spies plunge fearlessly into a maelstrom of ignorance, deceit, and danger, combining their unique skills to alter the course of history and break the chains of the past . . .

Elle Burns is a former slave with a passion for justice and an eidetic memory. Trading in her life of freedom in Massachusetts, she returns to the indignity of slavery in the South—to spy for the Union Army.

Malcolm McCall is a detective for Pinkerton's Secret Service. Subterfuge is his calling, but he's facing his deadliest mission yet—risking his life to infiltrate a Rebel enclave in Virginia.

Two undercover agents who share a common cause—and an undeniable attraction—Malcolm and Elle join forces when they discover a plot that could turn the tide of the war in the Confederacy's favor. Caught in a tightening web of wartime intrigue, and fighting a fiery and forbidden love, Malcolm and Elle must make their boldest move to preserve the Union at any cost—even if it means losing each other . . .
Title
: Holding Fire
Series
: Alpha Security #2
Author
: April Hunt
Format
: Paperback & eBook, 384pgs
Published
: Mar. 28, 2017 by HQN
ASIN
: B01HZFB1UA
MISSION IMPOSSIBLE

Alpha Security operative Trey Hanson is ready to settle down. When he meets a gorgeous blonde in a bar, and the connection between them is off the charts, he thinks he's finally found the one. But after their night together ends in a hail of gunfire and she disappears in the chaos, Trey's reasons for tracking her down are personal . . . until he learns she's his next assignment.

Elle Monroe never expected to see Trey again. The night they shared was incredible, but the last thing she's looking for is a relationship. Now that it's clear she's being targeted, though, she has no choice but to trust this man she barely knows with her life. And Trey's not just determined to keep her safe . . . he's determined to win her heart.
Title
: A Perfect Gentleman
Author
: Candace Camp
Format
: Paperback & eBook, 400pgs
Published
: Mar. 28, 2017 by Pocket Books
ASIN
: B01HMXRXL6
Forced to marry an American heiress to save his family, Graeme Parr, Earl of Montclair, vowed their marriage would be in name only. Abigail Price thought handsome, aristocratic Graeme was her knight in shining armor, rescuing her from her overbearing father. But when she was spurned by her husband on their wedding night, Abigail fled home to New York.

Now, years later, Abigail has returned. But this sophisticated, alluring woman is not the drab girl Graeme remembers. Appalled by her bold American ways but drawn to her beauty, Graeme follows her on a merry chase through London's elegant ballrooms to its dockside taverns—why is his wife back? What could she want of him now?

Torn between desire and suspicion, Graeme fears that Abby, like her unprincipled father, has a devious plan to ruin him. But is Abigail's true desire Graeme's destruction...or winning his love at last?
Immortal Unchained
(Argeneau #25)
by Lynsay Sands
Paperback, 400 pages
Expected publication: March 28th 2017 by Avon
ISBN 0062468847
Ever since Domitian Argenis recognized Sarita as his life mate, he's been waiting for the perfect moment to claim her. Those fantasies did not include him being chained to a table in a secret lab or both of them being held hostage by a mad scientist. Somehow, they have to escape…

Sarita has seen some crazy things as a cop, but nothing to rival Domitian. A vampire? Seriously? But his healing ability, incredible powers, and their mind-blowing physical connection—none of it should be possible, yet her body knows differently. Now, not only do they have to save each other, but other innocent lives are at stake. Failure is not an option, for Sarita intends that Domitian show her exactly what an eternity of pleasure feels like…
The Rescue
(The Morcai Battalion #4)
by Diana Palmer
Mass Market Paperback, 384 pages
Expected publication: March 28th 2017 by Harlequin Books
ISBN 0373789912
New York Times bestselling author Diana Palmer returns with the next edge-of-your-seat installment of The Morcai Battalion series.

Rhemun, commander of the Cehn-Tahr Holconcom, has worked tirelessly to get where he isand he's not going to let any human drag him back down. Especially not Lt. Commander Edris Mallory, whose very presence aboard the Morcai serves as a too-painful reminder of a past tragedy he can neither forgive nor forget.

But Mallory has secrets of her ownones she can't afford to see come to light. Frantic to protect herself, she flees, abandoning her position. When Rhemun learns of her devastating situation, he realizes the all-consuming feelings he's harbored for her may not be hatred. But in a vast universe rife with peril, is it already too late?
The Unyielding
(Call of Crows #3)
by Shelly Laurenston
ebook, 400 pages
Expected publication: March 28th 2017 by Kensington
Stieg Engstrom, Angriest Viking Ever, has got big problems. The human Viking Clans of earth are in danger of being obliterated—along with the rest of the world—and the only one who may be able to save them is a super pain-in-the-ass Crow. Most people annoy Stieg, but this is the one woman he really can't stand…

Erin Amsel loves being a Crow! Why wouldn't she when the other Viking Clans are so hilariously arrogant and humorless? She's not about to let all that come to an end! She just didn't expect to be shoulder to shoulder in battle with Stieg. Then again, he's so easy to torment—and also kind of cute.

With the future of the world riding on them, Stieg knows he'll have to put aside his desperate need to kiss the smirk right off Erin's face. Wait. What? He didn't mean that—did he? No! They have one goal: To conquer the idiots. Because nothing bugs Stieg more than when idiots win. If only he can keep himself from suddenly acting like one….
The Highland Duke
(Lords of the Highlands #1)
by Amy Jarecki
Paperback, 384 pages
Expected publication: March 28th 2017 by Forever
ISBN 1455597805
She'll put her life on the line for him . . .

When Akira Ayres finds the brawny Scot with a musket ball in his thigh, the healer has no qualms about doing whatever it takes to save his life. Even if it means fleeing with him across the Highlands to tend to his wounds while English redcoats are closing in. Though Akira is as fierce and brave as any of her clansmen, even she's intimidated by the fearsome, brutally handsome Highlander who refuses to reveal his name.

Yet she can never learn his true identity.

Geordie knows if Akira ever discovers he's the Duke of Gordon, both her life and his will be forfeit in a heartbeat. The only way to keep the lass safe is to ensure she's by his side day and night. But the longer he's with her, the harder it becomes to think of letting her go. Despite all their differences, despite the danger-he will face death itself to make her his . . .
Million Dollar Cowboy
(Cupid, Texas #5)
by Lori Wilde
Mass Market Paperback, 432 pages
Expected publication: March 28th 2017 by Avon
ISBN 0062468219
New York Times Bestselling Author Lori Wilde returns to Cupid, Texas with a heartwarming story of a cowboy who comes home to the family ranch for a wedding filled with surprises…

The illegitimate son of a Texas ranching dynasty, Ridge Lockhart left home ten years ago with one goal: to become more successful than the father who never accepted him.

Mission accomplished, but now he's back at the Silver Feather Ranch for a wedding—three days of best man duty until he can hightail it out. Then he spies Kaia Alzate, and suddenly leaving isn't quite so appealing.

Kaia Alzate grew up the daughter of the ranch foreman, servants to the mighty Lockharts in the mansion. Back then, she followed Ridge around like a puppy. Now, she's fighting the attraction she feels for this sexy CEO. She's determined not to make a big mistake—but when Ridge takes her in his arms she's stunned…could he be the man she's waited for all along?
Concealed
(Dark Alliance #2)
by Kate SeRine
Mass Market Paperback, 368 pages
Expected publication: March 28th 2017 by Kensington
ISBN 1420137794
As the only female initiate of the elite undercover society, the Dark Alliance, former FBI agent Madeleine Blake has a lot to prove—especially to her former lover, Alliance operative Jack Grayson. Ever since joining Jack's team, Maddie's been keeping her distance, trying not to relive every moment they shared during their brief but passionate affair. Yet when a mission ends in tragedy, Maddie's ready to walk away from the Alliance—and Jack—forever. That is, until Jack's cover is blown, putting his life in danger and making it impossible for Maddie to deny her true feelings…

Before he met Maddie, Jack Grayson thought happiness was impossible for a man like him. After all, he has a price on his head that requires him to live in the shadows, concealed from everyone and everything he cares about. But now that they're on the run for their lives and Jack has Maddie in his arms again, he realizes their love is the only thing in his life that's real. And this time, there's no way in hell he's letting it slip away…
We're giving away your choice of one of March's new book releases to one reader! To enter, just be a RBtWBC follower (We offer lots of follow options!) and fill out the Rafflecopter below. Good luck! *Book must be $7.99 or under and available on Amazon Kindle, winner's choice will be in kindle format.
a Rafflecopter giveaway