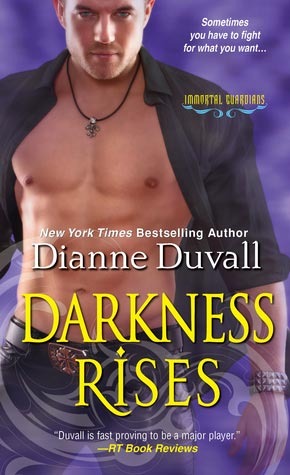 Title:
Darkness Rises
Series:
Immortal Guardians #4
Author:
Dianne Duvall
Format:
Mass Market Paperback, 403 pages
Published:
October 1st 2013 by Zebra (first published January 1st 2013)
ISBN:
1420129783
Links:
Goodreads
|
Amazon
|
B&N
Source:
Author
Reviewer:
Crystal
Rating:
4 out of 5 Wine Glasses
Krysta is used to getting the drop on vampires. Her "special abilities" aren't much, but the plan is simple--she plays helpless pretty young thing to lure them in. Then her shoto swords come out and it's bye-bye, bloodsucker. Until one night she finds herself with an unexpected ally. He's a vampire, all right, but different. Mysterious. Handsome. And more interested in saving her skin than draining it.

Etienne has been an Immortal Guardian for two hundred years--long enough to know that Krysta is special. He can't stop thinking about her long legs, even more than her short swords. Then he discovers the vamps she's exterminating have friends in high places, and the Guardians are in danger too. He'll have to accept Krysta's help to save them. The stakes for a mortal are high. But the cost to his heart might be higher. . .
Crystal's Thoughts:
With the return to the world of Dianne Duvall's incomparable Immortal Guardians, sparks fly and enemies fall when a vampire hunter and Immortal come face to face.
In the novella,
In Still Darkness
, Richart d'Alençon found his lady love in Jenna. Now it's his twin brother's turn in
Darkness Rises
... Etienne was mistakenly turned by his sister centuries ago when him and his brother tried to protect her after she was transformed by her late husband. Now he spends his nights as an Immortal Guardian, hunting down vampires - humans infected by the vampiric virus that eventually maddens them. Unlike Gifted Ones, who are born with unique abilities and an immunity to the brain damaging effects that turn vampires into psychotic killers. When Etienne happens upon a inebriated human being stalked by a group of vampires, he assumes it's just another night. Until said human turns the tables on the unsuspecting vampires and dispatches them all single handedly. Now Etienne can't stop thinking about the dangerous beauty, or the peril that she might find herself in. But Krysta can take care of herself, with the healing help of her brother Sean, and she's not going to let some "good vampire" get in between her and her self imposed duty of ridding the world of vampires.
Dianne Duvall delivers a sweeping story and engaging plot with
Darkness Rises
that I thoroughly enjoyed! When I began this story, I didn't think that I'd become too invested in the main couple since I never felt that pull of intrigue with Etienne like I did with some of the other IG characters. However, Etienne's fierce protectiveness and easy-going personality charmed me right away. Krysta herself, while maybe not one of my favorite heroines of the series, was a tough-talking, straight-shooting, kick-butt woman that I could easily get behind. I appreciated the fact that despite Etienne's fear and apprehension when it came to the danger that Krysta often put herself in, he never tried to hinder her in any way. He stood beside her through it all. These two were a joy to read about, I loved how much fun they had together.
As always, the author easily balances out the action and romance in this tale. The series arc continues to advance with multiple plot threads that enticed. There is a mysterious new threat to the Immortal Guardians which means additional scenes with Seth and David *fist pump*, I can not wait until we get the full story and happily-ever-after for these two alpha immortals. Humorous moments like the mysterious changing of Etienne's ring tone keeps the plot light and advancing. All in all,
Darkness Rises
makes a titillating addition to an already unique and vivid paranormal romance series. I dare you not to love an Immortal Guardians book!
Suggested Reading Order:
BOOK 1 Darkness Dawns
BOOK 2 Night Reigns
BOOK 3 Phantom Shadows
BOOK 3.5 In Still Darkness
BOOK 4 Darkness Rises
BOOK 5 Night Unbound
BOOK 5.5 Phantom Embrace
BOOK 6 Shadows Strike
BOOK 7 Blade of Darkness
BOOK 8 Awaken the Darkness
- coming July 10, 2018