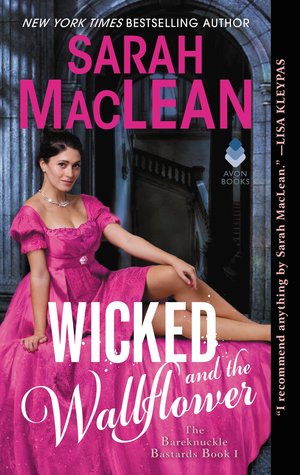 Title
: Wicked and the Wallflower
Series
: The Bareknuckle Bastards #1
Author
: Sarah MacLean
Format
: Paperback & eBook, 416 pgs
Published
: Jun. 19, 2018 by Avon
ASIN
: B071X41HT7
Links
:
Goodreads
|
Amazon
|
B&N
Source
: Edelweiss
Reviewer
: Kimberly
Rating
: 3 out of 5 Wine Glasses
When Wicked Comes Calling...

When a mysterious stranger finds his way into her bedchamber and offers his help in landing a duke, Lady Felicity Faircloth agrees—on one condition. She's seen enough of the world to believe in passion, and won't accept a marriage without it.

The Wallflower Makes a Dangerous Bargain...

Bastard son of a duke and king of London's dark streets, Devil has spent a lifetime wielding power and seizing opportunity, and the spinster wallflower is everything he needs to exact a revenge years in the making. All he must do is turn the plain little mouse into an irresistible temptress, set his trap, and destroy his enemy.

For the Promise of Passion...

But there's nothing plain about Felicity Faircloth, who quickly decides she'd rather have Devil than another. Soon, Devil's carefully laid plans are in chaos, and he must choose between everything he's ever wanted...and the only thing he's ever desired.
Kimberly's Thoughts
:
Felicity Faircloth is clinging to the edges of respectability and she is tired of it. Deciding to show her former friends that she is just as good, if not better than them, she tells a little white lie and claims she is betrothed to the Duke of Marwick.
Devil has never been respectable and doesn't care. What he does care for is a childhood pact, one the Duke of Marwick is looking to break.
Felicity gets caught up in a decades old feud and Devil finds himself in a trap of his own making.
"You are too late for the duke," she repeated, knowing, even as she spoke, that she must stop the words from coming. Except they were a runaway horse—loosed and free and wild. "Because I've already landed him."
First in The Bareknuckle Bastards series, you will recognize Felicity from The Day of the Duchess but everything else is a fresh introduction to this world MacLean has created. The background that holds this series together is three bastard brothers, a girl they call their sister, and the monster father that tried to pit them against each other. There is a flashback to show how Devil (Devon) gets together with his brothers and father but any other past happenings are either inner monologue from Devil or some reminiscing/discussion with Whit (Beast), Ewan (Duke of Marwick), and Dahlia (Grace). I actually would have preferred more flashback scenes of them together as children to get a better feel for their relationships and what happened to them as children. I imagine since this is a series, the author wants to keep some mystery for the other characters and events and thus why we get more of an outline in this one, but it did hurt the emotional impact of Devil's background.
No heirs was the rule. The only rule.
The plot is Devil threatening the Duke of Marwick to stop his search for a wife, which Marwick is only doing to get Devil and Whit to come out of the shadows and have them tell or reveal where Grace is. It is kept a bit shady but apparently Marwick threatened or is a danger to Grace. There is talk about how the children made a pact to never let their father win and they would never give him the heirs he was so desperate for to continue his line. By taking the title of Marwick, Ewan fought "for" his father and the other kids ran away to save themselves. There is talk about Grace and Ewan loving each other, more than a brother sister relationship Devil and Whit seem to have with her, but Devil seems to think he must keep Grace away from Ewan for her safety. Felicity walks into their battle when she declares to be betrothed to Marwick, giving Marwick more validity that he is willing to get married and heirs if they don't tell him where Grace is. Devil decides to create a plan where he seduces Felicity and get her to break the betrothal, showing Ewan he will always be there to ruin his plans.
He took a step away from her, rubbing the back of one hand over his lips. He shook his head. "Christ. You'll burn me down."
Devil inevitably finds himself captivated by Felicity and falling in love with her but incessantly thinking he is not good enough for her. There is a lot of talk about how Devil is dark, from the darkness, dwells in the darkness, etc. but, as with a majority of the story, it is a lot of telling and not showing. Our couple meets up right away in the story and I kind of missed getting to know them outside of their developing relationship. Felicity was the stronger character for me and I liked her emerging, building of confidence, and self-actualization but her relationship with her family felt a bit whiffed on and she pretty much is all in with Devil right away. Devil begins to feel a bit silly and repetitive with his supposed darkness, lusting, and "I'm not good enough for her." They have fun banter in the beginning but I just never felt like I "knew" them and therefore their chemistry was lacking for me.
It was him. Here. In her bedchamber. As though it were perfectly normal.
The set-up with MacLean's characters and relationships is promising but the emotional impact, possibly because of a shallow look at their childhood here, was not really there. There is a little bit of cheese factor too, with the supposed darkness of Devil and how he and his brother run their rookery. Devil's brother "Beast" does a lot, and I mean a lot, of grunting, it becomes rather silly after a while but he seems interesting with his underground fighting. Grace probably shined the most with her personality, ownership of a for women bordello, and only one to point out that holding onto a pact made in childhood may not be completely mature in adulthood; I do find myself very curious about her and Ewan's relationship. Overall, this started off as fun escapism with the good girl wanting to go rogue and the Devil encouraging her but losing his thought to be nonexistent heart. As it went on though, it never developed the depth and emotion I look for and ended up feeling like window dressing with not a lot to back up the pretty cover.
"You should not have come."
She swallowed, refusing to let him win. "Why not?"
"Because it is dangerous," he said quietly, sending a shiver of belief through her. "Because the rookeries are no place for pretty girls with a breathless anticipation of adventure."