Finding the Meaning of Your Dreams
I have extremely vivid dreams at night. So vivid they often seem real to me. As you can imagine I've been fascinated with dreams my entire life. One of the great joys I have in my job as a mental health counselor is working with clients to uncover what their nightly dreams are really about.
Here's some of the things I use to help clients find the meaning of their dreams…
*Generally, when we sleep deeply and don't dream that's an indication that our body is tired. When we dream intensely all night long, it's usually an indicator that our mind is stressed or we are mentally exhausted.
*Always record your dreams in as much detail as possible. Do this for a few weeks/months. Then go back and look for themes. Similarities. Patterns. You might be surprised at what you find.
*Don't always think the dream is about what it seems to be about. Look for a deeper meaning. For example, awhile back I dreamed that three lions were chasing me as I ran across a field. That dream was not about me being afraid of lions. The dream ultimately was about me being stressed by three people who I kept trying to withdraw from and who wouldn't let me go.
*Ask yourself how you felt emotionally during the dream and when you woke up. Your emotions are a better indicator to what the dream is really about than what actually happened in the dream! Stick with the emotions. Always.
*Never use a dream interpretation book. Different objects mean different things to different people. Period. I hate watermelon, so a dream about watermelon would represent something negative to me. But if you love watermelon then that dream might represent something fabulous.
*Find a good dream therapist. Yes. Dream therapists really do exist. But if you can't find one or afford one, find a friend who is super-talented at talking about dreams. Usually, I talk with my friend Naomi. She never tells me what my dream was about, but asks enough questions that I start to find the thread of meaning myself.
*Sometimes dreams are healing. Recognize them. Embrace them. After my beloved Grandma died, I loved falling asleep at night because I would dream about her. Every night I would get to hug her and smell her perfume. Those dreams helped me cope with her loss.
*Other times a dream is just a dream. Sometimes that catsup bottle in your dream really just stands for the catsup you squeezed on your hotdog earlier in the day. Our brains are funny that way.
Is it any wonder that I write books about women whose dreams possess special powers?
Published December 6th 2016 by Sourcebooks Casablanca
Out of darkness and danger...





You can't hide your secrets from Lathan Montgomery—he can read your darkest memories. And while his special abilities are invaluable in the FBI's hunt for a serial killer, he has no way to avoid the pain that brings him. Until he is drawn to courageous, down-on-her-luck Evanee Brown and finds himself able to offer her something he's never offered another human being: himself.





Dawns a unique and powerful love





Nightmares are nothing new to Evanee Brown. But once she meets Lathan, they plummet into the realm of the macabre. Murder victims are reaching from beyond the grave to give Evanee evidence that could help Lathan bring a terrifying killer to justice. Together, they could forge an indomitable partnership to thwart violence, abuse, and death—if they survive the forces that seek to tear them apart.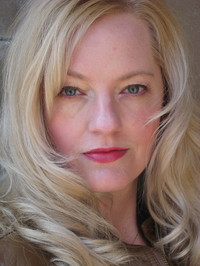 Abbie Roads is a mental health counselor known for her blunt, honest style of therapy. By night she writes dark, emotional novels, always giving her characters the happy ending she wishes for all her clients. Her novels have finaled in RWA contests including the Golden Heart. Race the Darkness is the first book in the Fatal Dreams series of dark, gritty romantic suspense with a psychological twist.






Tour-Wide Giveaway:
a Rafflecopter giveaway