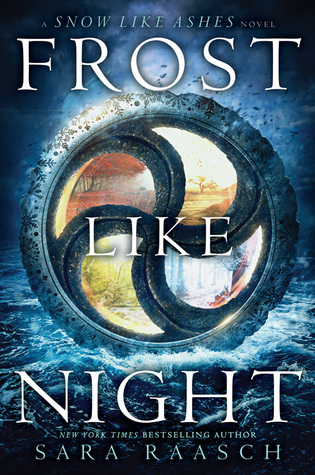 Title
: Frost Like Night
Series
: Snow Like Ashes #3
Author
: Sara Raasch
Format
: Hardcover, 496 Pages
Published
: Balzer + Bray (September 20, 2016)
ISBN
-10: 0062286986
ISBN
-13: 978-0062286987
Links
:
Goodreads
|
Amazon
|
B&N
Reviewer
: Linda
Source
: Library
Rating
: 4 1/2 out of 5 Wine Glasses
Angra is alive, his Decay is spreading—and no one is safe.

Meira will do anything to save her world. With Angra trying to break through her mental defenses, she desperately needs to learn to control her own magic—so when the leader of a mysterious Order from Paisly offers to teach her, she jumps at the chance. But the true solution to stopping the Decay lies in a labyrinth deep beneath the Season Kingdoms. To defeat Angra, Meira will have to enter the labyrinth, destroy the very magic she's learning to control—and make the biggest sacrifice of all.

Mather will do anything to save his queen. He needs to rally the Children of the Thaw, find Meira—and finally tell her how he really feels. But with a plan of attack that leaves no kingdom unscathed and a major betrayal within their ranks, winning the war—and protecting Meira—slips farther and farther out of reach.

Ceridwen will do anything to save her people. Angra had her brother killed, stole her kingdom, and made her a prisoner. But when she's freed by an unexpected ally who reveals a shocking truth behind Summer's slave trade, Ceridwen must take action to save her true love and her kingdom, even if it costs her what little she has left.

As Angra unleashes the Decay on the world, Meira, Mather, and Ceridwen must bring the kingdoms of Primoria together…or lose everything.
Linda's Thoughts:
"I'm asking you to love me and let me... die."
Frost Like Night by Sara Raasch is the perfectly fitting and highly satisfying conclusion of the author's Snow Like Ashes trilogy. I have literally inhaled this trilogy since the very beginning. Sara's writing is vivid; the realm settings- the four Seasons and the four Rhythms - have been fantastically different, mesmerizing, beautiful and, at times, scary; the villains have been terrifying; the story-line spanning the three books has been well-plotted and addictive. This installment is action-packed with danger at every turn, but there's also an underlying theme of love and forgiveness and of doing what-is-right.
This is a series that you absolutely must read in order. I've read it in order – but, with the time lapse between releases - I have struggled at times remembering all the prior intricate plot details. I cannot fathom reading this book without having read the previous two. You would be hopelessly lost. Actually, anyone starting this series now has it made as they can read it straight-through. I would recommend binging on it!
Once, again, the story is told in multiple points of view – Meira's, Mather's and Ceridwen's this time around. I like that we get into each of their heads and know, not only what they say, but what they think and feel. The technique works very well to allow readers to understand the story from each of their perspectives.
Frost Like Night picks up right where Ice Like Fire ended. Angra is not dead and his fight for control of Primoria is at full throttle. He has already infected many of the monarchs of Primoria with his Decay. He wants Meira, the Winter Queen, badly. She is in his sights and he will not stop until he has her in his clutches. However, Meira is receiving assistance with using and controlling her magic from the Order of the Lustrate, an unlikely and unexpected source. The mission is now clear. Meira, Mather, Ceridwen and their allies are irrevocably intertwined and united in risking everything they hold dear to destroy the magic chasm before Angra can utilize it to destroy the world.
There is more romance in this book than in the prior two books combined and I ate it up! Thankfully, the love triangle has dissipated with Theron's betrayal. Mather is sweet, strong and supportive of Meira. They grew up together as children and have weathered many storms including role reversals.
Following please find a few of my favorite quotes from Frost Like Night:
"Every moment we have is one more moment that can't be taken from us."
---
"She drew a breath and her lips parted in two words that rebounded through his body.
"Kiss me," she said.
So he did the only thing he could do..."
---
"No apologies. No matter what happens, I will never, not in a thousand tragic outcomes, ever regret loving you."
---
"Angra wanted to break me.
But he only made me unbreakable."
This third book is first and foremost a journey of self-discovery. The characters must uncover their pasts to accept their destinies; they must accept their imperfections and the consequences of their actions and those of others. They must learn to live in the moment, to rediscover hope and to love themselves while opening up to be loved. It's sad when a series you love comes to an end, but this book has ended perfectly with a perfect blend of romance, adventure and magical fantasy. All loose ends have been given their tidy bow. THANK YOU, Sara Raasch!
Suggested Reading Order:
Snow Like Ashes (Book #1)
Ice Like Fire (Book #2)
Frost Like Night (Book #3)