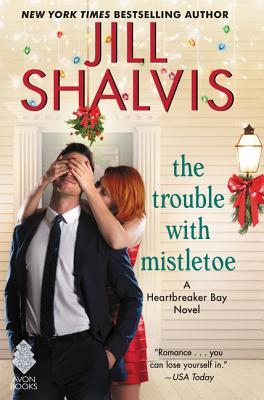 Title
: The Trouble With Mistletoe
Series
: Heartbreaker Bay, Book 2
Author
: Jill Shalvis
Narrator
: Karen White
Format
: Unabridged Audiobook, 10 hours, 2 minutes
Published
: HarperCollins Publishers/Harper Audio, 27 Sept 2016
ISBN
: ISBN-10: 1441738649
ISBN
-13: 978-1441738646
Links
:
Goodreads
|
Amazon
|
B&N
|
Audible
Reviewer
: Linda
Source
: Audiobooks.com
Rating
: 5 out of 5 Wine Glasses
If she has her way ...

Willa Davis is wrangling puppies when Keane Winters stalks into her pet shop with frustration in his chocolate-brown eyes and a pink bedazzled cat carrier in his hand. He needs a kitty sitter, stat. But the last thing Willa needs is to rescue a guy who doesn't even remember her ...

He'll get nothing but coal in his stocking.

Saddled with his great-aunt's Feline from Hell, Keane is desperate to leave her in someone else's capable hands. But in spite of the fact that he's sure he's never seen the drop-dead-gorgeous pet shop owner before, she seems to be mad at him ...

Unless he tempers "naughty" with a special kind of nice ...

Willa can't deny that Keane's changed since high school: he's less arrogant, for one thing—but can she trust him not to break her heart again? It's time to throw a coin in the fountain, make a Christmas wish—and let the mistletoe do its work ...
Linda's Thoughts:
"Who's a good boy," Willa was saying to the dog in a light, silly voice that had the dog panting happily into her face.
"That's right," she cooed, "you are, aren't you? Aren't you a good boy?"
"Well I don't like to brag," Keane said, leaning against the doorjamb. "But I do have my moments."
The Trouble With Mistletoe is a delightful contemporary holiday romance from Jill Shalvis. It's the second book in Jill's Heartbreaker Bay series set in the San Francisco Bay area, but it can easily be fully enjoyed as a stand-alone read if that is your preference. The series features a close-knit group of friends who look out for each other no matter what. In The Trouble With Mistletoe, readers get to catch up with the entire gang, but this story focuses on Willa Davis, the owner of South Bark Mutt Shop, and a newcomer, Keane Winters.
Keane and Willa go way back to high school. She was penniless in foster care; he was a well-heeled sexy jock who stood her up. She remembers; he doesn't. She has a frosty attitude; he doesn't understand why she doesn't like him. Neither wants to become attached or make a commitment. However, PITA, a rather ornery kitty, puts Keane squarely in a messy pickle and readers can thank that cat for being the happenstance responsible for Keane and Willa running into each other years later.
I loved Keane! He's a great guy. He had never thought that he wanted love in his life – but he fell hard for Willa before he even knew what hit him. I enjoyed the dynamics between Keane and Willa's protective circle of friends. Willa is an awesome character. She's a giver with a super-soft heart. But, that doesn't keep her from holding a grudge for a long time as Keane ruefully discovers. I really liked that while Keane and Willa had issues to work through; the angst level was actually relatively low in this read.
You should know that I'm not normally a cat person, but PITA stole my heart. Keane is tasked with serving as PITA's care-taker at his Aunt's request. But, keeping up with PITA proves to be quite challenging. PITA isn't actually her real name, but you're going to have to read the story to get the veritable scoop. Just know that PITA is an adorable diva – and you're going to love her.
Following please find a few of my favorite quotes from The Trouble With Mistletoe:
"...five minutes later she and Keane walked out to his truck. He set the cat carrier carefully in the backseat like maybe it was a ticking bomb but made her smile when he hesitated and then locked a seatbelt around it.
When he caught her watching, he shrugged. "She's just ornery enough to knock herself off the seat and die and then come back to haunt me, so I'm taking all necessary precautions."
---
"Maybe I've already died and gone to heaven."
She lifted her hand with a smile. "You think this is heaven?"
"You're touching and kissing me," he said. "So yeah, I think this is heaven."
---
"The kiss started out gentle, but quickly got serious and not so gentle. His lips parted hers, their tongues touched, and she heard herself moan. His hot mouth left hers and made its way along her jaw, her throat, where he planted open-mouthed kisses that made her shiver for more. If she hadn't been sitting, her knees wouldn't have held her up, because he kissed away her annoyance, her good sense, any ability to think, everything."
Karen White aced the narration of this tale. There's absolutely nothing that falls short with her performance. She delivered genuine-sounding female and male voices that remained consistent through-out making it very easy to differentiate between the characters. She has her cat meows down to a fine science and I found myself laughing more than once at how realistic the animals sounded. There's no doubt that her rendition exponentially enhances the entertainment value of the story. Karen is one of my very favorite narrators.
This marks the first time I've ever used audiobooks.com. They have a large selection of audiobooks to peruse. The application was easy to set up on my android phone. Everything worked like a charm. I'm thrilled to have discovered audiobooks.com and look forward to utilizing them again soon.
A DOUBLE CHRISTMAS DELIGHT NOTICE! This book sets up an additional festive treat in this series this year in the form of a holiday novella, One Snowy Night. It will be Rory and Max's road trip story. I confess that I have already listened to it - and it's wonderful too! Expect my review of it soon!
I know that when I pick up a Jill Shalvis book, that I'm in for a good time from start to finish. The Trouble With Mistletoe is a perfect holiday read. It has something for everyone: crisp storytelling, a sizzling romance, a healthy dose of humor, loads of Christmas cheer, and lots of sweet. Celebrating the holidays with Willa, Keane, PITA and their circle of friends adds an extra layer of fun and excitement! After inhaling these first two Heartbreaker Bay books, they feel like my friends too. I really, really, really want to live in Heartbreaker Bay and wish in that magical fountain!
Suggested Reading Order:
Sweet Little Lies (Book #1)
The Trouble With Mistletoe (Book #2)
One Snowy Night (Book #2.5)
Accidentally On Purpose (Book #3)