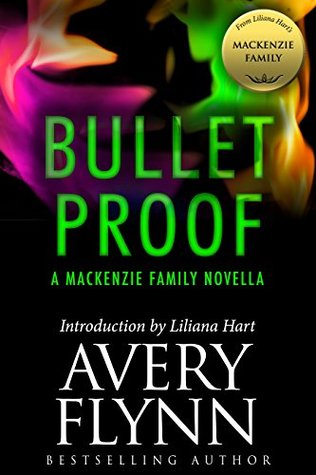 Title
: BULLET PROOF: A MacKenzie Family Novella
Series
: MacKenzie World #2
Author
: Avery Flynn
Format
: Kindle, 96 Pages
Published
: Evil Eye Concepts, Incorporated (February 16, 2016)
ISBN
: ASIN: B018HQUYZ4
Links
:
Goodreads
|
Amazon
|
B&N
Reviewer
: Linda
Source
: NetGalley
Rating
: 3 1/2 out of 5 Wine Glasses
From Liliana Hart's New York Times bestselling MacKenzie family comes a new story by best-selling author Avery Flynn...

"Being one of the good guys is not my thing."

Bianca Sutherland isn't at an exclusive Eyes-Wide-Shut style orgy for the orgasms. She's there because the only clue to her friend's disappearance is a photo of a painting hanging somewhere in Bisu Manor. Determined to find her missing friend when no one else will, she expects trouble when she cons her way into the party—but not in the form of a so-hot-he-turns-your-panties-to-ash former boxer.

Taz Hazard's only concern is looking out for himself and he has no intention of changing his ways until he finds sexy-as-sin Bianca at the most notorious mansion in Ft. Worth. Now, he's tangled up in a missing person case tied into a powerful new drug about to flood the streets, if they can't find a way to stop it before its too late. Taking on a drug cartel isn't safe, but when passion ignites between them Taz and Bianca discover their hearts aren't bulletproof either.
Linda's Thoughts:

He'd started falling for her the moment she walked into Devil's Dip Gym. She'd KO'd him and there was no going back.

BULLET PROOF is a very sexy romantic suspense read! While it was a quick read, the story didn't lack in the telling in the least with well-developed characters and an engrossing mystery. This is the tale of ultra-rich heiress Bianca Sutherland and gym owner Taz Hazard as Bianca will stop at nothing to find Gidget, her missing friend.

Gidget is missing and Bianca isn't about to leave one of her sisters from St. Bernadette's Academy for Young Ladies, known by the students as 'St. B's Reform School for Rich Bitches Who Done Wrong', behind, even if she hadn't seen her for years. All signs point to a drug cartel being involved in Gidget's disappearance. Regardless, Bianca is determined to find her, no matter what it takes.

To that end, she first determinedly undertakes a makeover to become a worthy combatant in a project nicknamed 'Operation-Make-Bianca-A-Bulletproof-Badass.' This step requires an awesome trainer and Devil's Dip Gym run by one hard Tax Hazard fit the bill perfectly. Taz agrees to take her on as a client supposedly to allow Bianca to obtain her state private investigation and security contractor license. But neither she, nor he, planned on their off-the-charts chemistry. Be forewarned that you should have a fan and a cold drink nearby when the couple attends a high-end orgy as the story opens. It only gets hotter from there...

Following please find a few of my favorite quotes from this hot read:

"It's a small closet."...

"It's a walk-in the size of Rhode Island," he teased...

"Isn't that just like a man to exaggerate the size of something?" ---


"I was wrong." Taz whispered against her soft skin as he tried to process what in the hell was going on with him. "It's not me that's dangerous, it's you." ---


With deliberate slowness, he trailed a finger from the inside of her calf to the middle of her inner thigh. "Don't you dare move."

"You're so bossy."

"My bed, my rules."

There wasn't a dull moment in this book. The couple's bantering was both scintillating and fun. While this installment is a MacKenzie family novella, it's also a prequel for Avery's new series, the B-Squad. You do not need to have read the MacKenzie series to enjoy it. Now, I can't wait to read more about Bianca's new private investigation company in BRAZEN, B-Squad Book #1!