Tuesday April 23, 2019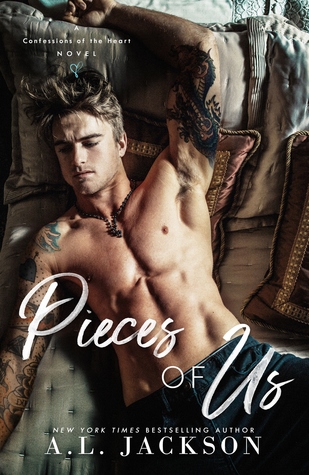 Pieces of Us
(Confessions of the Heart #3)
by A.L. Jackson
Kindle Edition
Published April 22nd 2019
Maxon Chambers has a way of stealing all the attention.
All my affection, and all my dreams.
What I needed to remember was he'd stolen my good judgment and my virginity, too.

When he broke up with me, I ran across the country and swore I'd never return to Broadshire Rim.
But here I am, thirteen years later.

Maxon is all grown up.
Sexier than sin and more tempting than ever.
A detective on the Charleston force, he lives on the outside of safety, devoted to protecting the people of his city.
But with the way he's looking at me now? I'm pretty sure what needs protecting is my heart.

Can we mend the pieces of us? Or will he leave my heart shattered forever . . .
Make Me Give In
(Omega Celibacy Club #1)
by Angel Knots
Kindle Edition, 292 pages
Published April 22nd 2019
ASINB07QTZ9GV5
Welcome to the Omega Celibacy Club. No sex until graduation. No unexpected pregnancies. No alphas needed.

SIMON
Even if it's not politically correct to say so anymore, everyone still knows that alphas and omegas are ruled by their biology. Sure, it's the twenty-first century now and most people have given up believing in archaic ideas like fated mates, but just take a look at college drop out rates and you'll see that some things haven't changed at all. Alphas still dominate, omegas still submit, and horny college kids in heat let their hormones dictate poor choices every day.

Not me and my roommates, though. Not if I have anything to say about it. Too many of our classmates here at Preston College have gotten knocked up and then dropped out. Given up their goals and dreams just because they've met an alpha with a big… ego. The point here is that there's only one surefire way to avoid that trap, and that's why I started the Omega Celibacy Club. No sex until graduation. No unexpected pregnancies. No alphas needed.

And no, I'm not just saying that because I've been hung up on one particular alpha for approximately ever. I'm totally over Hunter King. I mean, not that there was ever anything to get over. Our families have been friends forever and he dated my sister back when I was still just a kid, but even if me and my right hand may have pined for him once upon a time, I barely ever think of him anymore.

I mean never. I never think of him anymore.

Did I mention I'm over it?

HUNTER
Weddings are a great place to get laid, but when I show up for my ex's big day, I'm hoping to get a lot more than that. I've never admitted it, but the reason I broke up with her all those years ago was because of her brother. One look at little Simon Lawson and I was a goner. Of course I didn't say anything though, not back then. I didn't touch him. Always kept my distance. I had to, because he was just a kid… but he's all grown up now.

I've bided my time for years, but now I'm ready to see if the feeling is mutual. And if it is, I know exactly what I want. I want Simon. I want a family. And I want it forever. And even though I've never been the kind of alpha who imposes his will on omegas, when I finally realize just what it is that my omega needs, I know I'll do anything at all to make that forever happen.

In fact, I'll do everything.
Pride Before the Fall: Reverse Harem Urban Fantasy
(Gesa's Menagerie Book 4)
by Kaye Draper
Kindle Edition, 161 pages
Published April 22nd 2019
ASINB07QCJ6ZDY
Family reunions suck.

When the thing that birthed her drags Gesa back to the gryphon clan using her sister's illness as bait, Gesa and her harem find themselves breaking out of an asylum and fleeing assassins—without really knowing who the creeps are even targeting. After all, there are so many options to choose from on the list of people who want Gesa or her lovers dead.

But the trouble doesn't stop when she leaves clan lands. Oisin's been hiding someone, and Gesa doesn't like unexpected visitors. Meanwhile, Hisashi is struggling with unwanted messages from the spirit world, and Kaimana might not be what she seems.

And people wonder why Gesa doesn't want to deal with a pride.
Commander's Trade: A SciFi Alien Romance
(Commanders of the Iti Book 2)
by Diana Logan
Kindle Edition, 232 pages
Published April 22nd 2019 by Word for Word
ASINB07PZ8TLRL
He's an alien king with a literal sex drive... I can't exactly ask him to put on a shirt.

Katy has been enjoying her time aboard the palatial Iti flagship, especially since drop-dead gorgeous Commander Grix's quest to reunite his people requires the two of them to spend a lot of time together, figuring out the secrets of the squeeze chamber...with deeply delightful results.

But when their journey brings them to a ship full of desperate Iti, the chance to save them may mean losing everything, including each other.

She's been abducted by aliens…
She's run away with an exiled king…
Now Katy is about to face the greatest test of all:

…COMMANDER'S TRADE
The Austen Playbook
(London Celebrities #4)
by Lucy Parker
Kindle Edition, 400 pages
Published April 22nd 2019 by Carina Press
Freddy Carlton knows she should be focusing on her lines for The Austen Playbook, a live-action TV event where viewers choose the outcome of each scene, but her concentration's been blown. The palatial estate housing the endeavor is now run by the rude (brilliant) critic who's consistently slammed her performances of late. James "Griff" Ford-Griffin has a penchant for sarcasm, a majestic nose and all the sensitivity of a sledgehammer.

She can't take her eyes off him.

Griff can hardly focus with a contagious joy fairy flitting about near him, especially when Freddy looks at him like that. His only concern right now should be on shutting down his younger brother's well-intentioned (disastrous) schemes—or at the very least on the production (not this one) that might save his family home from the banks.

Instead all he can think of is soft skin and vibrant curls.

As he's reluctantly dragged into her quest to rediscover her passion for the stage and Freddy is drawn into his research on a legendary theater star, the adage about appearances being deceiving proves abundantly true. It's the unlikely start of something enormous…but a single revelation about the past could derail it all.
The Trouble With Vampires
(Argeneau #29)
by Lynsay Sands
Kindle Edition, 384 pages
Published April 23rd 2019 by Avon
ASINB07C67Q8D6
For close to three thousand years the imposing, impossibly handsome Santo Notte has fought in armies across the world and battled his own, more personal enemies. Of all the places he might expect to encounter his life mate, a quiet corner of upstate New York doesn't seem likely. But as soon as he makes contact with history professor Petronella Stone, while hunting down a suspected rogue immortal, he knows that she will be the greatest adventure of his eternal life.

He expects her to be surprised, confused, even overwhelmed. What he doesn't expect is that Pet has a secret history of her own. There's no mistaking the mind-blowing, mutual pleasure they share. But as Pet struggles to protect her nephew from a danger lurking too close to home, Santo realizes there's another threat to her safety—him. And claiming their passionate future will be impossible until he leaves his past behind, forever…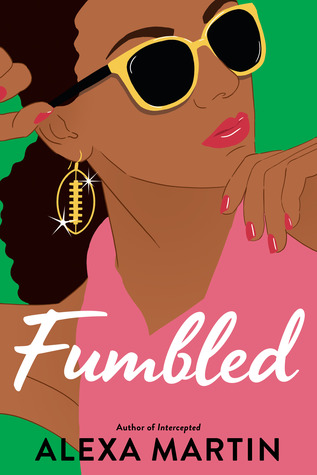 Fumbled
(Playbook #2)
by Alexa Martin
Kindle Edition, 336 pages
Published April 23rd 2019 by Berkley
ASINB07F5Y8684
A second chance doesn't guarantee a touchdown in this new contemporary romance from the author of Intercepted.

Single-mother Poppy Patterson moved across the country when she was sixteen and pregnant to find a new normal. After years of hard work, she's built a life she loves. It may include a job at a nightclub, weekend soccer games, and more stretch marks than she anticipated, but it's all hers, and nobody can take that away. Well, except for one person.

TK Moore, the starting wide receiver for the Denver Mustangs, dreamt his entire life about being in the NFL. His world is football, parties, and women. Maybe at one point he thought his future would play out with his high school sweetheart by his side, but Poppy is long gone and he's moved on.

When Poppy and TK cross paths in the most unlikely of places, emotions they've suppressed for years come rushing back. But with all the secrets they never told each other lying between them, they'll need more than a dating playbook to help them navigate their relationship.
Kneel Down
(Nailed Down #3)
by Chelle Bliss, Eden Butler
Kindle Edition, 1st Edition, 201 pages
Published April 23rd 2019 by Bliss Ink LLC
ASINB07PFZ5BY2
My job as a SEAL was to go in and save the day.
But even heroes fall. Even heroes make mistakes.

My only saving grace was Gin Sullivan.
My knock out best friend who wasn't afraid to tell me the truth even when it hurt. She'd pick me up when I was wallowing in my own stupidity.

It wasn't hard for me to fall for her.
Any man would.
She was beautiful.
She was smart.
She was everything I'd ever wanted.

I had plans to tell her that, squash the pinning we'd both done for two years.
But a bullet to the gut silenced me and Gin got tired of waiting.

Now I have a new mission, one that I can't fail:
Do whatever it takes to make Gin mine forever.
Rescuing Macie
(Delta Force Heroes #9.5)
by Susan Stoker
Kindle Edition, 120 pages
Published April 23rd 2019 by Evil Eye Concepts, Incorporated
ASINB07HCQ8TBT
From New York Times and USA Today bestselling author Susan Stoker comes a new story in her Delta Force Heroes series…

After years of estrangement, Mercedes Laughlin has finally reconciled with her older brother. It should be the happiest time of her life, getting to know Truck and his new wife…and it would be, if an ex wasn't causing her trouble. Add in Truck's boss, Colonel Colton Robinson, an amazingly distracting man whom she met under embarrassing circumstances, and Macie's got a bit more on her plate than she can handle.

From the moment they met, Colt was fascinated by Macie, and helping her through an anxiety attack at her brother's wedding didn't diminish the appeal. He'd do his best to sweep her off her feet, if not for a little voice telling him to tread lightly—until a frantic phone call changes the plan. Macie's being targeted, and Colt's determined to keep her safe while he and her brother eliminate the threat.

Colt isn't about to let his friend lose his sister again so soon…or miss his own chance at a happy ending with Macie before they've barely had a beginning.
Luca
(Chicago Blaze #2)
by Brenda Rothert
Kindle Edition, 210 pages
Published April 23rd 2019 by Silver Sky Publishing, Inc.
ASINB07ND85CWV
Abby
I only have one love now—the home furnishings business I'm building into an empire. Maybe money and success can't love me back, but they keep what's left of my heart safe. One-night stands are my way of scratching the occasional itch I get for something more. And no one's better for that than a sexy as sin hockey player I'll never see again after one very hot night together.

Luca
I used to love two things: hockey and women. But now my nieces and nephew are my top priority, because I'm raising them after tragedy stole their parents. Somehow I balance single parenthood and my career as a forward for the Chicago Blaze. There's no time for women, until I get knocked on my ass by Abby Daniels. She's everything I've ever wanted, but her devastating past may end us before we even get started.
Cruel Fortune
(Cruel #2)
by K.A. Linde
Kindle Edition, 248 pages
Expected publication: April 23rd 2019 by K.A. Linde Inc.
ASINB07M5HDH3C
Dive back into the sexy side of the Upper East Side with the second billionaire romance from USA Today bestselling author K.A. Linde.

I finally have everything I ever wanted—fame and fortune and literary success.

Only one problem: I lost my muse.

He was tall, dark, and handsome. Broody, enigmatic, alluring, and right for me in every way.

Until he wasn't. Until I lost everything.

And I can't lose it all again. I'll do anything to keep it.

Even seeing him again…
Stay with Me
by K.L. Grayson
Kindle Edition
Expected publication: April 23rd 2019
Stay with me.
Three simple words.
One impossible request.

I've loved Allie McCallister for as long as I can remember. Her happiness and well-being mean more to me than anything else, which is why when the opportunity of a lifetime presented itself, I had to take it. Three months was such a short amount of time to be apart to provide the financial stability we needed to start our lives.

It wasn't supposed to catapult my band to stardom, and it sure as hell wasn't supposed to set off the chain of events that pushed my relationship with Allie to the brink. Our hearts were shattered, our love tested, and when everything fell apart she begged me to leave.

Eight years ago, tragedy broke us. Now we're back in the same little town where we once dreamed of building our future.

She's a divorced, single mom.
I'm a damaged country music star.
There are a hundred reasons for us to stay apart.

But all it takes is one look, one touch, one kiss to know our story isn't over. Now I have to convince her to let me stay.
Junk Mail
by Kendall Ryan
300 pages
Published April 23rd 2019 by Kendall Ryan
It all started with a sexy selfie.

Texted to the wrong number.

Oops.

Not my finest moment—but I have nothing to be ashamed of.

She thought I was no better, and I quote, than the knuckle-dragging douche-bags she was never dating again.

It was a stupid dare from a girl I'd met online, but since she'd given me a fake number, I didn't feel bad that my interests were suddenly focused elsewhere—on the fiery and sharp-tongued, Peyton that I found myself sparring with over text for the rest of the evening.

The following day, my case of mistaken identity came back to bite me in the banana.

When I strolled into the office, I was introduced to Peyton as the new client I needed to win over. The Peyton , in case you're not tracking.

And let's just say she had my full attention.

Brains? Check.

Beauty? Oh yeah.

And the best part? She hated me on sight.

Dear God, do I love a challenge.

Let the games begin.
Beauty and the Professor
(A Modern Fairy Tale Duet)
by Skye Warren
Kindle Edition, 153 pages
Expected publication: April 23rd 2019
ASINB07Q1KJN36
Once upon a time there was a beautiful college student…

Erin cleans Mr. Morris's house twice a week to pay her tuition. The reclusive ex-soldier intimidates her, but she can't help but feel sympathy for him. Then she walks in on him touching himself, and she has much darker, much more sensual feelings.

And a beastly professor with scars he can't hide…

Blake Morris knows he's scarred both inside and out. He's reclusive and surly. Nowhere near good enough for the smart and beautiful young woman who cleans his house.

He receives an offer to return to his alma mater as an associate professor. This is his chance to reenter the world--and to be worthy of the woman he dreams about. He never expected to see her sitting in his classroom on the first day of the semester.

Author's Note: This book was previously published as a serial in multiple parts, including Beauty Touched the Beast, Beneath the Beauty, and Broken Beauty. They've been collected into this volume and revised for new readers.
Her Submission
(Dirtier Duet #2)
by Lisa Renee Jones
Kindle Edition, 300 pages
Expected publication: April 23rd 2019 by Julie Patra Publishing
ASINB07N6LQNRF
The second and final book in the Dirtier Duet by Lisa Renee Jones.

Abbie swore that she was done with rich, powerful men. They've hurt her. They've hurt her mother, who she will do anything to protect. She's done playing the submissive. She's ready to fight back.

The problem is that Gabe Maxwell is one of those rich, powerful men and he refuses to be ignored. He's in her path and she can't seem to steer clear of him. He wants her. She wants him. But it's not that simple.

There is more to her story, more than Gabe knows, but then, there is more to Gabe's story than Abbie knows, too.
Chasing Bliss
(Nights in Bliss, Colorado #7)
by Lexi Blake/Sophie Oak
Kindle Edition, 256 pages
Expected publication: April 23rd 2019 by DLZ Entertainment, LLC (first published August 10th 2012)
ASINB07NHK6M4Y
Gemma Wells came to Bliss, Colorado, after a scandal cost her everything. Utterly lost, the disgraced attorney built walls so high that she thinks no one can get through them. She's given up on love, friendship, and all matters of the heart.

Jesse McCann and Cade Sinclair have floated through life, enjoying the world around them, but never allowing themselves to become a part of it. One look at the pretty attorney and Jesse realizes he's finally found a reason to stay put. Cade isn't so sure. He's crazy about her, but he also knows he doesn't deserve her.

As they begin to find their way together, a dark secret from Gemma's past threatens to wreck their futures. Her ex-fiancé is back, bringing danger with him, and their time is running out. Jesse and Cade have to melt this Ice Queen's heart, or she might not leave Bliss alive.
The Mother-in-Law
by Sally Hepworth
Hardcover, 352 pages
Published April 23rd 2019 by St. Martin's Press
ISBN 1250120926
Someone once told me that you have two families in your life - the one you are born into and the one you choose. Yes, you may get to choose your partner, but you don't choose your mother-in-law. The cackling mercenaries of fate determine it all.

From the moment Lucy met Diana, she was kept at arm's length. Diana is exquisitely polite, but Lucy knows, even after marrying Oliver, that they'll never have the closeness she'd been hoping for.

But who could fault Diana? She was a pillar of the community, an advocate for social justice, the matriarch of a loving family. Lucy had wanted so much to please her new mother-in-law.

That was ten years ago. Now, Diana has been found dead, leaving a suicide note. But the autopsy reveals evidence of suffocation. And everyone in the family is hiding something...

From the bestselling author of The Family Next Door comes a new page-turner about that trickiest of relationships.
Pirate's Pleasure
(Sentinels of Savannah #3)
by Lisa Kessler
ebook, 300 pages
Published April 22nd 2019 by Entangled Publishing
No one steals from this pirate...

John Smyth has survived mutinous pirate crews, wars, and the passage of centuries by keeping his life as he did his ships, organized and well stocked. But when his crew is tasked with stealing Pandora's Box for the government, it opens a door to destruction, and her name is Harmony Andrews.

A risk-taking investment broker by day, and a thief by night, Harmony is a member of the underground Digi Robins crew. Stealing relics to sell on the dark web, they donate the money to people without insurance who need life-saving medical treatments.

What she doesn't realize is the box she just stole is the very one her boss is looking for––the boss who just happens to be an immortal pirate. And as their adventure heads into the danger zone, she doesn't know what's more dangerous: the risk to her life or the risk to her heart.